SWS releases final satisfaction ratings of Robredo, Sotto
October 5, 2022 | 12:00am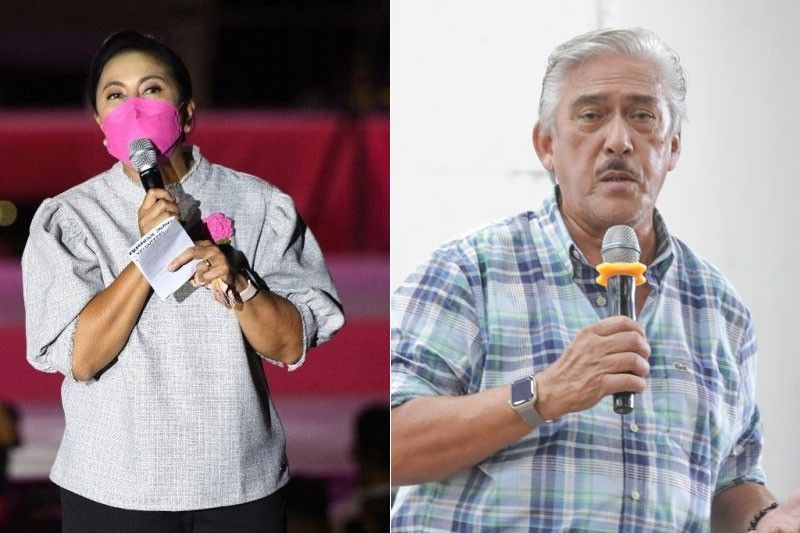 MANILA, Philippines — Former vice president Leni Robredo ended her six-year term with a "neutral" satisfaction rating, while Vicente Sotto III capped his Senate presidency with a majority of Filipinos satisfied with his performance, according to the Social Weather Stations (SWS).
Results of the June 26-29 survey released last Monday showed that 45 percent were satisfied and 38 percent were dissatisfied with Robredo, giving her a net satisfaction rating of "neutral" +7.
Sotto obtained a net satisfaction rating of "very good" +51, with 66 percent satisfied and 15 percent dissatisfied.
The net satisfaction rating is the rounded-off difference between those who said that they are satisfied and dissatisfied with the performance of a particular government official.
SWS classifies net satisfaction ratings of at least +70 as "excellent," +50 to +69 as "very "good," +30 to +49 as "good," +10 to +29 as "moderate," +9 to -9 as "neutral," -10 to -29 as "poor," -30 to -49 as "bad," -50 to -69 as "very bad" and -70 and below as "execrable."
Robredo's rating went down by a point from +8 (44 percent satisfied, 36 percent dissatisfied) obtained in a similar survey last April.
The former vice president started her term with a +49 net satisfaction rating obtained in September 2016, her highest. It went down to as low as +1 in December last year, a few months after she declared her bid for the presidency.
Sotto's final net satisfaction rating, while generally higher than his predecessors, was his lowest since assuming the Senate presidency in 2018.
His first satisfaction rating was +54 in June 2018 and climbed to as high as +62 in December 2019.
Sotto lost his vice-presidential bid in the May 9 elections.
Velasco, Gesmundo
The SWS also released the final net satisfaction rating of former House of Representatives speaker Lord Alan Velasco, who remains a member of the chamber as Marinduque's representative.
Velasco obtained a "moderate" +18 (38 percent satisfied, 21 percent dissatisfied) in the June survey, up 11 points from the "neutral" +7 (34 percent satisfied, 27 percent dissatisfied) last April.
It matched his previous high of +18 obtained in June last year.
Velasco assumed the speakership post in November 2020 following a term-sharing agreement with now Sen. Alan Peter Cayetano. The post is currently held by Leyte Rep. Martin Romualdez.
Meanwhile, Chief Justice Alexander Gesmundo obtained a "moderate" +16 net satisfaction rating (35 percent satisfied, 18 percent dissatisfied), up from neutral +1 (29 percent satisfied, 28 percent dissatisfied) in the previous survey.
The latest SWS survey had 1,500 adult respondents and a margin of error of +/-2.5 percent for national percentages.