Duterte asks Filipinos to support Marcos admin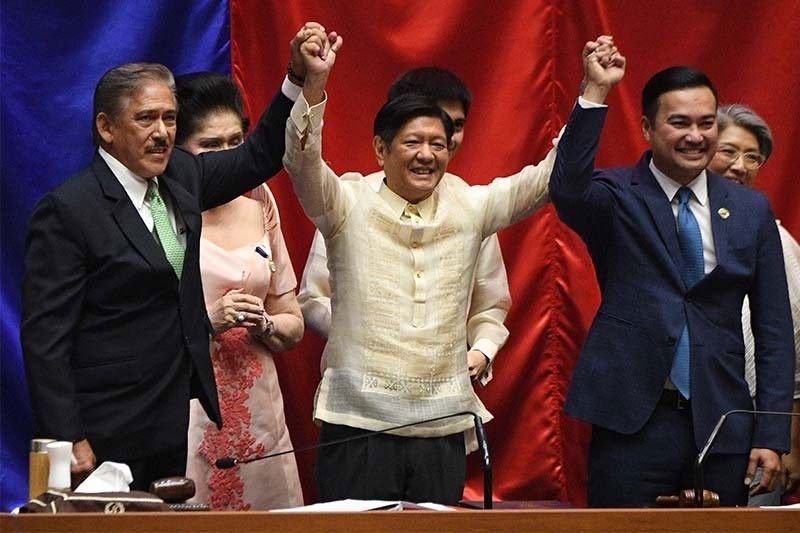 MANILA, Philippines — President Duterte on Monday night urged Filipinos to stop quarrelling over politics and support the administration of president-elect Ferdinand Marcos Jr.
"I hope that everybody would come to terms with the reality that we have a new government and I urge Filipinos to rally behind and support the new leaders. We want the next administration (to be) successful," Duterte said in his pre-recorded public address.
"President-elect Marcos would need the cooperation and help of everybody. We must give it to him. That's democracy. That is how we operate," Duterte said.
"Let's just help the next administration," he added.
He called on Filipinos to stop politicking and respect the choice of the majority.
"We must all be united in confronting the issues ahead of us. We have no room for politicking or go into a divisive exercise in whatever endeavors that you can think of just to divide the country. Let's not do that," the outgoing Chief Executive said in a mix of Filipino and English.
"The people have spoken, we have new leaders," he said.
Duterte said his administration is both "ready" and "eager" to hand over the reins of government to incoming leaders.
"I assure everyone that this process will be smooth and peaceful as we want the next administration to succeed for the benefit of the country," he said.
"My fellow Filipinos, the next administration needs all our support and solidarity. Let us therefore give them our goodwill and our best wishes as they endeavor to lead our country towards a better future," Duterte added.
Marcos and Duterte's daughter, vice president-elect Sara Duterte-Carpio, will begin their six-year term at noon of June 30.
Marcos will take his oath of office as the 17th President of the Philippines at the National Museum on June 30.
Duterte-Carpio's inauguration, meanwhile, will be held in her home town of Davao City on June 19.
Duterte did not endorse a presidential candidate in the May 9 elections. However, the PDP-Laban faction, which he chairs, backed Marcos, son of the late dictator Ferdinand Marcos Sr.
Duterte allowed the burial of Marcos' father at the Libingan ng mga Bayani in 2016.