Music lovers mourn Barbieri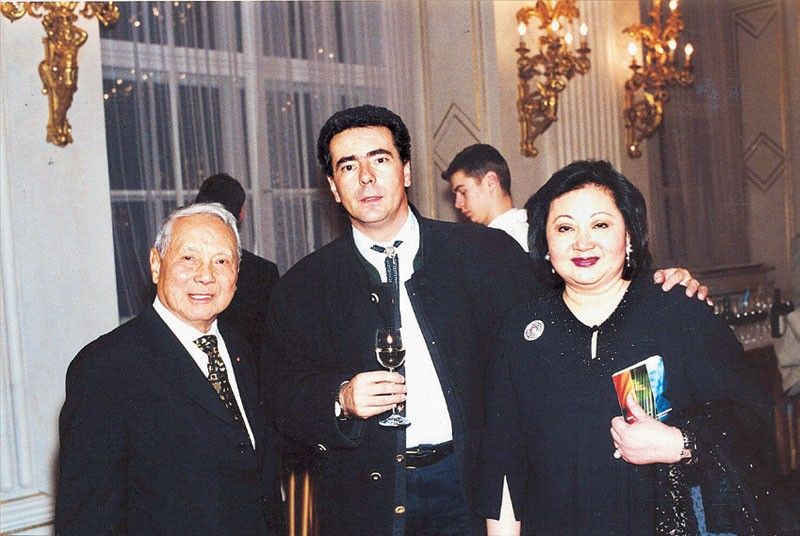 MANILA, Philippines — He brought his baton back to Italy but left his heart in the Philippines where he was musical director of the Philippine Philharmonic Orchestra (PPO) for eight years.
Music lovers in the Philippines mourn the death of Ruggero Barbieri, who died of brain aneurysm at 60 last March 20 at Pope John XXIII Hospital in his Bergamo hometown. The news was relayed by his son Piolo to Zenaida Tantoco, Rustan's chair who worked closely with Barbieri in several cultural projects in Manila.
After his term at PPO, Barbieri would still fly back yearly to Manila to conduct the orchestra at the grand "Christmas Concert at The Pen" until 2019, before the pandemic began.
"Barbieri was a board member of the Philippine-Italian Association where I was president," says Tantoco. "But the first time I met him was when he approached me for a sponsorship to bring the entire PPO on a European concert tour. My father (the late Ambassador Bienvenido Tantoco) liked the idea so Barbieri got the sponsorship. My dad and I, together with Bal Endriga who was Cultural Center of the Philippines (CCP) president while I was a CCP trustee, tagged along in the PPO concert tour that brought us to four cities in Spain including Madrid, then Klagenfurt, Austria and the Czech Republic in 2004."
Tantoco states: HThat was the start of a lifelong friendship held by the mutual respect we had for one another.T
Acclaimed violinist and music maestro Coke Bolipata says Barbieri held Filipino musicians close to his heart. He was guest conductor of the Zambales-based Pundaquit Virtuosi Youth Orchestra founded by Bolipata to give underprivileged kids a future in music. Bolipata says this was for a European tour in 2019, sponsored by the Department of Foreign Affairs (DFA).
We owe Barbieri with his passion, kindness and generosity some of the most memorable moments of the Pundaquit Virtuosi,W Bolipata adds.
Barbieri studied at the Giuseppe Verdi Conservatorio in Milano, Scuola Superiore di Musica in Pescara, Civico Instituto Musicale G. Donizetti in Bergamo and Konservatorium fur Musik in Vienna. He was one of six conducting fellows chosen to study under the legendary Leonard Bernstein at the Santa Cecilia Academy in Rome. He came to Manila for his PPO post after having served as assistant conductor of Maestro Aldo Ceccato for Orquesta y Coro Nacionales de Espana in Madrid.
In recognition of his achievements which included musical tours around the world and several recordings, Barbieri was awarded by King Juan Carlos I of Spain the highest honor given to artists, the Cruz de Isabel la Catolica.
CCP mourns Barbieri's passing
The CCP extends its deepest condolences on the passing of Italian conductor and former music director and principal conductor of the PPO.
"It's a sad day for CCP to hear the passing of its former Conductor, Ruggero Barbieri," says CCP president Arsenio Lizaso. "Though I wasn't president yet when he joined the PPO," he recalls, "I was fortunate to have met him during one of Ms. Zeny Tantoco's Christmas Concerts at the Pen. He was a talented conductor, very energetic and a nice fellow. Our thoughts and prayers are with Maestro and his family."
Likewise, PPO orchestra director Eugene Delos Santos shares his thoughts on Barbieri. "It is with deep sadness for the PPO to have received the news of the passing of our former music director and principal conductor, Maestro Ruggero Barbieri yesterday, March 21, 2022," he says. "As music director from 1996 to 2004, he was an amazing and generous mentor who tirelessly contributed to the training and musical growth of the PPO. We feel so lucky that we got to know and learned from him during his term as our principal conductor. He will surely be missed."
Barbieri was Musical Director and Principal Conductor of the PPO from 1996 to 2004. He was the first foreign conductor who held the post for two consecutive terms, bringing the national orchestra to greater heights and leading it on much acclaimed Asian and European tours.
In 1997, Barbieri made his Asian debut as opera conductor with Puccini's Madama Butterfly at the CCP, followed by Don Giovanni (1999) and Il Trovatore in Singapore (2001).
As music director, he organized and conducted the PPO on its first European concert in late 2001. Seventy musicians performed in the music capital of Madrid, Spain, and several cities including Gijon, Pontevedra, Santiago de Compostela, Burgos, Miranda de Ebro; Klagenfurt, Austria; and Prague, Czech Republic.
He conducted the Pundaquit Virtuosi's European tour in 2019 organized by the DFA. Maestro said "he was so glad and proud to be their musical conductor! It would take too much time to describe the astonishing successes we had in such cities as Brussels, Berlin, Frankfurt, Wien, Madrid, Barcelona, Oporto, Paris, Milan and Rome (among others!) where the tour successfully ended by the very famous 'Kaiser Wilhelm Memorial Church' (Gedaechtnis Kirche) located in the heart of Berlin!"
Barbieri was set to be the resident conductor of Pundaquit beginning 2020 if not for the pandemic.
From 2003 until 2019, he would come annually to the Philippines to be the conductor of the PPO during the Christmas Concert at the Pen. It was an occasion many Filipinos looked forward to and Maestro Barbieri always played to a full and enthusiastic audience. He was scheduled to return this year to conduct the Christmas concert anew.
Barbieri is survived by his 21-year-old son Piolo and his sisters Daniela and Federica.