Alert level system eyed outside NCR
October 17, 2021 | 12:00am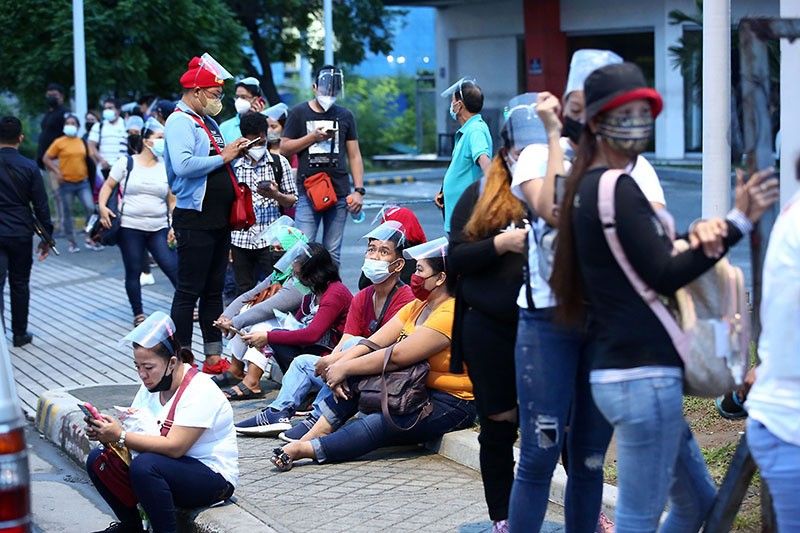 Targeted areas include Calabarzon, Cebu, Davao
MANILA, Philippines — The government is looking at Calabarzon, Cebu and Davao as the next areas for implementation of the alert level system with granular lockdowns, a Cabinet official said.
At a meeting called Task Force T3 (Test, Trace, Treat) Partners Update, Trade Secretary Ramon Lopez said the rollout of the alert level system in other areas aside from Metro Manila is expected to be announced soon.
"The granular lockdown and alert level system will be rolled out first to the regions which are big contributors to GDP (gross domestic product). So that will be the priority," he said.
After the National Capital Region (NCR), he said the alert level system would also be implemented in Region IV-A (Calabarzon), Cebu and Davao areas.
He also said the implementation of the alert level system and granular lockdown is not expected to have a significant impact on operations of factories in production hubs.
"The practice has always been this granular lockdown should be smaller in scope. So it is not a wide area. It could be one, two houses. Not even one street. So don't be worried about locking down a lot of workers. This will have minimal impact on the economy," he said.
Based on the government's discussions, he said what would be locked down are houses and not factories or commercial establishments.
In case a commercial establishment becomes a COVID-19 hotspot, he said "that will have to be disinfected and probably have resumption in one to two days."
At present, the alert level system is being piloted in the NCR, now under Alert Level 3 until the end of the month.
UNDER Alert Level 3, several establishments are allowed to operate at 30 percent indoor capacity only for fully vaccinated individuals and 50 percent outdoor capacity for customers regardless of vaccination status, provided all workers have completed their COVID-19 jabs.
Establishments with safety seals will be allowed to operate at an additional 10 percent, plus 20 percent if located in an area with a 70 percent vaccination rate like NCR, on top of the prescribed capacity.
Meanwhile, other parts of the country are under the community quarantine classification system, which has the enhanced community quarantine as the strictest level and the modified general community quarantine as the most lenient.
Also at the meeting, private sector groups including T3, Foundation for Economic Freedom (FEF), Makati Business Club and Go Negosyo, gave recommendations for the fourth quarter.
Fred Ayala, who represented T3 and FEF, said among the recommendations is to ramp up vaccination to 1.5 million jabs per day and allow the private sector to use doses for the 12 to 17 years old and boosters with emergency use authorization.
He said also being pushed is a study on mandating vaccination for health care workers, school employees and students, transport workers and government workers.
He also said the private sector should be given greater flexibility including being allowed not to hire unvaccinated applicants. Private firms should also be allowed to require polymerase chain reaction tests from unvaccinated employees at the latter's expense if they waive their chance to get free vaccination.
Ayala also said the private sector is calling for resetting of metrics for NCR and highly vaccinated local government units by linking alert levels not just to daily cases, but primarily to the reproductive rate, vaccination coverage and hospital bed utilization.
"It's terrific that we are at Alert Level 3 now. We think that it is possible to get to Alert Level 2 by early November," he said.
He said the private sector likewise wants to further reopen transport by removing all capacity restrictions for all public transport, easing curfews and mandating staggered shifts not just for government workers but for schools and businesses as well.
Moreover, he said the private sector is calling for the safe optional reopening of schools in areas with high vaccination rates and to mandate vaccination.
In the long term, he said the private sector wants to see a stronger health care system.
"We are recommending a joint public-private task force to focus in particular on constraints on the health care system, especially PhilHealth (Philippine Health Insurance Corp.) payments, which is having a big impact of course on the hospital system. And then lastly, just reiterating the call many have been making for some time to finally unify the vax, test and contact tracing data ecosystem which we think would benefit from having a data czar similar to the test, trace, treat czars that have been appointed," he said.