Philippines logs 9,055 new COVID-19 cases
October 6, 2021 | 12:00am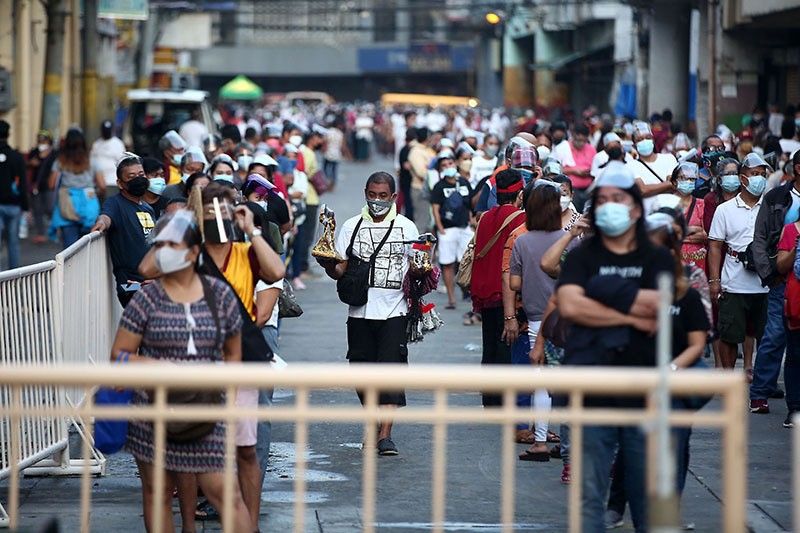 MANILA, Philippines — The Philippines yesterday logged below 10,000 cases of COVID-19 in a single day after almost two months, according to the Department of Health (DOH).
Based on the DOH's bulletin, there were 9,055 new cases of COVID-19 documented on Oct. 5.
The DOH last recorded a daily tally of COVID-19 cases below the 10,000 mark on Aug. 10, at 8,560.
But according to DOH, the "relatively low case count was due to lower laboratory output last Sunday."
There was also no death reported due to the technical issue with the DOH's COVIDKaya.
"The DOH is in constant coordination with the Depatment of Information and Communications Technology to resolve technical issues with COVIDKaya," the health agency said.
The DOH said molecular laboratories were operational on Oct. 3 while seven testing facilities were not able to submit their data to the COVID-19 Document Repository System.
The DOH is investigating if the downward trend is artificial due to the decrease in outputs of testing facilities as a result of the increased use of antigen test.
The total number of COVID-19 cases in the country has reached 2,613,070. There are 103,077 active cases.
The DOH said 12,134 patients have recovered, bringing to 2,471,165 the number of recoveries.
Moderate risk
A member of the OCTA Research Group yesterday said Metro Manila may now be classified as moderate risk for COVID-19, noting that the average number of new cases in the region is down to less than 3,000 per day.
Citing data from the Department of Health, OCTA fellow Guido David said the National Capital Region recorded an average of 2,942 new COVID-19 cases per day from Sept. 28 to Oct. 4, down 27 percent from over 4,000 in the preceding week.
David said the last time that the seven-day average in the region was below 3,000 cases was on Aug. 10, five days into the most recent enhanced community quarantine.
He also noted the decrease in hospital bed occupancy in the region over the past two weeks, which is now down to moderate 52 percent.
David, however, said utilization of intensive care units remains high at over 70 percent due to long recovery of COVID patients.
Metro Manila's reproduction number, which indicates the number of individuals that a COVID-positive person can infect, is now down to 0.76.
While still high, the positivity rate of 16 percent is also down compared to previous weeks.
Eight Metro Manila cities were also considered as moderate risk: Mandaluyong, Taguig, Valenzuela, Parañaque, Pasay, Navotas, Manila and Malabon.
The others were still tagged as high risk either due to high average daily attack rate of new COVID-19 cases per 100,000 people or hospital utilization rate.
These include Pateros, San Juan, Makati, Marikina, Quezon City, Pasig, Las Piñas, Muntinlupa and Caloocan.
Meanwhile, 1,441 overseas Filipino workers (OFWs) arrived yesterday at the Ninoy Aquino International Airport from different countries.
The OFWs are undergoing mandatory 14-day quarantine at hotels in Metro Manila before they are allowed to go home, the Overseas Workers Welfare Administration said.
Some 200 land-based and seafarers returned home from Dubai.
The other OFWs came from Singapore, Doha, Qatar, Bahrain, Riyadh, Addis Ababa, Taipei, Bangkok, Cambodia, Narita and Incheon, South Korea. – Janvic Mateo, Rudy Santos