Business groups urge cooperation in Senate probe
October 4, 2021 | 12:00am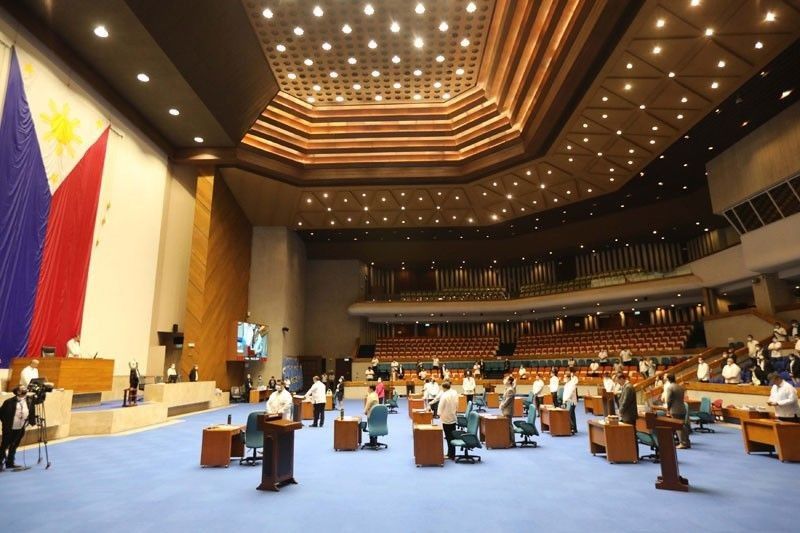 MANILA, Philippines — Business groups and schools are calling on all parties to cooperate in the ongoing Senate investigation into alleged anomalies in the procurement of P42 billion worth of COVID-19 supplies by the Duterte administration.
In a statement yesterday, the Bishops-Businessmen's Conference, Financial Executives Institute of the Philippines, Investment House Association of the Philippines, Judicial Reform Initiative, Management Association of the Philippines, Makati Business Club and Shareholders Association of the Philippines, as well as Ateneo de Manila University, Ateneo de Naga University, Ateneo de Zamboanga University, Xavier University-Ateneo de Cagayan, De La Salle University and De La Salle Philippines said all parties must pursue and cooperate with the investigation to the fullest extent of the law.
"We call on lawmakers, members of the executive department, constitutional commissions and, if they are brought in, members of the judiciary to conduct their proceedings with integrity, transparency, and respect, and in compliance with our laws and established procedures," they said.
Earlier, President Duterte said Cabinet officials would be prohibited from attending the Senate's probe on the alleged overpriced contacts for medical supplies.
But the groups said: "Our frontliners and the Filipino people deserve a full and fair accounting."
Senate has enough to build case
The testimony of Krizle Mago may no longer be key in the Senate inquiry, as the probe now shifts to money laundering.
Sen. Richard Gordon, who chairs the Blue Ribbon committee conducting the probe, said yesterday that additional testimony from Mago may "no longer be needed" because the panel has enough to build a case against her firm.
"We already have proof that the government was shortchanged. I never said never (will committee summon Mago) but right now, we have evidence (of wrongdoing)," Gordon told dzBB in mixed Filipino and English.
The senator was referring to his committee's pursuing the angle of money laundering and tracing the money trail from the Procurement Service of the Department of Budget and Management (PS-DBM) to Pharmally Pharmaceutical Corp. and then to the concerned banks.
Mago, the Pharmally executive who gave damning testimony before the committee about the tampering of certification labels on face shields delivered to the government, had cut off communication with the Senate but resurfaced last week in the custody of the House of Representatives.
Gordon's panel still has a live subpoena for Mago and the House promised to make her available to senators in the scheduled hearing tomorrow.
"Maybe it would also be good if we find what she knows about the money trail," Gordon said.
He added that senators are not worried about the possibility that Mago might recant her freely given testimony before the panel. Earlier, he warned her against doing so as she could be charged with perjury.
"Nobody was pressuring her. If she changes her testimony, that means the bad guys are holding her, got through her, maybe she is being intimidated or bribed," Gordon said.
"We also cannot believe everything she says because at the very least, it appears that she may have engaged in forum-shopping," he added.
Gordon also noted Mago had admitted that she was "used for convenience" when she was made an officer of another corporation that apparently was dealing with PS-DBM supposedly by a girlfriend of Mohit Dargani, an owner of Pharmally.
He surmised that Dargani might have wanted to secretly do a side business of his own in supplying COVID-19 supplies in forming the other company without the knowledge of President Duterte's former adviser Michael Yang, who allegedly financed and lobbied for Pharmally with the government.
He said testimonies of Pharmally owners like Linconn Ong, Dargani as well as Yang – even if they all denied wrongdoing – have already bolstered the case against them, officials of PS-DBM and other government agencies as the committee caught them lying several times.
He cited among others, the testimony of a former inspector of PS-DBM that they were made to sign inspection reports on face masks, face shields and PPEs even if these had yet to be brought in by Pharmally.
He said Ong has hid behind his lawyer and invoked the right against self-incrimination while Yang has repeatedly cited non-disclosure agreements in refusing to answer questions on his finances linked to Pharmally.
He said Yang mentioned names of those who supposedly lent money, apparently all Chinese nationals.
"Because if a Filipino or a foreigner brings in money, and did not declare it, that means there's a problem. It could be illicit money, maybe from drugs, from kidnapping – is it bad to ask where the money came from?" Gordon said.
The senator is also worried that the Anti-Money Laundering Council appears to be dragging its feet in looking into the accounts of officials of Pharmally.
Also yesterday, activist group Bagong Alyansang Makabayan (Bayan) commended the Senate for standing its ground against the supposed "bullying" and "stonewalling" tactics of the President.
"The President is set on derailing the Senate probe on pandemic corruption for fear that the hearings will reveal how high up the corruption will go," said Renato Reyes, Bayan secretary general.
"Bayan stands with the Blue Ribbon committee in its efforts to uncover the truth on how public funds were spent during the pandemic. The cesspool of corruption in the PS-DBM should be exposed. The DOH should likewise be held to account," he added. – Paolo Romero, Elizabeth Marcelo