Employers join call vs lockdown extension
August 15, 2021 | 12:00am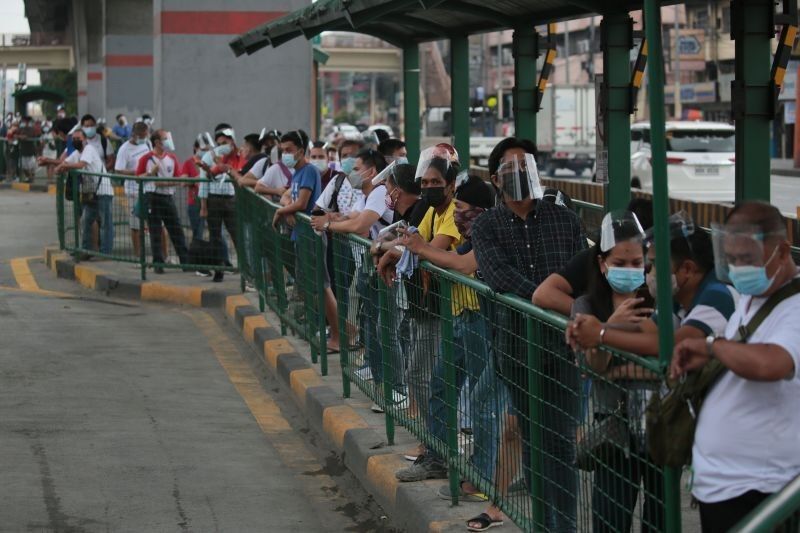 MANILA, Philippines — The Employers Confederation of the Philippines (ECOP) has joined other business groups in opposing an extended lockdown, citing the need to prevent further damage to the economy and job losses.
"It's time we learn that lockdown is not the remedy," ECOP president Sergio Ortiz-Luis Jr., who also heads the Philippine Exporters Confederation Inc., said yesterday. "Let's compromise, we have to think that the economy is more important and we have to live with COVID-19."
Ortiz-Luis expressed the ECOP's view amid speculations of an extension to the enhanced community quarantine (ECQ) which is in effect in the National Capital Region (NCR), the center of business, until Aug. 20.
Recently, the Department of Health (DOH) presented projections on COVID-19 cases in Metro Manila under different scenarios, which include a five-week lockdown or ECQ, the strictest quarantine level.
Citing the National Economic and Development Authority (NEDA)'s estimate, Ortiz-Luis said the economy would lose P150 billion for every week that the NCR and its nearby provinces are under ECQ.
The estimated lockdown losses are on top of business closures that lead to unemployment, ECOP pointed out.
Giving his suggestions, Ortiz-Luis said: "It would have been much more productive and useful to channel even a fifth of these losses to strengthening our health care system to address the cases and for prevention measures."
He underscored the need to intensify monitoring of severe cases, with a large number of the COVID-19 cases being asymptomatic.
"Let us not be fixated on the numbers. Instead, let us intensify and fast-track our vaccination. Let us not forget practicing health protocols and complying with quarantine classifications," he said.
ECOP's other suggested measures include adding capacity in hospitals for COVID-19 cases and suspending the Data Privacy Act to facilitate contact tracing.
"Government has already suspended many of our civil rights in the interest of safety and health, the latest of which is the prohibition for those in the ECQ areas from going out of their homes for physical exercises," Ortiz-Luis said.
"Many known personalities have already made voluntary disclosures on their COVID-19 cases. After all, this is not an embarrassing illness," he added.
Business groups
Earlier, other business groups like the Philippine Chamber of Commerce and Industry (PCCI) and Financial Executives Institute of the Philippines (FINEX) also cited the damaging impact on the economy of an extended lockdown.
"Mere mention of lockdown stokes greater fear than the infection from COVID-19. Another five-week lockdown could be the proverbial last straw on the camel's back. It will wipe out the temporary economic gains we earned in between lockdowns and could stop the momentum of business from moving forward," PCCI acting president Edgardo Lacson said.
Both PCCI and FINEX have urged the government to accelerate vaccine rollout, beef up the health care system, as well as continue to push for compliance with health protocols to contain the pandemic.
Trade Secretary Ramon Lopez said that if the number of COVID-19 cases improves, Metro Manila should shift to the less stringent modified ECQ and resort to granular lockdowns in specific areas where the incidence of COVID-19 is high.
MSMEs challenged
The Department of Trade and Industry (DTI) stressed that the ECQ poses a big challenge for micro, small and medium enterprises (MSMEs), with some reporting losses amounting to P2 million.
Lopez said those in the restaurant business, in particular, are only at 10 percent of their operations, with only delivery and takeout services allowed at the moment. As such, many of the employees have also stopped working, he said.
The DTI secretary said that if the lockdown continues beyond Aug. 20, there would be a vicious cycle of the government in need of funds to provide cash aid and businesses having lower revenues.
"So we really need to get parts of the economy to move to bring back revenues and there would be no need to give cash aid if people have jobs," he said.
For now, the DTI joins in trying to encourage more citizens to get the COVID-19 shots, not only for their protection but also in preparation for a possible change in protocols for the vaccinated.
"If ever there is risk and we are under ECQ, at least there is a sector we will allow to operate in the future, like stores that have vaccinated workers and vaccinated customers, at least to allow some parts of the economy to move," Lopez said. "Maybe directionally, this can be the future."