Duterte on ICC probe: Over my dead body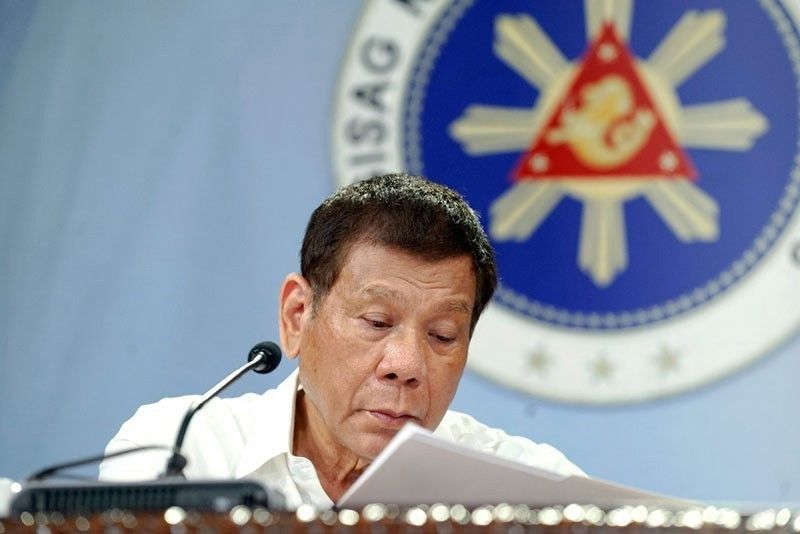 MANILA, Philippines — President Duterte on Monday insisted he would rather be dead than submit to investigation by the International Criminal Court (ICC) over alleged human rights violations associated with his war on drugs.
"You know if you really want me… it's over my dead body. You can take my dead body to the Netherlands. You will have a carcass. I will not go there alive. But if I see you here, I'll go first," Duterte said.
Last June, then ICC prosecutor Fatou Bensouda requested a full blown inquiry into the alleged crimes against humanity under Duterte's drug war.
If permitted, investigations about the Philippines will be carried out by Bensouda's successor, Karim Khan.
More than 6,000 people have been killed in anti-narcotics operations conducted by police since July 2016, according to government data. But human rights groups said the number could be triple that.
In 2019, Duterte withdrew the Philippines from the ICC after it launched a preliminary probe into the administration's drug war.
The President lashed out at critics of his war on drugs, saying Filipinos and the nation benefited from it while putting his and his family's lives in danger.
In his public address, Duterte presented recent stings conducted by the Philippine National Police and Philippine Drug Enforcement Agency, including the P500-million drug bust in Bulacan on Sunday.
"Listen to me. Let's say what these human rights groups say is true, p***** i** who benefitted from that (extrajudicial killings)? Me? My family? They benefitted from those f****ng dead people? Who? Who benefitted from it? It is you, your children, our country who benefitted from it," a furious Duterte said.
"Who now gets in trouble? Me, my family, their life because these people will seek revenge. I am not a millionaire who has a squad to watch my back. I am the one who's in trouble now," he added.
The President's remarks came as 11 American senators urged US President Joe Biden to condemn the human rights abuses committed by the Duterte government.
Duterte cautioned the US State Department against taking steps hostile to the Philippines in response to pressure from the US lawmakers.
Rody's fears may be valid – senators
Senators said yesterday there is some basis in President Duterte's remarks that his life and his family may be in danger due to his war on drugs.
Sen. Panfilo Lacson, a former PNP chief, said there could be people who want to seek revenge against Duterte, but they are just "very few exceptions" out of all those jailed or killed in the anti-drug campaign.
"The President's fears may be valid although my own experience in law enforcement tells me that criminal offenders that we arrested and sent to jail or the relatives of those we killed in armed encounters mostly accepted their fate as part of the risk that they or their dead relatives took when they decided to violate the laws for whatever motives or reasons," Lacson said.
He cited a case where a kidnap suspect, convicted by the lower court and spent some time in the national penitentiary before he was cleared by the Supreme Court, "continues to harbor bitterness toward us while knowing fully well how much participation he had in the crime."
Sen. Ronald dela Rosa, who also once headed the PNP, said he agreed with Duterte's pronouncement that the anti-drug campaign benefitted the Filipinos.
Senate President Vicente Sotto III said a wholistic approach is needed in fighting drugs, not just targeting street level pushers and traffickers but also working on reducing demand.
"Even if you kill all drug dealers, if there are drug dependents, they will find other substances to abuse such as contact cement, cough syrup, nubaine, etc. Then new dealers will replace the dead ones," Sotto told reporters.
Amnesty International said reports of human rights violations were based on facts and evidence that "extrajudicial killings were driven by pressures from the top and financial incentives were offered for police officers who killed people involved in the drug trade."
The rights group made the statement after President Duterte said that he and his family do not benefit from unlawful killings under the war on drugs.
"The government has a duty to protect the rights of its citizens, whether from drug-related violence, those perpetrated by the police or government forces or vigilante groups," Butch Olano, Amnesty International Philippines section director, said.
"No one benefits from murder – children who are orphaned due to the war on drugs certainly do not benefit from this vicious system," he added. – Paolo Romero, Rhodina Villanueva