Ex-VP Binay to run for senator under Lacson-Sotto tandem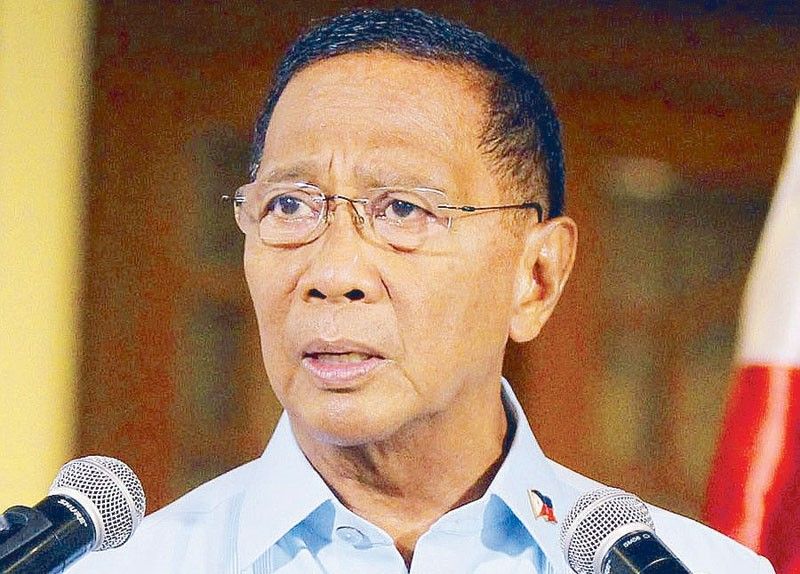 MANILA, Philippines — Former vice president Jejomar Binay will run for senator under the tandem of Sen. Panfilo Lacson and Senate President Vicente Sotto III in the May 2022 elections, the Senate President announced Saturday.
Sotto said Binay confirmed with him and Lacson his plans to go back to the Senate in 2022.
"Yes. Confirmed with us. Senate lineup," Sotto said in a message to the Senate reporters' Viber group.
He also sent a photo showing him, Lacson, Binay and former speaker and Davao del Norte 1st district Rep. Pantaleon Alvarez in a round table discussion.
Binay, the president of the United Nationalist Alliance (UNA) party, last ran in the presidential elections in 2016, but lost to President Duterte.
Binay will join the tandem of Lacson and Sotto, who confirmed their plans to run for president and vice presidency, respectively, in the May 2022 national elections.
In an interview over dWIZ, Lacson said Binay is a "big thing" in their group as he served as a Makati City mayor for a long time.
"(Binay as part of their team) is a big thing. He still has clout with our countrymen, became Makati mayor and vice president, and his experience is valuable," Lacson said. "It's in our consciousness so let's see how it plays out. He (Binay) said in case (he wins) there are two votes to his bills with him and his daughter Sen. Nancy Binay. He already has the second vote."
While the Lacson-Sotto tandem already has 10 candidates in their senatorial slate, Sotto said they were waiting for the decision of another "big time" candidate to join their senatorial bets, which turned out to be Binay.
With Binay in the team, the Lacson-Sotto tandem has 11 senatorial candidates, including Senate Majority Leader Juan Miguel Zubiri, Sen. Joel Villanueva, Sen. Sherwin Gatchalian, Sen. Richard Gordon, Information and Technology Secretary Gregorio Honasan, JV Ejercito, Sorsogon Gov. Chiz Escudero, Antique Rep. Loren Legarda, Ormoc City Rep. Lucy Torres-Gomez and former Commission on Elections Commissioner Gregorio Larrazabal.
Sotto, however, said two of the 10 candidates have yet to finally decide on their plans as there were talks that Gordon is setting his sights on the presidency, while Gatchalian is reportedly gunning for the vice president post.
Lacson and Sotto have yet to provide a hint about the 12th senatorial candidate to complete their slate.
Sotto said the Lacson-Sotto tandem is offering themselves to the Filipino people as the alternative choice for next year's presidential elections.
"We could provide a good alternative. You know, so all these factors like we're not pro-opposition. We're not pro-administration. We're pro Filipino… And we may provide an alternative for the people in 2022," Sotto added.
Sotto gave a general overview of the platform of government their partnership could offer to the people.
"Sen. Lacson has been pushing for budget reforms. So with BRAVE – that stands for budget reform advocacy village empowerment. It encompasses the entire proper needs or needs and necessities and problems of the entire country budget reform," Sotto added.
Lacson echoed Sotto: "As the Senate President (Sotto) said, we are pro-Filipino. Isn't it possible for us to side with what is right? Not everything the administration does is wrong... I'm as color blind as possible. I'm looking at the issues."