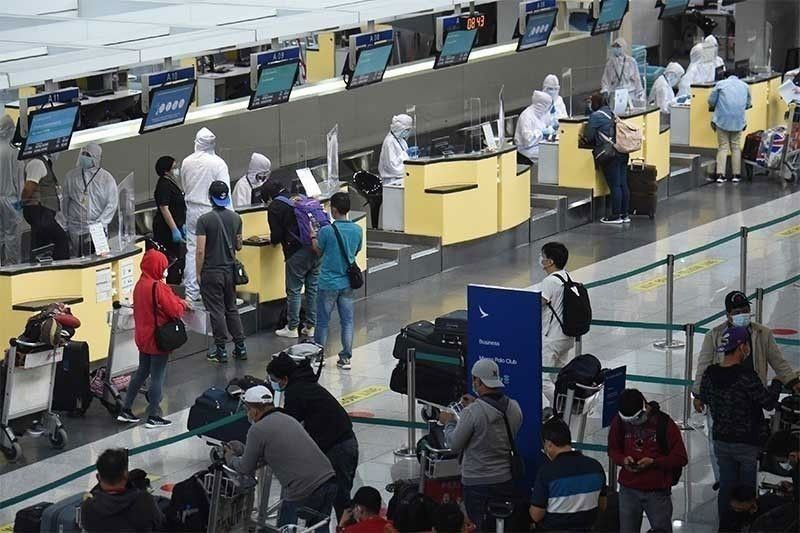 Airline ground staff (L) wearing protective gear work at the counter at the airport in Manila on August 4, 2020.
AFP/Ted Aljibe
Indian variant not yet detected in Philippines, says DOH
MANILA, Philippines — The COVID-19 variant causing a surge in India has not yet been detected in the Philippines, Health Undersecretary Maria Rosario Vergeire said yesterday.
"So far, we have not detected in the country the Indian (B.1.617) variant yet," she said while noting that five travelers from India were found positive for COVID upon their arrival here.
Of the five, she added, only one remains isolated, while the others have already recovered.
The Bureau of Quarantine recorded 149 passengers, including the five, with travel history from India from April 1 to 30. At least 137 have tested negative. The Department of Health is also in the process of forwarding the swab samples of the five to the Philippine Genome Center for genome sequencing.
As of May 3, the University of the Philippines-Philippine Genome Center and the UP-National Institutes of Health have found 1,075 B.1351 variant cases (first detected in South Africa), 948 B117 variant cases (first detected in UK), 157 P.3 variant cases (first detected in the Philippines), and two P.1 variant cases (first detected in Brazil).
Presidential spokesman Harry Roque Jr. said the Philippine government would do its best to prevent the deadly double mutant COVID variant from India from infecting Filipinos residing there.
The government has banned travelers from India and, starting tomorrow, will also ban the entry of passengers from Pakistan, Bangladesh, Nepal and Sri Lanka, including those who have been to those countries within 14 days before their travel to the Philippines.
Roque said the government is concerned about foreigners and Filipinos from India who would use Middle Eastern countries as jump off points to reach the Philippines.
Citing a statement of World Health Organization country representative Dr. Rabindra Abeyasinghe, he stressed the need for the government to be more cautious in monitoring travellers from the Middle East as he noted that returning overseas Filipinos could not be prevented from entering the Philippines.
Even with the detection of the five COVID-positive travelers, Roque said there should be no cause for alarm for now.
He added that the government has implemented measures, such as the temporary travel ban and mandatory 14-day quarantine, for travellers from India as the government focuses its efforts on preventing local community transmission here or to delay as much as possible the infection of local residents.
Last Wednesday, Duterte signed a memorandum to temporarily ban travellers from Pakistan, Bangladesh, Nepal and Sri Lanka starting today up to May 14.
Passengers arriving from those countries are advised to undergo the mandatory 14-day quarantine and will be subjected to whole genome sequencing.
"All close contacts should stay in facility-based quarantine within 14 days. Contact tracing will be conducted up to the infected person's third-generation contact," Roque said.
Yesterday, the DOH said in a statement that despite the detection of more South African and other "variants of concern" of COVID-19, these are not the dominant variants in the country.
"Detection of these variants of concern (VOCs) and variants under investigation (VUIs) does not mean that these are now the dominant variants in the country," it stressed.
It attributed the detection of more VOCs and VUIs to increased genomic bio-surveillance activities as well as purposive sampling—a term that means more samples are taken from areas, clusters and groups of people that are likely to have these.
"Hence, there is a disproportionately higher number of samples being sequenced from areas with reported clustering, increased severe and critical cases and a bigger presence of returning overseas Filipinos (ROFs)," DOH said.
The DOH is coordinating with LGUs and Regional Epidemiology and Surveillance Units for updates on the current health status of all the travelers.
Working well
In an interview with The Chiefs on One News, National Immunization Technical Advisory Groups (NITAG) member Dr. Maria Consorcia Lim Quizon expressed hope that the country's surveillance, testing and quarantine systems are working well to prevent the spread of the variants detected in India.
She said that results of swab testing and genome sequencing are now being released faster, or within two to three days, in contrast to the previous time that would take a week or more.
Quizon said not only the DOH, but all government agencies should be doing their job to stop the entry and prevent the spread of new variants.
She noted that the surge of COVID-19 cases in India was due to low vaccine coverage, dense population and unrestricted gatherings.
The DOH is pushing for stronger border control measures, stringent adherence to quarantine protocols for all incoming international travelers, and effectively implementing the Prevent-Detect-Isolate-Treat-Reintegrate response strategies at the national and local levels to prevent the local spread of these variants.
Meanwhile, Vaccine Expert Panel (VEP) member Dr. Rontgene Solante has given assurance that the currently available vaccines are still proven effective in preventing the spread of new variants of concern.
Citing a review of 34 studies, Solante said vaccine efficacy dropped but did not become ineffective in protecting vaccinees from developing severe COVID.
"The drop in efficacy is not a cause of concern as of now. As long as you are able to finish the two doses, your body will be able to maximize the efficacy of the vaccine," Solante said in a virtual briefing yesterday.
He added that the vaccine is still necessary for addressing the pandemic.
While waiting to get vaccinated, Solante advised the people to comply with the minimum health protocol. – Christina Mendez