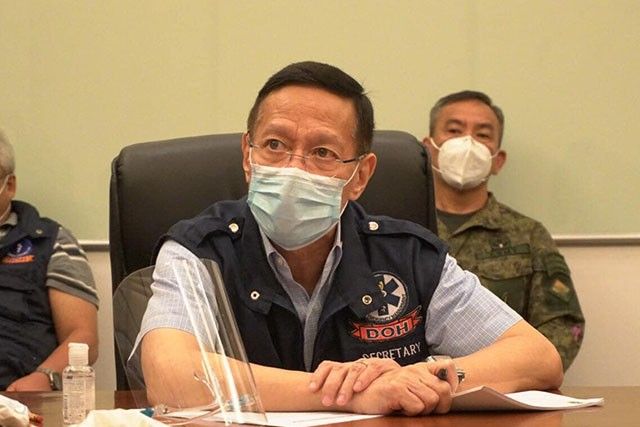 Health Secretary Francisco Duque III revealed the updated tally of new variant cases of COVID-19 during the press briefing here at the Southern Philippines Medical Center, following the ceremonial rollout of the Sinovac jabs in Mindanao.
Francisco T. Duque III via Facebook
COVID-19 variants spreading
52 more South African, 31 UK variant cases, 42 other mutations – DOH
DAVAO CITY , Philippines — Fifty-two more cases of the South African variant and 31 new cases of the United Kingdom variant have been detected among COVID-19 patients in the country, Health Secretary Francisco Duque III said yesterday.
Duque revealed the updated tally of new variant cases of COVID-19 during the press briefing here at the Southern Philippines Medical Center, following the ceremonial rollout of the Sinovac jabs in Mindanao.
He said the latest cases of the new COVID-19 variants were detected by the Philippine Genome Center (PGC), which also reported 42 more "mutations of potential clinical significance."
"Samples comprising this run came from the National Capital Region (NCR), Central Visayas and returning overseas Filipinos (ROFs) in response to the increased number of cases in these areas," the DOH said in a statement.
Speaking of the South African variant, B.1.351, the DOH said 41 of the 52 new cases have "indicative addresses in NCR or Metro Manila," while 11 cases are "being verified if these are local cases or ROFs."
One case from NCR has recovered, while the remaining 51 cases are still tagged as active and being managed.
In total, there are now 58 South African variant cases in the country – 55 of them active and the other three have died.
Duque has maintained that this variant is not as contagious as the more widespread strain of COVID-19, so it does not impact the efficiency of the vaccination program.
On the other hand, the DOH said that 28 of the 31 new UK variant cases also indicated NCR as their addresses while three cases are being verified if local or ROFs. All 31 are active cases.
This brings to 118 the total number of UK variant cases in the country – 39 of them active, two of them recovered and 77 dead.
42 new mutations
The DOH said that out of the 42 new COVID-19 cases with "mutations of potential clinical significance," 34 have indicative addresses in Central Visayas.
Six of them came from NCR, while two cases were being verified if they are local transmissions of COVID-19 or ROFs.
The new cases raised to 85 the total number of mutations found among COVID-19 patients. They were found to have N501Y and E484K mutations which are associated with South African and UK variants.
Data show that of the 85 cases, 21 are currently active while 62 have recovered. Two are still being verified.
"Everyone is reminded of their individual responsibilities to follow the minimum public health standards at all times and in all settings," the DOH maintained.
Biggest spike
Yesterday, the DOH recorded a total of 3,045 new cases of COVID-19, the biggest spike in nearly five months.
The last time the DOH documented more than 3,000 was on Oct. 16, 2020 with 3,139 cases.
The 3,045 cases raise to 587,704 the country's COVID-19 caseload since the pandemic broke out.
With 19 among the new cases succumbing to the virus, the death toll has reached 12,423.
The DOH said 178 new recoveries from the illness brought to 535,207 the total recovered cases, while the active cases stood at 40,074 or 6.8 percent of the COVID-19 caseload.
Data also showed that out of the active cases, 89.7 percent are mild; 5.6 percent are asymptomatic; two percent critical; 1.9 percent severe and 0.77 percent are moderate cases.
Cause of concern
Epidemiologist John Wong of the Inter-Agency Task Force Technical Working Group on Data Analytics has expressed concern over the increasing cases of new variants.
"We should also be concerned about this. The number of cases was found only because we're still collecting samples through surveillance testing. So (if) we collect more samples, we will be able to see more," he said.
Wong underscored that so far, there is still no "representative samples" for genome sequencing that are being collected across regions.
"So unless and until we have enough samples from all regions of the country, we can't say, for example, that there's more in this region against that region," he added.
'Vaccinate HCWs'
Meanwhile, concerned international groups called for urgent action to speed up the vaccination of millions of frontline health care workers (HCWs) around the world, saying at least 17,000 HCWs succumbed to COVID-19 over the last year.
The warning from Amnesty International (AI), Public Services International (PSI) and UNI Global Union came as global inequalities in vaccine access continued to widen.
They said that more than half the world's vaccine doses have so far been administered in just 10 rich countries, making up less than 10 percent of the global population, while over 100 countries are yet to vaccinate a single person.
With many poorer countries due to receive their first batches of vaccines in the coming weeks and months, the organizations called on governments to include all frontline health workers in their distribution plans – including those often ignored in the pandemic such as cleaners, community health workers and social care workers – in order to save lives and provide safe working conditions.
"For one health worker to die from COVID-19 every 30 minutes is both a tragedy and an injustice. Health workers all over the world have put their lives on the line to try and keep people safe from COVID-19," said Steve Cockburn, head of economic and social justice at AI.
Rosa Pavanelli, general secretary of PSI, said: "All governments must be able to acquire and administer COVID-19 vaccines for us and our communities as soon as possible. Health workers will only truly be safe once everyone is safe."
Strict arrival procedures
Yesterday, Bureau of Immigration (BI) Commissioner Jaime Morente reminded immigration inspectors manning the ports to conduct strict arrival formalities on arriving passengers even if they have the required documents on hand.
Morente's memorandum – addressed to the bureau's port operations division (POD) which supervises primary inspectors assigned at the airports' immigration counters and the intelligence division and travel control and enforcement unit (TCEU), which handles the secondary inspection of arriving aliens – is aimed at ensuring that arriving foreigners have valid and legitimate purposes in visiting the country.
The order stemmed from last month's interception of 17 Chinese who arrived in the country with entry visas and entry exemption documents, but turned out to have misrepresented their purpose in coming to the Philippines.
"Aside from giving inconsistent answers during interview, the passengers were also not able to establish their connection to companies that invited them," said Fortunato Manahan Jr., chief of the BI intelligence division which supervises the TCEU.
"Misrepresentation will result in the denial of entry of these passengers and they will be excluded and booked on the first flight back to their port of origin," Manahan said. "They will also be blacklisted and banned from re-entering the country."
Morente clarified that entry exemption documents do not exempt arriving passengers from regular immigration scrutiny.
"It's a documentary requirement set by the IATF (Inter-Agency Task Force for the Management of Emerging Infectious Diseases) for aliens arriving under a temporary visitor's visa, but their entry is still subject to immigration inspection," he clarified. – Rhodina Villanueva, Rudy Santos