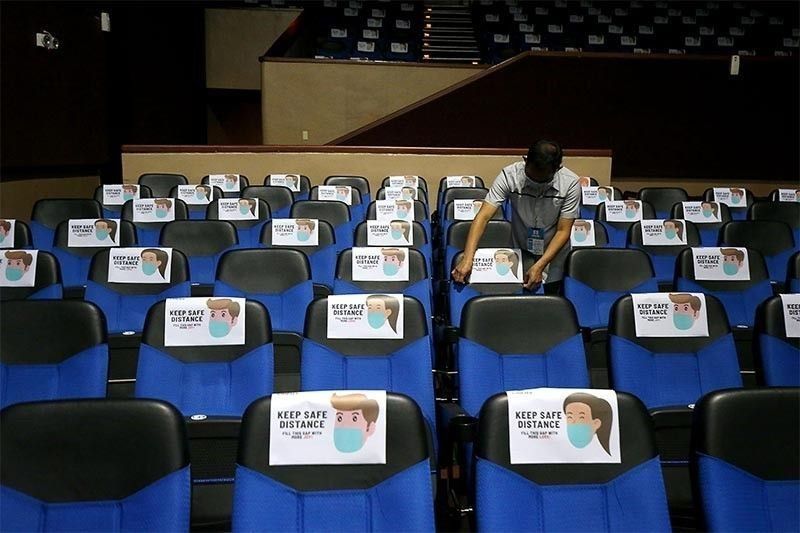 Beginning today, movie houses can supposedly accommodate up to 25 percent of their seating capacity after the Department of Trade and Industry (DTI) issued a memorandum to recategorize some entertainment areas from Category 3 to Category 4.
The STAR/Miguel de Guzman
Mall operators defer reopening of cinemas
MANILA, Philippines — Even if the Inter-Agency Task Force for the Management of Emerging Infectious Diseases (IATF) has allowed entertainment centers and other businesses to operate at an increased capacity, several malls in areas under general community quarantine (GCQ) have decided to defer the reopening of their movie theaters to wait for the approval and guidelines from local government units (LGUs).
Beginning today, movie houses can supposedly accommodate up to 25 percent of their seating capacity after the Department of Trade and Industry (DTI) issued a memorandum to recategorize some entertainment areas from Category 3 to Category 4.
Those that were recategorized were traditional cinemas; driving schools; video and interactive game arcades; libraries, archives, museums and cultural centers; tourist attractions like parks, theme parks, natural sites and historical landmarks; as well as meetings, incentives, conferences and exhibitions.
However, four malls in Metro Manila have opted to defer the reopening.
Ayala Malls Cinemas head Charmaine Bauzon told CNN Philippines that "inasmuch as we do want to reopen our cinemas to welcome the movie-going public once again, we regret that we will not be able to do just yet as we are still waiting for the approval of the LGUs where Ayala Malls Cinemas are located. Until such time we receive formal advice from the city mayors, our cinemas shall remain closed."
SM Supermalls president Steven Tan also issued a statement saying the "SM Cinemas will work closely with the LGUs on our reopening. We are prepared to open with strict safety standards for all customers."
In Quezon City, Araneta City is also awaiting "guidelines from and approval of the QC government," noting that they "have already put in place safety protocol inside cinemas in preparation for our reopening."
Robinsons also said: "We are not yet opening today. We will follow DOH-IATF guidelines and final LGU approval for cinema operations."
Quezon City Mayor Joy Belmonte said their guidelines are ready, but decided to postpone it "for a day or two to observe the trend in our numbers first."
In Marikina, Mayor Marcy Teodoro told The STAR in a text message that all cinemas and game arcades "are not allowed to operate yet" as stated in the executive order he issued.
Valenzuela Mayor Rex Gatchalian, meanwhile, said only one of three movie houses in the city wants to open again, but its operator has yet to submit a reopening plan so it will remain closed for now.
Caloocan City Mayor Oscar Malapitan is also not allowing as yet the cinemas and gaming arcades to reopen due to an increase in the number of patients infected with the South African variant of COVID-19 in the country.
Health Undersecretary Maria Rosario Vergeire said the reopening of cinemas goes with certain conditions to prevent the spread of COVID-19, noting that the IATF and other government agencies have released "specific policies" for this.
"There is this required ventilation for these enclosed spaces… And you need these high-tech filters for you to be able to meet standards," Vergeire noted in an earlier television interview.
She added that the number of people inside movie houses is limited per certain period. "People can really stay there, for example, in cinemas for two hours so you can prevent transmission of virus… That is the standard and until establishments can comply, then they can open up."
The DTI said its memorandum circular that allows more businesses to reopen or increase its capacity was part of the government's push to bring back more economic activities.
Under the circular, which took effect yesterday, cinemas are allowed to operate at a maximum of 25 percent of capacity in GCQ areas and at 50 percent in those under modified GCQ or MGCQ, but are all subject to health and safety protocols and additional guidelines from the Department of Health (DOH) and LGUs.
The guidelines for traditional cinemas include wearing of masks at all times, no eating and drinking, use of the StaySafe PH QR code for all employees and customers, physical distancing by one meter on all sides as well as disinfection before every screening.
Trade Secretary Ramon Lopez said that "following an earlier agreement with the IATF, the DTI issued the circular to guide the implementation of a safe and gradual reopening of more businesses and economic activities."
"This is part of our mandate to ensure that, as more businesses reopen to provide more jobs and sources of income for our countrymen, the strict health protocols are enforced. There is shared objective in restoring economic activities while keeping the health protocol fully enforced to prevent unnecessary surge of COVID-19 cases. This has been the working formula in previous reopening of economic sectors to bring back jobs," Lopez pointed out.
He noted that the "past year proved to be very challenging as we were faced with unprecedented situations that demanded extraordinary responses, but it was also a time for growth and collaboration."
"As we move forward this year, we will continue this momentum and adopt a whole-of-nation and whole-of-society approach towards safely and gradually reopening our economy," he added.
Most parts of the country are now under MGCQ.
Those under GCQ for the whole month of March are Metro Manila, Apayao, Baguio City, Kalinga, Mountain Province, Batangas, Tacloban City, Iligan City, Davao City and Lanao del Sur. – Ghio Ong, Shiela Crisostomo, Emmanuel Tupas