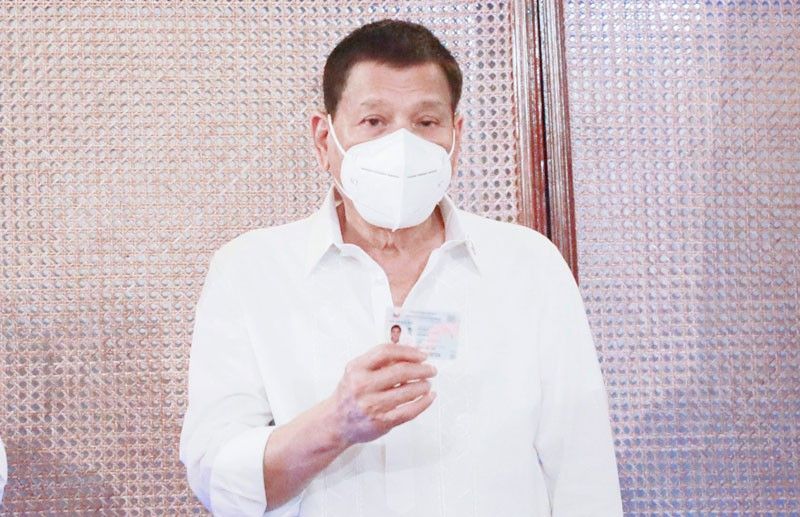 President Duterte shows his official national identity card, which he received from acting Socioeconomic Planning Secretary Karl Chua at Malacañang the other day.
STAR/File
Duterte gets his national ID
MANILA, Philippines — After having his biometrics and personal data captured last January for the national ID system, President Duterte finally received his own national identification card Wednesday night.
Acting Socioeconomic Planning Secretary Karl Chua personally handed over Duterte's ID prior to the 53rd Cabinet meeting at Malacañang.
In August 2018, Duterte signed the Philippine Identification System Act (PhilSys) into law to establish a single national ID system for Filipino citizens and resident aliens.
It aims to improve the efficiency, transparency and targeted delivery of public and social services, as well as ease transactions in both public and private sectors. The national ID system will also curtail red tape and eliminate fraudulent transactions and misrepresentations within the bureaucracy.
However, there were some controversies surrounding the project. Seven Bangko Sentral ng Pilipinas (BSP) officials faced graft complaints before the Office of the Ombudsman over the P1.75-billion supply and equipment contract to produce 116 million ID cards.
Meanwhile, project implementer Philippine Statistics Authority (PSA) reported 20.133 million Filipinos have completed the first step in registering for the national ID system.
Pre-registration started in October 2020 in 32 provinces considered low-risk areas for COVID-19. House-to-house registration will be finished by the end of the month, and starting April, the PSA will open Step One of the registration process to the public.