Free COVID-19 tests eyed for Pinoys
December 9, 2020 | 12:00am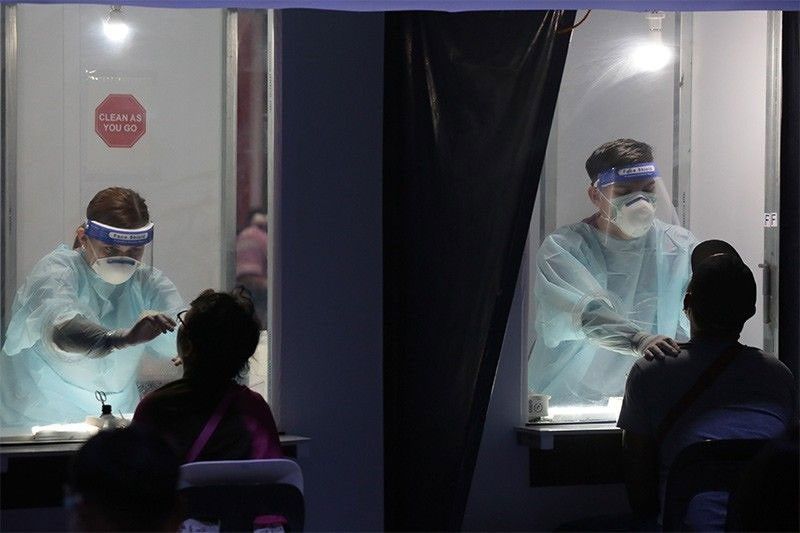 MANILA, Philippines — President Duterte wants the government to provide free COVID-19 testing to every Filipino, especially those who cannot afford the expensive services offered by private laboratories and testing centers.
Many Filipinos have avoided taking the reverse transcription polymerase chain reaction (RT-PCR) or swab test, which they find expensive.
The President said he would talk to Health Secretary Francisco Duque III and National Task Force Against COVID-19 chief implementer Carlito Galvez Jr. on how to come up with cheaper COVID-19 testing for travelers or for those returning to their home provinces.
He said the problem with affordability is very evident at airports where travelers – including students on budget – have to undergo tests before they are allowed to board aircraft.
"The others don't have enough money, especially the marginalized. I mean, those with just enough money for themselves – to pay air fare, the students," he said in Filipino in his televised address Monday night after his weekly meeting with the Inter-Agency Task Force for the Management of Emerging Infectious Diseases (IATF-EID).
The President said he would look for money to fund the free testing, which he said would be made available in all government hospitals or health centers. He said he wanted the Department of Health (DOH) to come up with a program by the first or second quarter of next year.
Duque said the government was able to set a price range for COVID-19 testing in accordance with the President's executive order issued last month.
In private laboratories, COVID-19 testing ranges from P4,500 to P5,000. In government laboratories, testing cost is P3,800, according to the health chief.
"PhilHealth continues paying. The highest amount shouldered by PhilHealth was P3,409. So out-of-pocket cost is not much, only around P400," Duque told the President.
Those tested positive for COVID-19, Duterte said, should be accommodated in hotels.
"I'll leave it to the city government and we will talk about it later. Those vacant hotels, after this you can always decontaminate the rooms," he said.
"We will do it for you. Arrange with the hotels to allow their use at this time," the President added.
Excess vaccine sharing
National Task Force against COVID-19 chief implementer Secretary Carlito Galvez said some countries, especially Australia and China, are willing to share their excess COVID-19 vaccine doses with the Philippines.
"It's good that other countries that bought more than (the needed doses for their) population, they are more than willing to... share it with us, particularly Australia and other countries," Galvez said also at the IATF meeting.
"And I believe China too, we talked to Ambassador Huang Xilian and they might be able to give some," he added.
Galvez said negotiations about the possible sharing of COVID-19 vaccine doses are ongoing.
The DOH has also reiterated its call for COVID-19 testing laboratories to submit complete line lists of test results on time.
Health Undersecretary Maria Rosario Vergeire said 10 to 12 laboratories were unable to submit their daily line lists on time.
"We remind all laboratories that they have to submit on time and completely through our system. The IATF has already issued an order about this," she said at a briefing.
Vergeire, however, assured the public that as of last Friday, there has been no backlog of cases for about four months. If there is any, she noted the backlog is "very minimal."
The official, however, underscored that delays in submissions could be attributed to many factors, as some laboratories are still "fixing their system" to be able to submit their reports through the DOH's COVID Kaya system.
Aside from this, there are laboratories that are closed during Saturdays and Sundays to give way to disinfection and maintenance of their facilities.
There are laboratories that have experienced problems with their equipment while others are lacking in manpower as they do not have enough encoders.
"These are the issues right now and we try to address these issues so that we can be able to increase submissions and complete our data," she added.
DOH data showed that as of Dec. 3, there are 186 accredited COVID-19 testing laboratories in the country.
Meanwhile, more subsidies for RT-PCR testing for tourists may be granted by the Tourism Promotions Board (TPB) next year, to be drawn from its special contingency budget.
The Department of Tourism (DOT), through the TPB, announced yesterday that it is granting a P10-million subsidy to the province of Bohol for its tourist arrivals as well as tourism workers.
Asked if similar funds would be allocated for this purpose next year, TPB chief operating officer Maria Anthonette Velasco-Allones said there is a possibility.
"Yes, the TPB, as part of its annual corporate operating budget, the legally-mandated Special Contingency Fund (SCF) which allows for diverse kinds of contingencies and special situations that DOT-TPB can support," Allones said.
"There's a wide latitude in terms of being able to provide assistance, grants such as this support for RT-PCR costs," Allones said.
But Allones emphasized the budget is not unlimited, as it only accounts for 10 percent of the agency's annual allocation for marketing and communications.
"The challenge, as I mentioned, is to be able to purposely and strategically plan for the impactful use of the SCF. And for this, we really take guidance from (Tourism) Secretary (Bernadette Romulo) Puyat and we discuss it with our stakeholders, in particular our local government units," Allones said. – Sheila Crisostomo, Alexis Romero, Catherine Talavera