'Di akin 'yan': Duterte distances self from narco list with 5 mayors included now killed
December 7, 2020 | 11:51pm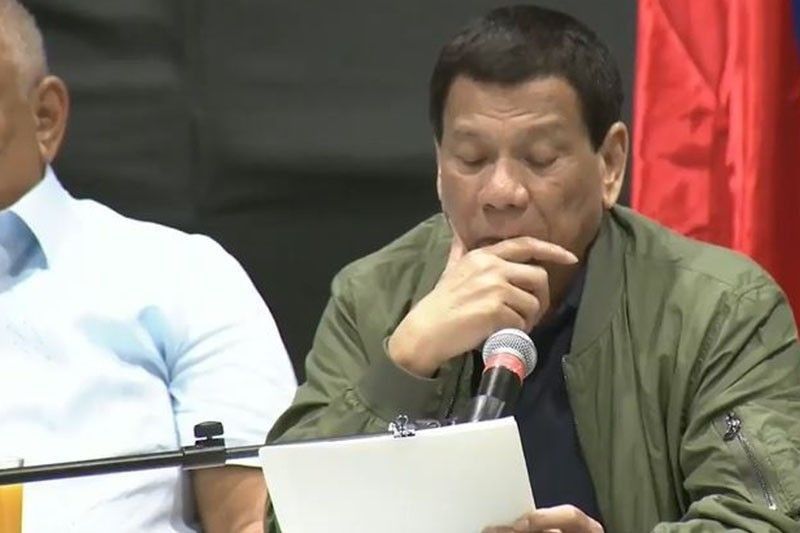 MANILA, Philippines — President Rodrigo Duterte late Monday night sought to distance himself from the list of officials allegedly involved in illegal drug trade that he had publicized over the years, after another mayor who was included in it ended up being killed anew.
Duterte in his weekly address told the family of ex-Los Baños mayor Cesar Perez, who was gunned down last week that he was sorry over how their father died, but maintained that the narco list had come from state forces.
"Kung sabihin mong 'yang listahan na 'yan, hindi akin 'yan," he said. "It's a collation. Lahat-lahat na 'yan sa intelligence reports ng drug enforcement at sa intelligence ng military at police."
(If we are talking about that list, I would tell you that it is not mine. It was compiled from intelligence reports of drug enforcement as well as military and police.)
Presidential spokesperson Harry Roque earlier today said the list has a basis, but that inclusion in it is not enough proof to file charges. Duterte's counsel, Salvador Panelo, had said too that further evidence would be needed.
Duterte making the list public invoked the people's right to know that officials are supposedly having ties to illegal drug trade. But such had exposed those in the list to dangers, with five mayors part of it seemingly meeting their sentence even without charges and a verdict from the court.
"If you believe firmly that he was not guilty or liable of anything, that's good. But the problem is his name made it to the list," he said in mixed English and Filipino. "You'll just have to look for the killers, but they did not come from my office."
The president added that he had to release the names "so that the public will be aware and prevent their ascension to public office."
Authorities have yet to report on the progress of investigations on the mayors murdered, and it is not clear if the cases have been resolved or still ongoing.
Years before Perez was killed inside the town's municipal hall, he had been stripped of powers over the local police for his alleged involvement to narcotics trade.
His killing had led Vice President Leni Robredo to question government's ability to prevent such crimes from happening and hold accountable those behind it.
Such happenings continue to put a dispute on findings by the US-based analytics group Gallup Inc. that the Philippines is among the world's top 50 safest countries this year.
In its 2020 Global Law and Order Index, the country was tied with Australia, New Zealand and Poland, to name a few, with no less than Duterte admitting that he too was surprised over it.
The results run counter to reports by international watchdogs, including the United Nations' human rights office, who said abuses related to Duterte's drug war, as well as the killing of those in the legal profession and human rights advocates continue under the present administration.