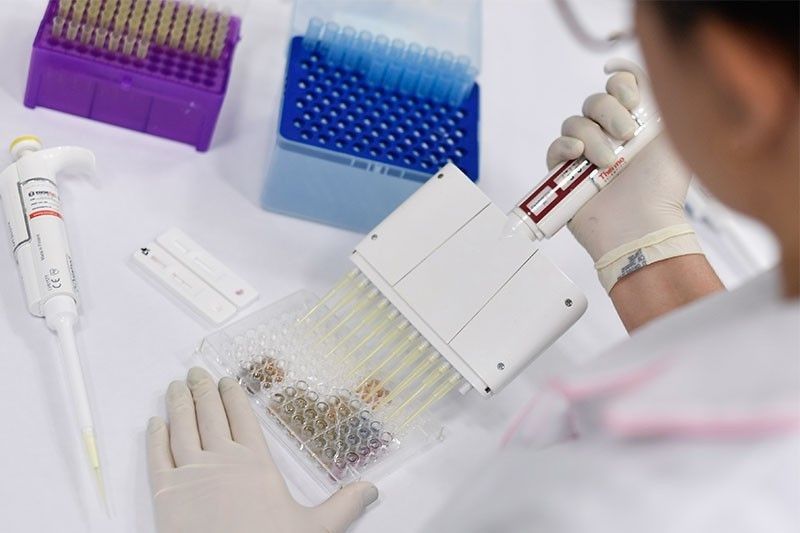 The authority, contained in Executive Order 121, permits the use of COVID-19 medicines and vaccines pending approval by health authorities, provided that there is credible data suggesting that the drug or immunization can stop, diagnose or treat the virus.
AFP/Douglas Magno
Duterte orders speedy vaccine procurement
Vaccines may be purchased by Q1 2021
MANILA, Philippines — Taking a cue from other countries that have sought to hasten the availability of potential cures to the pandemic, President Duterte has allowed the director general of the Food and Drug Administration (FDA) to issue an emergency use authorization for COVID-19 drugs and vaccines.
The authority, contained in Executive Order 121, permits the use of COVID-19 medicines and vaccines pending approval by health authorities, provided that there is credible data suggesting that the drug or immunization can stop, diagnose or treat the virus.
National Task Force against COVID-19 chief implementer Carlito Galvez Jr. yesterday said COVID-19 vaccines might arrive in the Philippines as early as the first quarter of next year.
"We are still on track, considering that there is a possibility that our best-case scenario will be shifted to the first quarter. Our best-case scenario that we have presented is more or less May, but for now, if we will succeed in negotiating with two to three vaccines from different countries, we might be able to get it during the first quarter," Galvez said at a televised press briefing.
He disclosed that the Philippines is also negotiating with Chinese firms Sinovac and Sinopharm for the possible purchase of COVID-19 vaccines, which may be available in the first quarter.
The government is also holding talks with US vaccine manufacturers Pfizer, Moderna, Johnson & Johnson and Novavax; the Serum Institute of India and United Kingdom's AstraZeneca, according to Galvez.
"We are looking forward to having at least 10 to 15 or even 20 million vaccine (doses from) each of these vaccine makers," he said.
Duterte said the World Health Organization (WHO) has recognized the practice of issuing an emergency use authorization while there are no approved alternatives.
"To strengthen their own interventions against COVID-19, other countries such as Australia, China and the United States of America adopted, and the WHO recognized, the regulatory practice of issuing an emergency use authorization to hasten the availability and use of COVID-19 drugs and vaccines, particularly those supported by strong evidence that patients have benefited therefrom, in the absence of available approved and adequate alternatives," the President stated in the order.
"It is a priority of the state to ensure that the lives of the Filipino people, especially the underprivileged, poor and marginalized, our frontliners, healthcare providers, police officers and soldiers and those in the essential services shall be protected from COVID-19 by ensuring accessibility and adequacy of supply of related drugs and vaccines," he added.
The Chief Executive also cited Section 12 of the Bayanihan to Recover as One Act, which states that phase 4 trials for COVID-19 medication and vaccine are waived to expedite their procurement.
Under the order, the emergency use authorization on a COVID-19 drug or vaccine shall be issued and remain valid if three circumstances are present.
First, it is reasonable to believe that the drug or vaccine may be effective to prevent, diagnose or treat COVID-19 based on the totality of evidence available, including data from adequate and well-known controlled trials.
Second, the known and potential benefits of the drug or vaccine should outweigh their known or potential risks.
Third, an emergency use authorization will be issued if there is no adequate, approved and available alternative to the drug or vaccine for diagnosing, preventing or treating COVID-19.
Concerned government agencies or industries should submit an application for the issuance of an emergency use authorization. The application should comply with current good manufacturing practices and accompanied by an undertaking by the manufacturer to complete the development of the drug or vaccine.
The FDA director general shall have the power to implement reliance and recognition processes for emergency use of vaccines and drugs and may accept the regulatory decision of internationally recognized and established regulatory authorities like the WHO and the US Centers for Disease Control and Prevention.
The FDA shall convene a panel composed of experts on drug and vaccine development to conduct a review of available data on the safety and effectiveness of a COVID-19 vaccine or drug applied for emergency use.
The emergency use authorization will only be valid within the duration of the declared health emergency due to COVID-19, but the FDA director general may revoke or revisit it to protect public health and safety.
The FDA and other concerned offices of the health department shall conduct post-authorization monitoring to track product deployment, additional relevant information and the status from the manufacturer concerning full-product cycle.
The holder of the emergency use authorization shall be required to complete specific pharmacovigilance obligations to provide comprehensive data confirming a positive benefit-risk balance.
Best-case scenario
Galvez also revealed that he has signed a confidential disclosure agreement with Pfizer.
Meanwhile, the government has had two presentations before Johnson & Johnson representatives.
"We are working for 50 million to 60 million doses next year, and we are working (with) different countries like China, Australia and also India," Galvez said.
"And then, we will also explore directly the different vaccine companies, and we are seeing five or six portfolios of different companies from US, China, UK; and we are also exploring Russia – with Sputnik or Gamaleya," he added.
FDA anticipates applicants
With the EO already signed by Duterte, the FDA is anticipating vaccine manufacturers to start applying for it.
In an interview yesterday, FDA director general Rolando Enrique Domingo said they have no idea which companies would apply for an emergency use authorization.
"Probably, the companies that are already in phase 3 clinical trial," Domingo added, referring to Sinovac, Sinopharm, AstraZeneca, Gamaleya and Pfizer.
FDA officials and personnel, according to Domingo, are "very excited with the signing of the EO and will release the guidelines soon."
"We at the FDA will do our best to help make safe and efficacious COVID-19 vaccines available in the Philippines," he said.
Clinical trials
China- and Russian-based vaccine manufacturers will be conducting clinical trials of its vaccines in the country either this month or in January, according to Galvez.
Clinical tests are intended to erase the psychological perceptions among Filipinos that vaccines against COVID-19 are not proven to be safe yet.
"We really need good strategy to change this perception. The Sinovac and also the Gamaleya will undergo clinical trials here either December or first week of January," Galvez said, noting that he was informed that Sinovac is "among the safest vaccines against COVID-19."
"Vaccine experts have briefed me about the safety and efficacy of the vaccine. They said one of the safest vaccines is basically from China because it came from the classical vaccine platform," he added.
There has been no reported adverse and life-threatening incidents with the use of Sinovac, according to the COVID-19 policies' chief implementer.
Galvez was supported by presidential adviser for entrepreneurship Joey Concepcion on the reliability of the vaccine, which is already being used in China.
"Definitely, in the Sinovac, the Filipino and Chinese chamber is supporting Secretary Galvez. We have heard and seen that Sinovac is a reliable vaccine and actually, they have been using it already in China," Concepcion said.
Sinovac is similar to AstraZeneca which has the same technology and level of temperature of two to eight degrees, according to Concepcion.
Galvez said that during their meeting with the Chinese pharmaceutical firm, the company will be able to ship the vaccine within 60 to 90 days, should the deal be closed.
He added that the worst scenario is that the vaccine might be available by 2022.
The government's fight against COVID-19 is now improving and is seeing a slowing down in the number of active cases, according to Galvez.
Based on the graph that he presented yesterday during the Kapihan sa Manila Bay virtual forum, the highest number of COVID-19 cases was posted on Aug. 15 with 88,109; Sept. 6 with 48,803; Sept. 30 with 52,702; Oct. 13 with 44,958; Oct. 25 with 35,015; Nov. 4 with 31,679; Nov. 9 with 29,018; Nov. 25 with 27,745 and Dec. 1 with 25,725.
"Now, we are improving. Active cases as of Dec. 1 (had been) 25,725. We are also improving in the active cases in (the National Capital Region): from the highest 16,267, we were (down to) 2,437 as of Dec. 2. We are now actually slowing down," he said.
He added that only few areas are under general community quarantine – Metro Manila, Batangas, Iloilo City, Davao City, Davao del Norte, Lanao del Sur, Tacloban and Iligan cities – while all other areas are under modified general community quarantine based on the graph's quarantine classification dated Dec. 1-31. – Sheila Crisostomo, Jose Rodel Clapano, Cecille SuerteFelipe