Accompanied minors to be allowed in malls
December 2, 2020 | 12:00am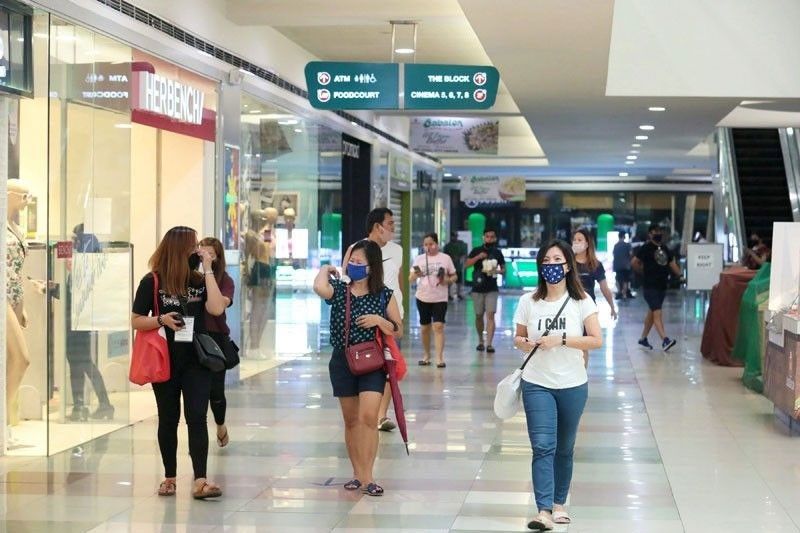 MANILA, Philippines — Minors may soon be allowed to go to malls with their parents as the government continues to reopen the economy while trying to prevent a surge of COVID-19 infections during the holidays.
Presidential spokesman Harry Roque yesterday said Metro Manila mayors are expected to come up with a policy that would ease the age-based restriction on movement.
Details of the relaxed stay-at-home policy, including the age of minors who will be allowed to go out, will be included in the guidelines to be crafted.
"That will be done by the Metro Manila Council and the local governments. Once it is released by the Metro Manila Council, that will be applicable to the entire Metropolitan Manila area," Roque said at a press briefing.
"This will be subject to the guidelines to be crafted by the Metro Manila Council and the different local governments. So we will make sure that children will not be super spreaders. One of the basic requirements is they should be accompanied by their parents," he added.
Roque said the easing of age-based restriction is in line with the effort to revive the economy.
"Many have lost jobs because of the pandemic. While we are waiting for the vaccine, we need to live with the virus so we need to take care of ourselves so we can work," he said.
"It's really to invite families to visit the malls again... Many of our countrymen are not going out and it has gotten to the point that we're now worse off," he added.
During a meeting of the government's pandemic task force last Monday, Interior and Local Government Secretary Eduardo Año said the easing of age-based restrictions would be formalized by ordinances to be issued by mayors "For Christmas, we have ordered the gradual expansion of the age group who will be allowed to go out. Minors may go out if accompanied by their parents and they can go to the malls. It will be contained in the ordinances of the NCR mayors," Año said, referring to the National Capital Region.
Batangas, Davao City, Davao del Norte, Iligan, Iloilo City, Lanao del Sur and Tacloban City as well as Metro Manila remain under general community quarantine (GCQ) in December.
The rest of the country will be under the most lenient modified general community quarantine (MGCQ).
Año urged the public to just spend Christmas with their immediate families. He said family reunions can be considered "mass gatherings."
He reminded people to continue observing health standards to prevent the spread of COVID-19.?Roque said only up to 10 people can join gatherings in GCQ areas while up to half of a venue can be filled up in places that are under MGCQ.
He expressed support for proposals for restaurants to set up outdoor tables.
Strict enforcement
As this developed, Health Secretary Francisco Duque III reminded local government units (LGUs) to intensify and strictly enforce minimum health standards to prevent a possible spike in COVID-19 cases.
Duque issued the statement after viewing a footage of a mass gathering attended by Roque in Cebu.
"That violated minimum health standard, as the required one-meter distance was breached. The point is there has been a violation, a flagrant one at that," Duque said.
The Department of the Interior and Local Government (DILG) is investigating the incident.
"I have been hearing conflicting statements, but the Secretary Año has already spoken, has in fact mentioned that an investigation is forthcoming. Let's leave it at that," Duque added.
He said the DOH has been repeatedly calling on the public to observe physical distancing and other health protocols to prevent further transmission of the virus.
Government officials should cease from holding mass gatherings if physical distancing is not observed even in well-ventilated areas, Duque said.
He said the GCQ status is being maintained in the NCR and other areas to prevent a possible surge in COVID cases this holiday season.
He gave assurance the government would continue to enhance the country's health system in preparation for a possible spike in the cases.
"Let us be cautious and be aware of possible surge during the holiday season. We have to be careful not to squander our gains," Duque said.
Preventing transmission of COVID is not the sole fight of the government, but of every Filipino, he added.
Unified decision
Año said Metro Manila mayors must come up with a unified decision on whether to allow minors in malls.
"For the National Capital Region, mayors will come up with a uniform implementation through a resolution to be back up with ordinances," he said in a message to The STAR.
If the ordinance is approved, those below 15 years old can go malling with their parents.
The decision to allow minors aged 15 years and below to go to the malls with their parents rests on LGUs.
Metropolitan Manila Development Authority general manager Jojo Garcia said an ordinance is needed to allow children in malls under parental supervision amid the pandemic.
Malabon Mayor Antolin Oreta III said he would support the passage of an ordinance that would allow minors in malls with their parents.
Oreta said the least the public could do is comply with the minimum health protocols such as wearing masks and face shields, washing hands and physical distancing.
Navotas Mayor Toby Tiangco is not keen on allowing children in malls with their parents, saying the city has a 24-hour curfew on minors.
Speaking on One News' "The Chiefs" aired on Cignal TV/TV5 on Monday night, Tiangco said he was bothered by the government's message encouraging people to go to malls to revive the economy.
"It made me think about the (government's) messaging in general to help the economy and go out and spend. Is it the correct messaging, which could be why cases have been increasing?" Tiangco said in Filipino.
He said he would rather that the message remained at "stay at home" for the sake of the country's medical frontliners grappling with the impact of the virus.
"I understand that people are experiencing (pandemic) fatigue… But if we are hard up with our limited movements, how much more the frontliners? I think that's the appeal we have to make – that whatever hardship we're experiencing, whether physically or emotionally, we should think that our frontliners are experiencing double or triple that hardship," Tiangco said.
Mayors have also been briefed about the developments in the government's vaccine plan, with the LGUs willing to set aside part of their budget to help the government purchase the vaccine.
The LGUs will also help in allaying people's fears about vaccines.
But Tiangco conceded that mayors could not make it mandatory for residents to avail themselves of the vaccine.
Cold storage facilities for the vaccine will also prove challenging for the national and local governments, he said.
"Based on discussions last night, it is good that we are talking about it now while there is no vaccine yet, than if we will discuss it when there is a vaccine available," Tiangco said.
"(Makati) Mayor Abby Binay made a good suggestion to have online registration so that all local government units would know those who would want to avail of the vaccine… I don't think we can mandate it for everyone," he added.
With Metro Manila under GCQ until yearend, mayors have agreed to ban Christmas parties and caroling, but shorten the curfew from midnight to 3 a.m. to allow residents to go to dawn masses.
Cops in malls
The Philippine National Police (PNP) will deploy police officers in malls and other commercial establishments to ensure that people are strictly observing physical distancing and other health safety measures.
PNP chief Gen. Debold Sinas said the officers would act as social distancing patrollers and remind people to keep observing safety protocols set by the government.
The officers will carry batons or night sticks when reminding people to maintain a safe distance between them.
Sinas stressed the importance of having police presence in public places as the government is gradually easing quarantine restrictions.
He said police visibility will be beefed up during the Yuletide season to secure the public from threats.
The PNP said minors are still banned from malls in the absence of an ordinance from the LGUs.
While the PNP commiserates with children forced to stay indoors during the COVID-19 pandemic, PNP deputy chief for operations Lt. Gen. Cesar Binag said it is safer for them to stay home than in malls where the risk of getting infected with COVID-19 is always possible.
Binag, who heads the Joint Task Force COVID Shield, said allowing children outside is a challenge in the implementation of health and safety protocols. – Mayen Jaymalin, Emmanuel Tupas, Marc Jayson Cayabyab, Ralph Edwin Villanueva