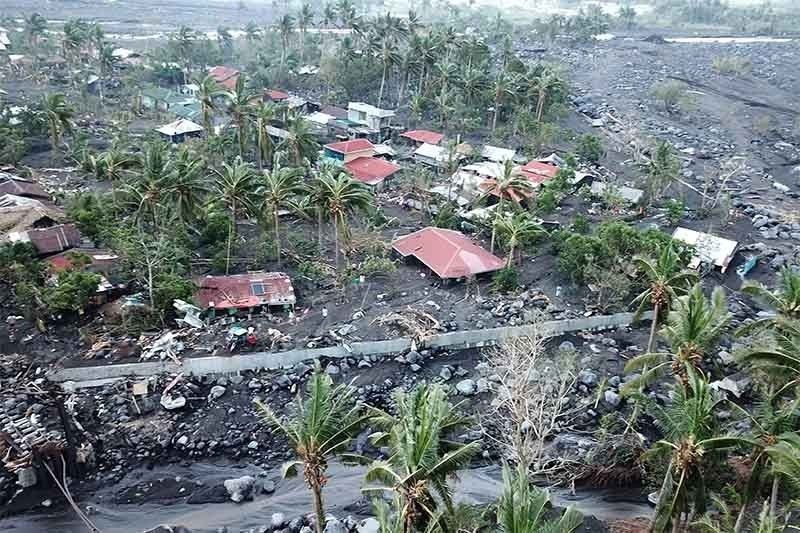 This aerial photo taken on November 2, 2020, shows houses buried by boulders and lahar washed from the slopes of nearby Mayon Volcano in Guinobatan town, Albay province, south of Manila, after super Typhoon Rolly (Goni) made landfall in the Philippines on November 1.
AFP/Charism Sayat
Albay gov: Quarrying not to blame for floods, mudslides
MANILA, Philippines — Albay Gov. Al Francis Bichara denied the other day that quarrying around Mayon Volcano caused the destructive lahar-like floods and mudslides during the onslaught of Typhoon Rolly over the weekend.
Speaking to "The Chiefs" on Cignal TV's One News channel Monday night, Bichara said engineers of the Department of Public Works and Highways (DPWH) and officials of the Office of Civil Defense (OCD) told him quarry sites were not the source of the lahar flow that hit areas in Guinobatan town.
"The source of lahar came from the top. It did not come from quarry areas," he told The Chiefs, adding that there are no quarrying activities within the six-kilometer radius of the volcano.
Earlier, Environment Secretary Roy Cimatu ordered the suspension of quarrying activities around the volcano after finding out that operators allegedly left their stockpiles in the middle of rivers and these were washed out together with the flood and lahar.
However, Bichara said it is unlikely that quarry operators left their stockpiles in the rivers and let the materials go to waste during the rainy season.
While he has no problem with the suspension order of the Department of Environment and Natural Resources (DENR), Bichara said Cimatu should have conducted an investigation first before jumping to conclusions.
In a separate interview over TeleRadyo, the governor warned that suspending quarry operations would result in more losses to the livelihood of residents in the midst of the COVID-19 pandemic.
He also warned the suspension may lead to a shortage in construction aggregates for the provinces of Camarines Sur, Sorsogon, Catanduanes, Leyte, Samar and Cebu since Albay is their supplier.
"We are in a pandemic situation, there is no livelihood. We stop this (quarrying), it will worsen the situation," Bichara said.
Meanwhile, he appealed for more aid from the national government as provincial and local funds are no longer enough to cope with other calamities which may hit still the country for the rest of the year.
"We only have about P60 million for calamities for the next two months. We need more than that," he said.
He underscored that most parts of the province are still without electricity because about 90 percent of the electric posts maintained by power cooperatives were toppled by Rolly. – Cet Dematera