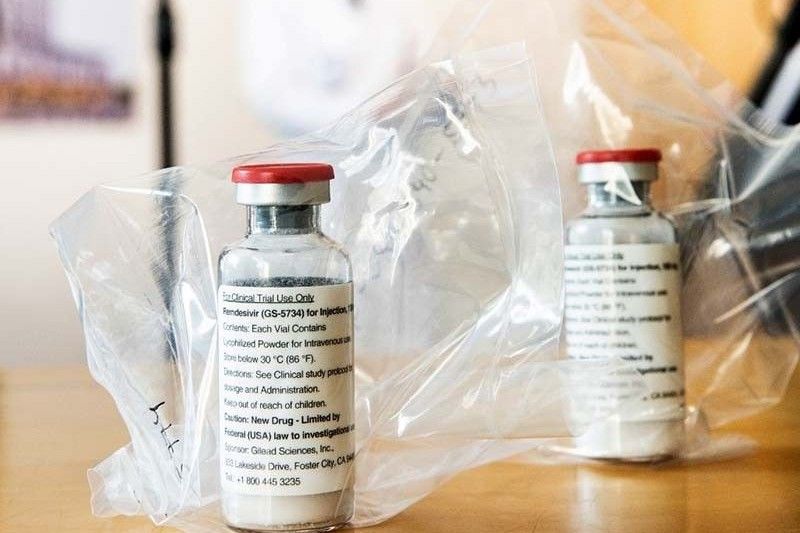 Last week, the United States' Food and Drug Administration approved Remdesivir as treatment for COVID-19.
AFP/Ulrich Perrey/Pool
DOH to study Ebola drug vs COVID-19
MANILA, Philippines — The Department of Health (DOH) is conducting an independent assessment on the possible use of anti-Ebola drug Remdesivir for treating coronavirus disease in the country.
Last week, the United States' Food and Drug Administration (FDA) approved Remdesivir as treatment for COVID-19.
"We are carefully reviewing the basis for the US FDA approval," the DOH said in a statement about the Philippines' parallel evaluation of Remdesivir to determine if it can be used in the treatment of COVID-19.
"Our Health Technology Assessment Council (HTAC) here in the country will also conduct an independent assessment of all available data (on Remdesivir) to come up with a good recommendation (on its use for COVID-19)," the DOH said.
Remdesivir, an antiviral drug originally developed to treat Ebola, is believed to help COVID-19 patients recover faster.
US President Donald Trump is the most high-profile COVID-19 patient known to have been treated with the Ebola drug.
Interim results of the World Health Organization (WHO)'s Solidarity Trial on COVID-19 Therapeutics, however, showed Remdesivir had little or no effect on COVID-19 patients.
In the country, the DOH said patients may avail themselves of Remdesivir after securing a compassionate special permit from the local FDA.
"Remdesivir will continue to be available for compassionate use, according to PSMID (Philippine Society for Microbiology and Infectious Diseases) guidelines, until these are modified accordingly," the DOH said.
The local FDA said the decision on whether or not Remdesivir will be used in the country is not dependent on the results of the WHO solidarity trial.
COVID count: 370,028
Meanwhile, the number of people who succumbed to COVID-19 in the country is nearing 7,000 as confirmed infections rose to over 370,028 yesterday.
The DOH reported 43 new fatalities that pushed the number of pandemic deaths up to 6,977, while 2,223 newly confirmed infections added to the total of COVID-19 cases.
DOH data showed that 93 percent or 2,059 of these new cases occurred within the last 14 days and there remains to be 35,015 active cases, 82 percent of which are mild.
Still, Health Undersecretary Maria Rosario Vergeire said the rising number of recoveries should serve as a reminder to the public that the illness can be managed and its spread, prevented.
Yesterday, 14,944 new recoveries brought the total of those who had beaten the infection to 328,036 nationwide.
The National Capital Region (NCR or Metro Manila) still accounted for the biggest number of new COVID-19 infections with 537; followed by Calabarzon (Cavite, Laguna, Batangas, Rizal and Quezon or Region 4-A) with 397; and Central Luzon (Region 3) with 165.
Of the 43 deaths, 29 occurred this month, while the rest happened between May and September – 16 of them from NCR; eight from Calabarzon, and four from Caraga (Region 13).
The latest report has not included 16 laboratories that were not able to submit their data to the COVID-19 Data Repository System (CDRS) on Oct. 24. So far, 4.3 million individuals have been tested for COVID-19 nationwide, the DOH said.
Vaccine challenge
Public health expert Dr. Anthony Leachon said that while there are 170 candidate-vaccines in various stages of clinical trials or development, the WHO warned that only about two billion doses can be rolled out by the end of 2021.
With this in mind, Leachon said Senate President Pro-Tempore Ralph Recto's proposed "vaccine czar" for the country should have extensive leadership experience in both domestic and international logistics.
"The logistical requirements are massive, rapid and unprecedented and we have a very low logistical base versus ultra-freezing storage requirements of the vaccines," Leachon said.
Describing the country's vaccine procurement as a serious logistical challenge, Leachon said his "gut feel" is to get the "top guys of LBC, Fedex or DHL or even Zuellig."
"Then government should get seasoned private corporate/medical and public experts with (the) same level of competence and experience. This needs whole of government and whole of society support," he said.
Doubts cast on PITC
Recto said an attached agency of the Department of Trade and Industry (DTI), which is tasked to purchase COVID-19 vaccines from foreign makers, must radically and quickly shape up if the country wants to access as many doses as needed at the soonest possible time.
He cited the dismal record of the Philippine International Trading Corp. (PITC) of the DTI in procuring vital equipment and implementing projects for various agencies worth billions of pesos that were marked by years of delays.
"The PITC's record is not encouraging. I'm willing to listen to them on how they can guarantee that they will perform their mandate," Recto said in a telephone interview.
Aside from putting an initial P2.5 billion in the proposed P4.5-trillion 2021 national budget for the vaccines, the government has tapped the PITC to procure the serums using funds from the Land Bank of the Philippines and the Development Bank of the Philippines.
Earlier, Finance Secretary Carlos Dominguez said some 20 million poor Filipinos would have to be given free COVID-19 vaccinations at an estimated cost of P20 billion.
But Recto said the PITC's failure to procure P9 billion worth of critical equipment is harming the capability of frontliners — like the Philippine National Police (PNP) — to respond to emergencies like the pandemic.
He said President Duterte's promises of new equipment for "his beloved uniformed services" are being betrayed by the PITC by its "failure to deliver them on time or deliver them at all."
Commission on Audit (COA) documents submitted to the Senate showed that the PITC failed to utilize over P12 billion from agencies like the PNP, Bureau of Fire Protection (BFP) and the Army, which gave the DTI-attached agency over a period of 10 years to make purchases on their behalf.
The PITC also dismally failed to complete not even one of the 98 fire stations it was contracted to build, leaving at least 242 towns without fire stations or fire trucks.
"The next question is: 'why would an import corporation under the trade department be given taxpayer funds for a project which is infrastructure in nature?' I am asking this because unfamiliarity with the work could be the reason for the delay," Recto said. – Paolo Romero