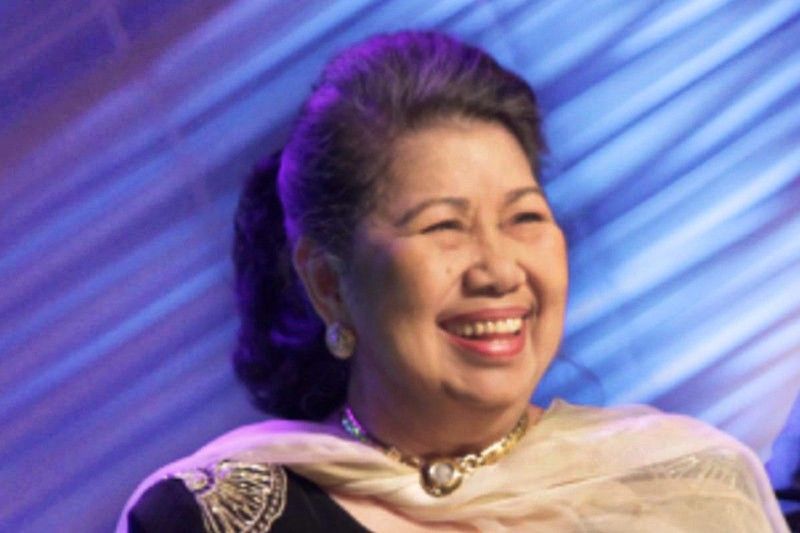 Vera-Perez Maceda
STAR/File
Manay Ichu, pillar of Philippine cinema, 77
Ricky Lo
(The Philippine Star) - September 8, 2020 - 12:00am
MANILA, Philippines — A great loss to the movie industry.
That tribute from Regal matriarch Lily Monteverde sums up the feeling of the Philippine movie industry over the death of Maria Azucena "Marichu" Vera-Perez Maceda. Lovingly known as Manay Ichu, she died in her sleep yesterday morning at a Quezon City hospital due to cardio respiratory failure. She was 77.
"She was a pillar of the industry," added Mother Lily whose office-residence on Valencia St. in Quezon City is right across from Manay Ichu's house inside the Sampaguita Events Place, the sprawling lot that used to be the family-run movie company Sampaguita Pictures, management of which was taken over by Manay Ichu after her father, Dr. Jose R. Perez known as The Starmaker, died in 1975.
Until her death, Manay Ichu was an active member of the Metro Manila Film Festival (MMFF) executive committee. Aside from the Movie Workers Welfare Foundation or Mowelfund which she helped organize with former president Joseph Estrada for industry workers, Manay Ichu had served as top officer of several government agencies including the Film Academy of the Philippines (FAP), Philippine Motion Pictures Producers Association (PMPPA) and the Film Development Council of the Philippines (FDCP).
Two years ago during an MMFF meeting at Club Filipino, she suffered a mild stroke and recovered. But since then, her health had been failing, going in and out of the hospital for various ailments (emphysema, kidney trouble, pneumonia, etc.).
After her recent hospitalization due to water in the lungs, she was brought home. She was bedridden, moving around on a wheelchair aided by a caretaker.
"During the past several days," according to a STAR source, "she was always sleeping. She was asleep when brought back to the hospital. She never woke up."
The widow of former senator Ernesto Maceda, Manay Ichu is survived by their children Manny, Ernest, Erwin, Macky and Edward; and sisters Gina, Lilibeth, Chona and brother Corcoy.
The wake will be held at the Sampaguita Chapel starting today. In lieu of flowers, the family requests that donations be given to Mowelfund.-
Meanwhile, senators mourned yesterday the passing of the movie producer.
"Our Beloved Manay Ichu will now rest at the bosom of the Lord our God. The movie industry will never be the same. We owe her a lot. We love her deeply," Senate President Vicente Sotto III said on Twitter.
Sotto also filed a resolution seeking to honor the film industry icon.
Sen. Grace Poe said, "we've lost a pillar and vanguard of Philippine cinema."
"Manay Ichu will remain an inimitable beacon of generosity and greatness who touched many lives," Poe said.
"We will hold tight to her memories and be forever grateful," she said. – Paolo Romero