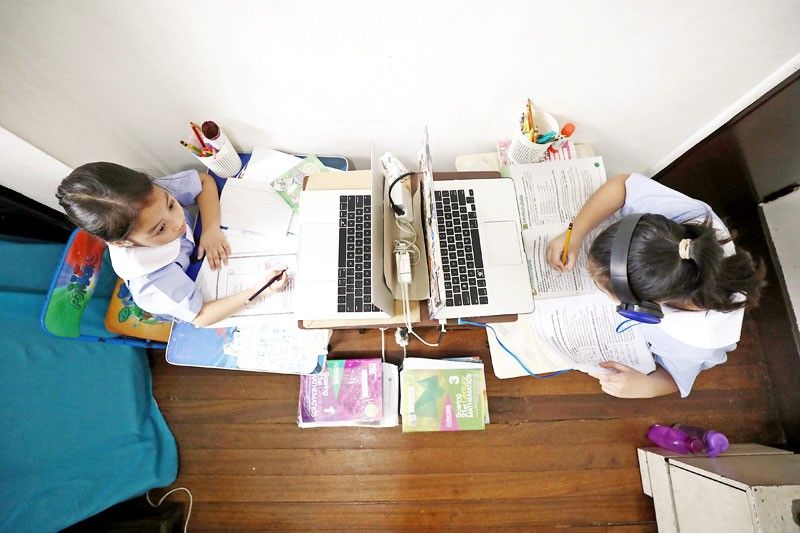 Sisters Bailey and Asti use computers while attending online classes and doing schoolwork from their Quezon City home. Several private schools have already started classes using alternative learning delivery modalities while public school pupils will have to wait until October for the new schoolyear.
Miguel De Guzman
School opening moved to October 5
MANILA, Philippines — President Duterte has approved the recommendation of the Department of Education (DepEd) to reset the opening of classes for the last time to Oct. 5 from Aug. 24.
Citing the need for more time to prepare, especially in areas placed under modified enhanced community quarantine (MECQ) this month, Education Secretary Leonor Briones yesterday said DepEd had to make the recommendation, which the President promptly approved.
Briones reiterated that no face-to-face classes would be allowed when schools reopen on Oct. 5.
"Sessions will not be limited to online sessions alone," she said. "This is because we have adopted a policy of blended learning wherein various modalities are being recommended, depending on the situation at the level of the region and the school."
In making the decision, Briones cited the recently enacted Republic Act 11480, which allows the President – upon the recommendation of the education secretary – to set a different date for the opening of classes when the country is under a state of calamity or emergency.
Executive Secretary Salvador Medialdea relayed the President's instructions to Briones in a memorandum transmitted to the agency yesterday.
"Please be informed that pursuant to the instructions of President Rodrigo Roa Duterte, and as recommended by the DepEd, the opening of classes is deferred to 05 October 2020," read the one-page memorandum.
"In this regard, the DepEd is hereby instructed to ensure that all preparations have been made for the smooth and successful virtual opening of classes for Academic Year 2020-2021," it added.
Over the past week, Briones and other DepEd officials maintained that schools were ready to proceed with the original schedule for the opening of classes.
But as it turned out, the recommendation for postponement was made as early as Aug. 6.
"I submitted to him a policy analysis of the implications of the imposition of the modified enhanced community quarantine (MECQ) in Metro Manila and in the provinces of Cavite, Bulacan, Laguna and Rizal," Briones said at a hastily called press briefing yesterday.
"We shall use the deferment, which the President has decided upon, to provide relief to the logistical limitations faced by the areas placed under MECQ and to fill in the remaining gaps of the school opening that we are currently addressing," she added.
Briones said the postponement covers both public and private elementary and high schools, except those that are affiliated or attached to colleges and universities.
Private schools that have already started classes can also proceed with the school year. She said it would be difficult to stop them especially since the learning process has begun.
Reminded of protocols
She reminded them to follow policies and health protocols, including the restrictions on physical classes and the additional rules in areas under MECQ.
For standalone private schools that have yet to start their school year, Briones said DepEd wants them to comply with regulations set by the department.
"On the postponement, private schools are under the umbrella also of the Department of Education insofar as basic education is concerned," she said in a mix of English and Filipino.
"But they also have their own operations manuals and activities, which they also comply with… We want them to generally comply with DepEd regulations," she added.
Previous DepEd policies allow private schools to come up their own school calendar, provided they comply with the minimum number of contact days per school year.
They are also mandated to follow the provision of Republic Act 7797, which set the opening of the school year anytime between first Monday of June and the last day of August.
Despite the lack of implementing rules and regulations for RA 7797, Briones said the President can already activate the new law which has a provision allowing its immediate implementation after publication.
"We trust in DepEd that this is the final adjustment in school opening. Even with the implementation of MECQ, we will use this time to make the necessary adjustments and ensure that all preparations have been made for the successful opening of classes," she said.
"We want to fill in the remaining gaps of the school opening because of the logistical limitations, limitations to movement of our teachers and also of our staff and other individuals who are involved in the process of education," she added.
Among the priorities would be the printing and delivery of modules, upskilling of teachers and finalization of classes that would be broadcast on television and radio.
Areas outside MECQ were also directed to continue with their orientations, dry runs and delivery of learning resources to students.
On Thursday, Briones said the department has successfully conducted simulations in over 500 public schools nationwide.
She said these simulations have resulted in very useful feedback on where they can improve on to ensure smooth opening of classes.
Various groups and senators have been urging the department to postpone the opening of classes due to reports that schools are not ready to start the school year by Aug. 24.
Decision lauded
Teachers' organizations welcomed the decision and urged the DepEd to use the additional period to ensure the preparedness for the school opening and the safety of all stakeholders.
The Alliance of Concerned Teachers said the postponements would be for naught if the requisites for the delivery of safe, accessible and quality education would not be met.
Its recommendations include providing for all distance learning modalities; filling in the shortages on facilities, personnel and equipment and installing comprehensive health protection mechanisms.
The Teachers' Dignity Coalition said the President's decision proves its repeated assertion that schools are not ready to start classes.
It reiterated its call for DepEd to respond to the needs of stakeholders, such as ensuring the health and safety of teachers and providing them with laptops, internet devices and other equipment needed for distance learning.
Senators also welcomed the development. Sen. Sherwin Gatchalian, chairman of the basic education committee, described the move "as the most prudent course of action."
"This (postponement) is a tough decision to make but the safety of our teachers, learners, personnel and their families should be our utmost priority," Gatchalian said.
Between now and Oct. 5, he said it is crucial that preparations continue to fine-tune all aspects of the Basic Education-Learning Continuity Plan (BE-LCP), including the completion of self-learning modules, improving radio and television-based education programs and other alternative learning modalities.
Another crucial point he emphasized was giving teachers assurance in terms of their welfare and healthcare needs, especially if they fall ill from COVID-19.
"The success of the BE-LCP's roll-out depends on the confidence that we inspire among our teachers by upholding their welfare. Lastly, we need to stretch our efforts to reach more than four million learners who are at risk of becoming out-of-school children and youth," Gatchalian said.
Sen. Francis Tolentino thanked Duterte and Briones for the "timely postponement" as it addresses relevant health issues, DepEd preparedness, parents' livelihoods and other interconnectivity concerns.
"Listening to the voices of other sectors especially the parents, teachers and the LGUs paved the way for this appropriate and humane decision. The extra days given DepEd should enable them to prepare more sustainably given the critical situation we are all in," Tolentino said.
Senate Majority Leader Juan Miguel Zubiri also welcomed the decision but said the government may consider a longer postponement, possibly until January.
He cited the US experience where 100,000 new cases were reported following the opening of face-to-face classes just two week ago.
"Education is also important but the delivery of this service must also be effective. Maybe we should pilot-test areas first," Zubiri said.
Sen. Bong Go thanked Duterte and Briones for heeding the appeal of many.
Go said the DepEd should use the time to make sure that all students would have the opportunity to enroll this school year.
"Let's also remember that many families are unable to buy school needs or are unable to pay fees because many lost jobs," he said.
Content review
After a DepEd TV show drew flak for grammatical and typographical errors on some of its episodes, Gatchalian said he is eyeing a Senate review of the content of lessons to be used for distance learning.
DepEd started the test broadcast of TV episodes on state-run Intercontinental Broadcasting Corp. (IBC-13) and Solar Learning. Photos from a Grade 8 lesson, however, went viral as netizens slammed what some described as "painful" errors in the lesson.
While DepEd already acknowledged the errors and vowed to make improvements on its TV broadcast content, Gatchalian stressed quality control should not be compromised amid the rush to make learning resources available when classes open.
He reiterated the reach of TV makes it a viable tool for distance learning, especially for those who have poor or no internet connectivity.
Citing a report from Dataxis, a global firm specializing in telecom and media business, 18.7 million Filipino households have television in 2019, a number that is expected to increase to 20.7 million by 2024.
The senator said since not all parents can teach their children at home because some of them have not completed schooling, teachers can guide learners through recorded lessons for television. Parents, on the other hand, should ensure that their children are focused on studying.
Some local government units have partnered with local television stations to broadcast recorded lessons. The local cable service provider in Luna, Isabela, for example, provided two channels for the province's TV-Eskwela. One channel will be used for elementary while the other will be for high school learners, he said.
Quezon City Rep. Alfred Vargas said the postponement will give DepEd, teachers and students ample time to prepare for a more efficient implementation of blended learning.
"The deferment of school opening will benefit all education stakeholders as DepEd will be able to detect and address problems related to blended learning in the run up to Oct. 5. This will result in a more efficient implementation of the 'new normal' in education," Vargas, a member of the House committee on basic education and culture, said.
"DepEd should consider pilot testing various forms of blended learning in select schools nationwide starting Aug. 24 while sourcing additional funds for its implementation. This way, the agency will know the technical challenges that could affect teachers and students," the lawmaker suggested. – Paolo Romero, Edu Punay