9 PhilHealth execs to open bank accounts to AMLC
August 13, 2020 | 12:00am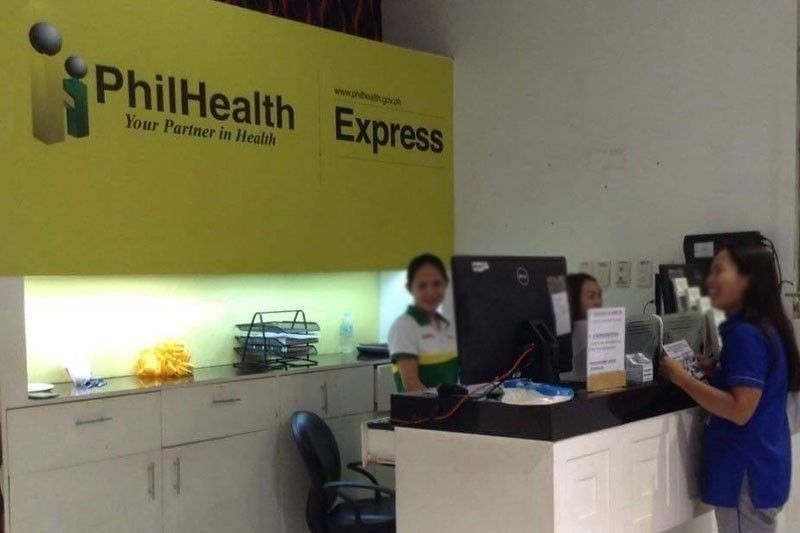 MANILA, Philippines — Nine executives of the Philippine Health Insurance Corp. (PhilHealth) yesterday acceded to a challenge by Deputy Speaker LRay Villafuerte for them to sign a waiver that would help the Anti-Money Laundering Council (AMLC) scrutinize their bank accounts.
Four officials who were physically present at the hearing – senior vice presidents Renato Limsiaco Jr. and Jovita Aragona, SVP for health finance policy Israel Paragas and SVP for actuarial services Nerissa Santiago – agreed to have their bank deposits opened.
The five others gave their approval from remote locations through Zoom, among them vice presidents Shirley Domingo, Oscar Abadu and Gilda Diaz; corporate secretary Jonathan Mangaoang and vice president for Visayas Walter Bacareza.
Villafuerte asked them one by one if they were willing to sign a waiver that would allow the AMLC to check on their deposits amid the controversy surrounding PhilHealth that runs to billions of pesos.
"I admire the staff who said yes. They're here and they are not in hiding and have not made any medical excuses as alibis," Villafuerte, who represents Camarines Sur, said.
"In the interest of the public, we are here to find out who are really involved. We're not here to harass you," he added.
PhilHealth president and chief executive officer Ricardo Morales, however, excused himself even before Villafuerte made the AMLC challenge.
Morales informed Anakalusugan Rep. Mike Defensor, who chairs the public accounts committee, that he was "not feeling well."
Senior vice president for legal affairs Rodolfo del Rosario signed out from Zoom after his blood pressure reportedly shot up, while executive vice president and chief operating officer Arnel de Jesus said he needed to replace the battery of his pacemaker.
PhilHealth has one president and CEO, one EVP and COO, seven SVPs, four area VPs, 16 regional VPs and five branch managers.
In a Twitter post, PhilHealth said members of its executive committee and some senior officers "have volunteered to submit themselves to lifestyle checks to be conducted by any authorized agency of government."
PhilHealth noted that this is intended to "belie allegations of corruption" being hurled at the agency.
"Nothing to hide," it said.
PhilHealth spokesperson Shirley Domingo had given assurance in an earlier interview that the agency is open to any investigation to resolve corruption issues.
Domingo said PhilHealth officials have also decided to submit themselves to lifestyle checks even before Malacañang had announced the creation of a task force on the order of President Duterte.
The Department of Health (DOH) yesterday explained how the Interim Reimbursement Mechanism (IRM) received by accredited health care institutions for COVID-19 cases was computed.
The IRM is computed "based on historical claims" of a hospital for three months from the previous year, according to DOH Undersecretary Maria Rosario Vergeire.
"There was no COVID-19 then. The SPMC is a 1,200-bed hospital, the biggest in the country," Vergeire said, referring to the Southern Philippines Medical Center in Davao City, which received the biggest compensation from PhilHealth through IRM.
She noted that SPMC, one of the referral centers for COVID-19 patients, also handles other "specialized" cases, like heart and cancer ailments.
"They have specialized services. They have high technology there because we are trying to prime this hospital to be one of the leaders in Asia. Maybe this is the reason why they received a big (IRM)," the DOH undersecretary said.
Vergeire also gave assurance that Health Secretary Francisco Duque III fully supports any ongoing investigation on PhilHealth, being chairman of the board of the agency.
"Whenever there are gaps and issues like this, he would always support… so that it will be transparent and clear to everybody," Vergeire said.
Not yet off the hook
Cabinet officials, particularly Duque, are not yet off the hook as far as the Senate's investigation into the corruption scandal at the state-run insurer is concerned, senators said yesterday.
The lawmakers issued the warning as they renewed their call for Morales and the agency's other top officials to go on leave or be slapped preventive suspensions to allow for an unhampered investigation by a special task force formed by Malacañang.
"It would be better if we replace the entire leadership with reliable and incumbent employees whose records are clean, so that the programs will not be hampered," Senate President Vicente Sotto III told reporters via Viber.
The Senate committee of the whole, in which all senators are members, has invited Duque to attend the hearing next week.
During the committee's hearing last Tuesday, Sen. Risa Hontiveros pointed out that Duque has held various positions at PhilHealth since 2001, so he has a long institutional memory and therefore "cannot feign ignorance of the systemic corruption" in the agency.
Also during Tuesday's hearing, Senate President Pro Tempore Ralph Recto lamented the failure of Duque and other Cabinet officials in the board to prevent and detect corruption through vetting decisions and policies made at the management level.
Aside from Duque, who chairs PhilHealth, other ex-officio members of the board are Finance Secretary Carlos Dominguez III, Social Welfare Secretary Rolando Bautista, Budget Secretary Wendel Avisado and Labor Secretary Silvestre Bello III.
Recto said the power of Duque and other Cabinet officials to designate representatives must be suspended as PhilHealth's handling of P250 billion in public funds must be closely watched.
"Unless lifted by the President, they should function as full-time, hands-on government and presidential representatives to the board… We need these 'Big Brothers,' these Cabinet 5, to closely exercise oversight during PhilHealth's reform and rehabilitation phase," Recto said.
Senate Majority Leader Juan Miguel Zubiri said Duque must shed light on how the board agreed to implement the controversial IRM, which senators strongly believe was a source of huge money for some officials in favoring certain hospitals and other health care institutions (HCI).
The IRM allows PhilHealth to advance payment claims to hospitals and HCIs to keep them operating during calamities or emergencies, in this case, the pandemic – with loose liquidation rules that were frowned upon by the Commission on Audit.
The probe – greatly aided by whistle-blowers – showed certain HCIs, like dialysis centers, were advanced tens of millions of pesos even though none – or few of them – had COVID-19 patients.
The suspicion is that these HCIs and some top PhilHealth officials have under-the-table financial arrangements.
The PhilHealth board allocated P27 billion for the IRM, of which over P14 billion have been disbursed to some hospitals and HCIs, and only P1 billion so far liquidated.
Zubiri also proposed that Socioeconomic Planning Secretary Karl Kendrick Chua, being "a numbers guy," helm PhilHealth.
Senate Minority Leader Franklin Drilon said the IRM was covered by a board resolution, so he wants to find out whether or not Duque exercised due diligence.
"Secretary Duque must appear because many of these projects were approved by the board and he is the chairman of the board," Drilon told reporters in an online press conference.
Suspend or scrap IRM
Sotto, Zubiri, Drilon and other senators pressed for the suspension or scrapping of the IRM.
Sen. Francis Pangilinan said the remaining IRM funds should be redistributed to better initiatives.
"The current allocation system is a complete disaster and is a huge stumbling block for our hospitals to be able to effectively address the killer pandemic," Pangilinan added.
Sen. Sonny Angara said the IRM funds should be used for COVID-19 tests, which are expensive to many, especially those in the low-income sectors.
"(The poor) need it badly, given the conditions in many of our urban communities, where people live in cramped quarters. (The money must be moved) around the whole country to make testing available and accessible," Angara said.
"Until we are confident that a system can be put in place to ensure that PhilHealth funds are not being corrupted, the IRM has to be suspended," Hontiveros said in a statement.
Recto suggested that all IRM releases be posted on PhilHealth's website for all to see, a move that "does not need pricey (information technology) software."
Drilon pressed for the outsourcing of PhilHealth's IT system to a reputable company to minimize corruption in the acquisition of such infrastructure.
"If we have a reliable and competent IT company, we just contract it out so that all PhilHealth will be doing is to get the desired results rather than buying the equipment themselves. This is not rocket science and it is being done. That is my strong suggestion," he said.
Aside from the IRM controversy, the Senate is also investigating the alleged P2.1-billion overpricing in PhilHealth's acquisition of IT systems. – Sheila Crisostomo, Paolo Romero, Evelyn Macairan, Janvic Mateo