DOJ: 476 inmates died in first half of 2020 Senators want BuCor chief out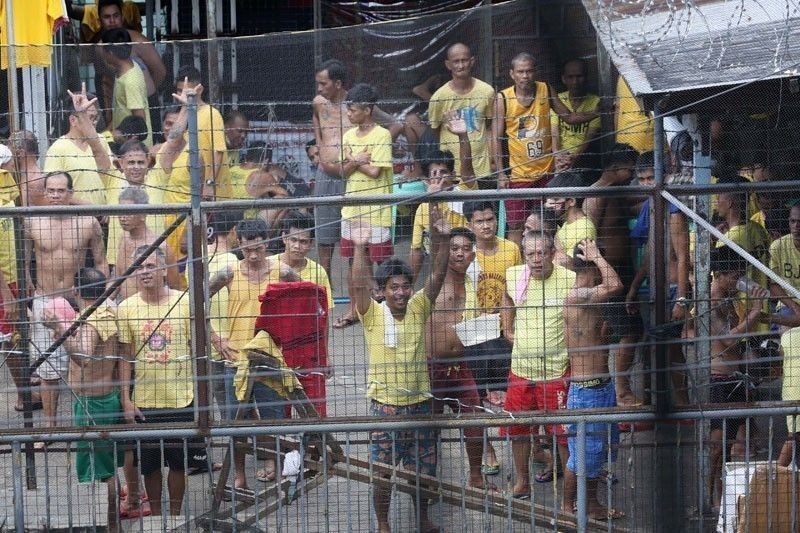 MANILA, Philippines — Since the start of the year, an average of two inmates have died daily in prison facilities nationwide under the Bureau of Corrections (BuCor), for a total of 476 fatalities as of July 19, Justice Secretary Menardo Guevarra said yesterday.
Based on data provided by the BuCor, the prisoners died of various ailments, including coronavirus disease 2019.
Senate Blue Ribbon committee chairman Richard Gordon yesterday said BuCor Director General Gerald Bantag should submit a report on the deaths recorded at the NBP and to take a leave of absence.?Senate Minority Leader Franklin Drilon, for his part, said suspicions that something is "amiss" do not merit the continued stay of Bantag in his post.
BuCor officials ignored the calls.
Of the 476 fatalities, 21 succumbed toCOVID-19 – three from the Correctional Institution for Women (CIW) and the other 18 from the New Bilibid Prison (NBP) in Muntinlupa.
Of the 21 persons deprived of liberty or PDLs, nine were linked to the illegal drug trade in the NBP, which prompted the National Bureau of Investigation (NBI) to conduct a probe on their deaths. Another 24 were suspected to have died of COVID.
Among the nine, the DOJ has so far confirmed the identity only of Jaybee Niño Sebastian, who was among those who accused Sen. Leila de Lima of raising funds from NBP drug dealers for her senatorial campaign.
The BuCor has also confirmed the death of shabu tiangge boss Amin Imam Boratong.
Sen. Risa Hontiveros filed a resolution seeking a Senate probe into the deaths of nine high-profile drug inmates in the NBP allegedly due to COVID.
"It is baffling how COVID-19 was able to wipe out several drug lords with one blow," said Hontiveros,
Hontiveros said BuCor earlier confirmed that among those who died from COVID were drug convict Sebastian, along with other inmates Boratong, Benjamin Marcelo, Zhang Zhu Li, Jimmy Kinsing Hung, Francis Go, Jimmy Yang, Eugene Chua and Ryan Ong.
Their remains were immediately cremated at Panteon de Dasmariñas Public Cemetery in Cavite.
Hontiveros' resolution cited that the alleged corruption inside BuCor as revealed in previous Senate investigations, "including cases of 'Good Conduct Time Allowance for Sale' and other schemes in which high-ranking officials of the bureau would dispense favors to rich inmates in exchange for monetary consideration," casts doubt over the deaths amid seemingly secretive and immediate disposal of remains.
Guevarra said many of the prisoners who perished due to COVID-19 also had pre-existing illnesses, mostly respiratory-related.
"During our very long discussion with the BuCor people last Monday, they informed us that on the average, even prior to the pandemic, the average daily rate of death in the penitentiaries all over the country is anywhere between two and three persons dying every day, for various causes," Guevarra said.
"If you average that, if you divide that by the total number of days during that period, it would appear to be something like 2.3 on the average daily, while we cannot say it was substantially higher than the daily average during the past year, but there was a slight increase and I suppose that is because precisely of COVID-19," he added.
"When someone dies in prison, we noticed that their (BuCor) protocols were inadequate, so this will be the subject matter of further discussion, how to improve their protocols," Guevarra said.
He said there have been several rumors about the deaths of high-profile convicts, such as a "switch" of bodies and identities, and that the convicted drug offender did not really die.
"For the benefit of BuCor and to dispel any doubt that there was an anomaly in the death of a PDL, allegedly due to COVID-19, then we thought it proper and prudent to request the NBI to make its own inquiry into the matter," the DOJ chief added.
Hontiveros also urged the investigation to look into the health and sanitary conditions in penal institutions "so that the abnormally high number of COVID-19 fatalities might be addressed."
Bureau ignores speculations
BuCor officials yesterday shrugged off calls for Bantag to be dismissed or go on leave.
At a press briefing yesterday, BuCor spokesman Gabriel Chaclag said that speculations related to the deaths of the 21 PDLs, including nine high-profile inmates, are not being entertained by the bureau.
He said they would not be able to work if they listen to the rumors and clamor amid the issues.?"We cannot easily vacate a very sensitive position," Chaclag said.?He added that BuCor officials would continue to work as long as people's trust and confidence in the government remain.?"We would not quit as long as the trust is there. [Bantag] is still working. Rest assured, he would do anything to accomplish his work," Chaclag said.
The bureau also promised to be transparent and cooperate in any investigation that may come their way.?Drilon said while there is the principle that public officials are presumed to be performing their duties properly, the long history of corruption and even killings at the NBP – allegedly with the involvement of top BuCor officials – warrants Bantag's dismissal or his taking a leave.
"I am tempted to say fire him (Bantag) and dismiss him, because he appears to be oblivious of the issue of public interest. This presumption or regularity in the performance of official duties cannot be maintained, because the people no longer have confidence in the officials of BuCor," Drilon told ANC's Headstart.
Freed
Meanwhile, Interior and Local Government Secretary Eduardo Año said over 22,000 inmates have been freed from jail facilities as part of the department's decongestion program amid the pandemic.
A total of 21,858 PDLs have been released by the Bureau of Jail Management and Penology (BJMP) since the start of pandemic in March.
This comes as 51 jail facilities and three BJMP offices have been compromised by COVID-19.
BJMP Region VII has had the highest number of positive cases at 731, followed by Calabarzon with 146 and National Capital Region with 139.
Only 180 are still active cases, with most PDLs and personnel having already recovered, while 11 died.
Still, with the decongestion effort, of the total PDLs released, 15,102 were paralegal releases through bail, plea-bargaining, parole or probation.
Gordon also raised concerns over reports that fake deaths is a booming industry in the Philippines.
Gordon shared with Senate reporters a link https://www.telegraph.co.uk/travel/destinations/asia/philippines/articles/philippines-the-global-leader-for-faking-own-death/ that detailed how foreigners are using the Philippines to start over by securing their fake death certificates, thus evading all liability.
"A British article reported that if someone who wants to evade his pending criminal cases, he/she will just buy death certificate. Are you aware of that?" Gordon said during an interview with Senate reporters via Zoom.
Gordon read an excerpt from the report that stated, "Ever considered faking your own death and starting out from scratch in some foreign land? No, us neither – but it does happen. And there's a booming trade for it in the Philippines, of all places." — Cecille Suerte Felipe, Paolo Romero, Romina Cabrera, Ralph Edwin Villanueva