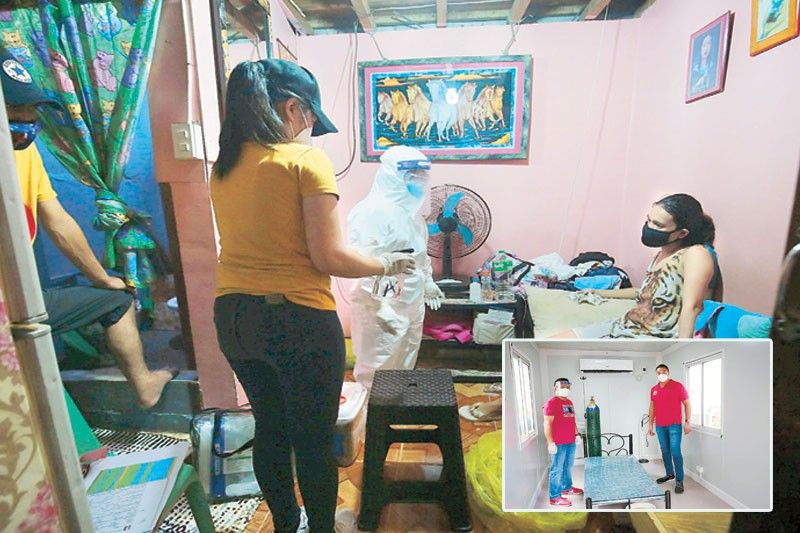 A health worker disinfects after taking a swab sample from a resident in Barangay Baesa, Quezon City yesterday. In photo at left, Mayor Francis Zamora and Vice Mayor Warren Villa inspect a newly built isolation room for COVID-19 patients at the San Juan City Medical Center yesterday. The city government is providing a free stay in the facility with free food and WiFi plus P3,000 to those who agree to star in isolation.
Michael Varcas
Health, local government personnel to look for COVID-19 patients
MANILA, Philippines — Police won't conduct house-to-house searches to find persons with coronavirus disease 2019 (COVID-19), Malacañang and the police clarified yesterday.
Instead, police would only play a supportive role to health and local government personnel in the effort to locate COVID-19 patients, the Philippine National Police (PNP) said.
Presidential spokesman Harry Roque likened staying in isolation facilities to a paid vacation rather than imprisonment.
He said mild or asymptomatic COVID-19 patients would be asked to voluntarily go to quarantine sites, which he said have "excellent" facilities.
Last Tuesday, Interior Secretary Eduardo Año said authorities would go house to house to look for persons with COVID-19 who are not in quarantine facilities.
Various sectors have expressed alarm over the plan, saying it would violate the constitutional right of persons to be secure in their homes.
Roque clarified that the patients would be transferred to quarantine centers by health workers, not by policemen.
"The local health workers are the ones who will lead the transfer of COVID-positive patients from their homes to government quarantine facilities, which we call Oplan Kalinga. Police presence is merely to provide support or assistance in the transport of patients and the implementation of lockdown in the affected area," the Palace spokesman said in a statement.
In an interview with ANC, he said, "You know, they will not go house to house, they will have to be reported. They will have to be reported by the persons themselves, their family or the barangay. There is a law, which is RA (Republic Act) 11332, which says that they have to report communicable diseases."
"Now, we prefer that the asymptomatics and the mild cases voluntarily surrender and confine themselves in isolation centers. We are enticing them with the fact that these are air-conditioned centers, free lodging, free meals three times a day and with free WiFi and with a graduation ceremony... after the 14-day quarantine period," he added.
Roque said the isolation facilities have doctors and nurses who would attend to the needs of the patients.
The state can isolate people with communicable disease who refuse to undergo quarantine, he added.
"I don't think it will go to that extent because we are trying precisely to entice them with excellent facility. It's a paid for vacation in an air-conditioned facility So, it's not as if they are going to be brought to the gulag and to the jails," the Palace spokesman said.
"In my press briefing, we will soon show to the nation how these We Heal as One and Ligtas centers look like. They look like hotels so it's not as if they will be sent to the gulag and to solitary confinement," he added.
The government is discouraging infected persons with mild or no symptoms to undergo home quarantine, saying it could further spread the virus.
Officials said patients cannot isolate themselves at home if they don't have their own room and bathroom and if they are living with persons who are vulnerable to COVID-19 like senior citizens and people with existing medical conditions.
Roque chided administration critics for supposedly "weaponizing" the quarantine measure. He maintained that contact tracing is a valid exercise of police power by the state to protect citizens from public health threats.
"We find it unfortunate that critics and detractors of the Duterte administration are using the important strategy of contact tracing to vilify the current government," he said.
"Let us not delve into unproductive speculation and instead help our communities to be COVID-19 free," he added.
Roque said the Philippines has only filled up 40 to 50 percent of its isolation facilities because the government has been tolerant of persons isolating themselves at home even if there is no assurance that they have enough capabilities to do so.
"The legal basis to bring them, to have the asymptomatics and the mild cases without any isolation facilities or with vulnerable living with them, is still inherent police power of the state. This is still promotion of public health," Roque said.
"So make no mistake about it, anywhere in the world, if someone has to undergo quarantine, the government can isolate him. So, let's not make a big issue out of it, especially when we know that past studies already indicate that this virus may have mutated and it's even more contagious," he added.
PNP assistance
PNP deputy chief for operations Lt. Gen. Guillermo Eleazar said health officers of local government units (LGUs) would lead the search teams and not policemen.
Año on Tuesday said police officers and local officials would locate COVID patients and transfer them to isolation or quarantine facilities managed by the government as part of Oplan Kalinga.
The statement of Año raised concerns from critics who likened it to Oplan Tokhang, the administration's anti-drug campaign wherein policemen knock on the door of suspected drug personalities and persuade them to stop their illegal activities.
Human rights group Karapatan has sounded the alarm on the government's plan in tracking down COVID-19 patients, saying it will further facilitate state terror and police brutality in communities.
Justice Secretary Menardo Guevarra yesterday said the planned house-to-house search for coronavirus patients should be the job of barangay health workers and not the PNP.
Guevarra said that he was not consulted by Año of the Department of the Interior and Local Government (DILG) or the PNP with its plan, nor was the matter discussed by the Inter-Agency Task Force on the Management of Emerging Infectious Diseases (IATF).
He said the planned house-to-house search might be taken up in their next IATF meeting scheduled today.
"Should the IATF agree there is a need for a house-to-house search of COVID-19-infected persons, it should be the barangay health workers, and not police officers, who should do that. Health workers are in a better position to determine if transfer to a government quarantine facility is appropriate," Guevarra said.
However, Guevarra clarified that while he believed the task should be handled by barangay healthcare workers, the intention to transfer those infected with the virus to government quarantine facilities has legal basis.
This is mentioned in RA 11332 or the Mandatory Reporting of Notifiable Diseases and Health Events of Public Health Concern Act.
"There is ample legal basis for transferring COVID-19-infected persons to government quarantine facilities if they are incapable of voluntarily isolating themselves. Under the law, it is the duty of the person afflicted or his family to report or give notice of his communicable disease to prevent any contagion," he said.
However, Eleazar said health workers and not policemen would knock on the doors of COVID patients, adding that law enforcers would only provide assistance if requested by the LGUs.
Eleazar assured COVID-19 patients that authorities would protect their basic rights and privacy, stressing that the police will treat them as people in need of medical attention and not as criminals.
Año added that the house-to-house search will not be done arbitrarily.
He said that health officials will have a list of names of identified individuals who are mild or asymptomatic COVID-19 cases.
However, Año said that "massive extrication" would be implemented in the house-to-house contact tracing for Cebu City.
He said that almost 4,000 active cases in Cebu City are now under home quarantine and they would be transferred to government isolation facilities.
Cebu City is currently one of the epicenters of the pandemic in the country, with community transmission driving the surge of infections.
For the Department of Health (DOH), there is nothing wrong with the plan to conduct house-to-house operations to look for COVID-19 patients.
DOH Undersecretary Maria Rosario Vergeire said the scheme is being implemented by the DILG through the LGUs and Barangay Health Emergency Response Teams (BHERTs).
"I think it was exaggerated because they (news reports) even used the term 'search'. But this has long been implemented," she noted.
Eleazar said Oplan Kalinga aims to take care of COVID-19 patients belonging to poor families that have no means to undergo effective home quarantine.?"This is not anti-poor as some people would say," he said in a statement.? Emmanuel Tupas, Romina Cabrera, Evelyn Macairan, Sheila Crisostomo, Jennifer Rendon