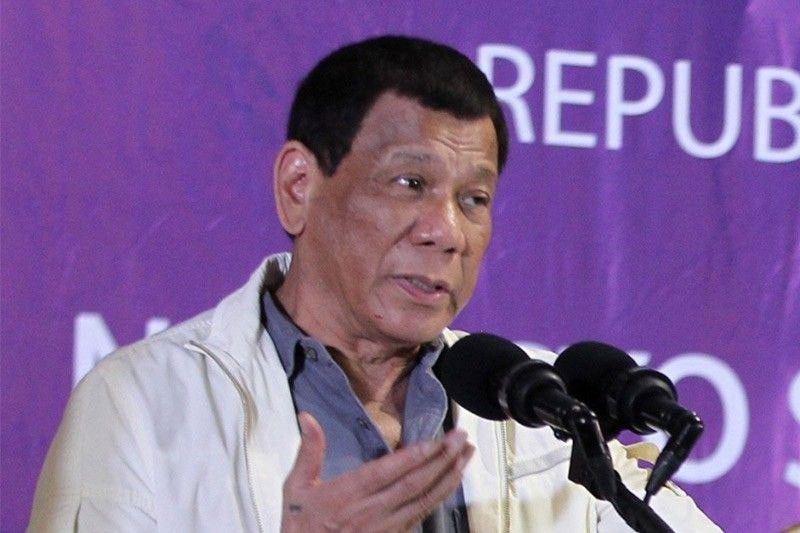 Duterte said Duque does not need to steal because he is already rich.
Ace Morandante/Presidential Photo
Duterte defends COVID team
'With due respect to ombudsman'
MANILA, Philippines — President Duterte has again vouched for the integrity of Health Secretary Francisco Duque III and other officials as the Office of the Ombudsman launches a probe on the health department over alleged anomalies in its response to the coronavirus disease 2019 (COVID-19) crisis.
"With due respect to the ombudsman, the honorable (Samuel) Martires, he is investigating, but if he asks me, if he investigates me, I would go there to tell him that I believe in the honesty and integrity of my people," Duterte said during a meeting of the government's task force on COVID-19 last Monday. "Malinis itong mga tao ko dito (My people here are clean) and I still believe in them."
Among the issues being probed by the ombudsman are the alleged delays in the procurement of protective equipment, as well as in the release of compensation for medical frontliners and in the procurement of 100,000 test kits.
Investigators may file criminal and administrative charges against those who refuse to comply with requests of investigators and other legal processes, Martires said.
Duterte said Duque does not need to steal because he is already rich.
"The money was not squandered either, I'm sure of that. I am very sure and I place my reputation on Secretary Duque that there was no corruption that happened there," the President said.
"He (Duque) wouldn't do that. He wouldn't do that because Duque is already rich. He has a hospital, a school, everything including the most beautiful wives, he has them all. They are all beautiful. This is important," he added.
Presidential spokesman Harry Roque claimed Duterte's expression of support for Duque won't affect the results of the investigation of the ombudsman.
"It's headed by a seasoned litigator and former trial court judge and Supreme Court justice... I think he can discern facts for himself, so I think he'll proceed with his own probe regardless of what the President has said," Roque told CNN Philippines yesterday.
Duterte said public funds entrusted to him by Congress are "sacred" and he won't allow them to be wasted due to corruption.
Duque, who was present during the meeting, said the health department has complied with Duterte's order to fast track the giving of compensation to medical frontliners.
He said the families of 32 health workers who died due to COVID-19 have received P1 million each while 19 health workers who got severely ill received P100,000 each.
The health chief also denied that the purchase of personal protective equipment (PPE) for medical frontliners was delayed. He said as early as February, the health department had placed an order with the Philippine International Trading Corp. for the PPEs.
"Mr. President, we encountered a problem with the supply because at that time, many other countries ordered ahead of us because they had COVID-19 cases ahead of us," Duque said.
"Because of the global shortage, Mr. President, we waited for a long time before we were able to buy personal protective equipment."
Duque said the health department worked to ensure that there would be enough PPEs for frontliners. He said his agency was able to buy one million PPEs after Duterte ordered the Philippine Amusement and Gaming Corp. to release P1.8 billion for medical supplies.
"We will send our response to the ombudsman and they have sent a subpoena requiring us to submit documents related to the procurement," Duque said.
Duterte claimed that the issues surrounding the procurement of PPEs were "not a matter of lack of preparation" but "because of the volume of demand."
"It's a pandemic. The whole world is facing the same crisis... So now we are scrambling. We were shocked by the rate of the contagion. That is why the equipment arrived a little late but that didn't mean the Department of Health wasn't doing anything," the President said.
Duterte revealed that he had fired someone from the health department over an anomaly but did not elaborate.
"But for the other cases... Itaya ko 'yung reputasyon ko as President sa lahat. Walang kalokohan na nangyari (I will stake my reputation as President. There was no anomaly)," he added.
COVID-19 response chief implementer Carlito Galvez, Jr. also defended Duque and the DOH, describing as "very clean" the process followed in procuring the PPEs.
"Sir, I agree with you ir that the procurement process of the DOH has been very clear," Galvez told the President.
"And we, rest assured, we assure the public that the administration will be clean. You always told me when I was still the chief of staff that you have no tolerance to corruption, sir. That is why that is my primary duty, to be clean in dealing with procurement," Galvez said.
Galvez said the PPEs purchased are "level four" or top of the line.
"The public is rest assured that the equipment and the PPE that we purchased are standard, especially the PPEs that are being used as controversy. If we will look at the history of our health workers, the level of casualty has decreased since we bought the PPEs. Many doctors are dying in the past, but when we started buying PPEs only one or two became casualties," Galvez said.
Galvez said that from only three testing laboratories in February, the country now has 63.
"We are also increasing our testing capacity. Our laboratories now are 63. We also have 46 RT-PCR and we also have GeenXpert laboratory. Almost all of our regions now have laboratories. We now have 27 testing laboratories in the NCR; 20 in Luzon, seven in the Visays and nine in Mindanao," Galvez said.
Galvez said only the CARAGA region has no laboratory, but they are fast-tracking the construction of three laboratories in the region.
"We are asking the DOH to give GeneXpert in CARAGA region. The CARAGA region is the most safe region all over the country," Galvez said. Jose Rodel Clapano