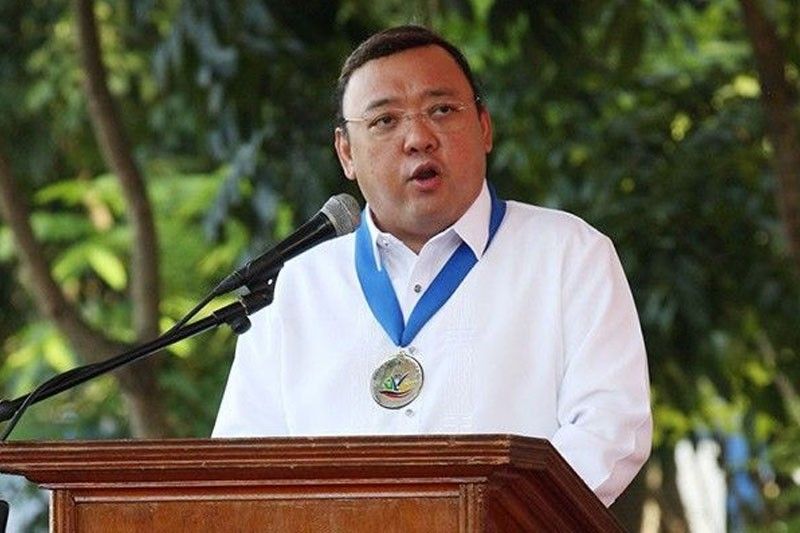 Presidential spokesman Harry Roque said while a downward trend in the increase of coronavirus cases has been observed, Metro Manila, which has the bulk of infections, has to be examined more closely.
STAR/Michael Varcas, File
MGCQ or GCQ in Metro Manila? Further review needed
MANILA, Philippines — Metro Manila has "even" chances of being downgraded to the most lenient modified general community quarantine (MGCQ) or remaining under general community quarantine (GCQ), Malacañang said yesterday.
Presidential spokesman Harry Roque said while a downward trend in the increase of coronavirus cases has been observed, Metro Manila, which has the bulk of infections, has to be examined more closely.
Roque said there would be new classifications in different parts of the country on June 15.
"It's an even chance I would say, but we will look at the data because you know that the center of coronavirus disease 2019 (COVID-19) is Metro Manila," Roque said at a press briefing. "So I would say that it is a safe conclusion that there would be a reclassification (of some areas) except Metro Manila, which is a different case. So I think Metro Manila will have to be examined closer to determine whether it can shift to MGCQ next week."
He said there is a possibility that the next meeting of the Inter-Agency Task Force (IATF) on Emerging Infectious Diseases may still be held in Davao City. President Duterte has been in the southern city since May 30.
"Whether it be in Manila or Davao, he continues to discharge his function including meeting with select members of the IATF as usual," the Palace spokesman said. Of the more than 21,000 COVID-19 cases in the Philippines, more than half or 12,000 came from Metro Manila.
Home to more than 12 million people and contributor of more than a third of the country's gross domestic product, Metro Manila shifted to GCQ from the stricter modified enhanced community quarantine (ECQ) last June 1. Other areas that have been downgraded to GCQ are Central Luzon, Calabarzon and Central Visayas regions; the cities of Baguio, Iloilo, Zamboanga and Davao; and the provinces of Pangasinan and Albay. Other parts of the country have been placed under MGCQ, the last quarantine scenario before the so-called "new normal."
Under MGCQ, restrictions on public gatherings would be relaxed and more industries allowed to resume operations. However, venues of mass gatherings may only be filled to half of their capacities and business establishments are still required to observe physical distancing and health protocols.
Roque reminded the public not to be complacent despite the slower doubling rate of infection.
"We have to be careful because it may still increase if we do not observe social distancing, wear masks and stay healthy," the Palace spokesman said.
Asked to evaluate the first week of implementation of GCQ in Metro Manila, Roque admitted that some areas have to be improved.
"But we cannot, for instance, do something about transportation because we are still in community quarantine. So we want to see more employers allowing their employees to work from home so we won't have a shortage in transportation," he said.
Quick response
Local governments units (LGUs) that have declared localized lockdowns in communities should establish quick response teams (QRT) that would carry out testing, tracing and treatment for COVID-19 to maximize effectiveness of efforts against the virus.
"Imposing a localized lockdown comes with several responsibilities. LGUs must be ready to enforce stringent health protocols, aggressively conduct contact tracing, testing and isolation to contain and prevent the spread of COVID-19 in the lockdown areas, among others," Interior and Local Government Secretary Eduardo Año said in a statement yesterday.
Año said the QRTs should include a health promotion and prevention team (for syndromic surveillance); disinfection teams; swabbing, contact tracing and medical evacuation teams; law and order; Barangay Health Emergency Response Team (BHERTS) and social amelioration.
The teams, according to the department, should be stationed at the LGU's Emergency Operations Center (EOC).
Año said LGUs should also have readily available data on population, number of barangays, population density per barangay, quarantine facilities, treatment facilities, mapping of cases, syndrome surveillance and testing kits before actual implementation of the localized lockdown.
Section 2 of Executive Order 112 issued by the Office of the President authorizes provincial governors to impose, lift or extend community quarantine in component cities and municipalities, while mayors may exercise the same authority in barangays.
On the other hand, mayors can implement localized lockdowns in communities, buildings, business establishments, markets, streets and blocks if there is an initial number of cases identified and clustering of cases.
He said the country cannot afford to place entire regions under ECQ again because "the government has to keep the balance between containing and preventing the spread of COVID-19 and mitigating the social, economic and security impacts of the pandemic crisis. Our approach now is localized and surgical lockdowns since we have been able to flatten the curve already." Neil Jayson Servallos