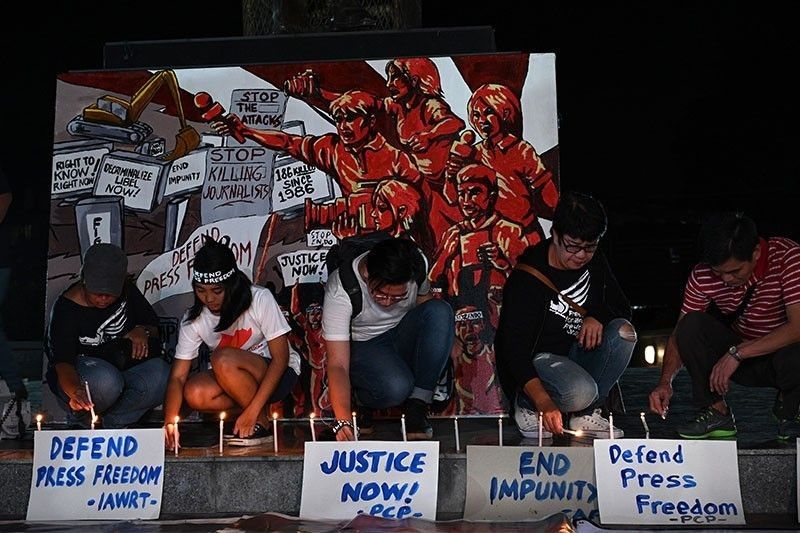 Relatives and supporters of victims of the country's worst political massacre light candles during a vigil at a park in Manila on December 18, 2019, on the eve of a court verdict in the case. The alleged masterminds of the Philippines' worst political massacre will learn their fate December 19 when a Manila court issues its verdict, in a test of the justice system for a nation with a deep-seated culture of impunity.
AFP/Ted Aljibe
Key witness in Maguindanao massacre injured in ambush
MANILA, Philippines — A key witness in the 2009 Maguindanao massacre case survived an ambush — the second this year alone — on Wednesday morning.
Lawyer Nena Santos told reporters that Mohamad Sangki, his bodyguard and driver were fired upon by unidentified persons while travelling along Tantangan, South Cotabato. The group was headed to the airport in Tacurong City.
"Mohamad has no gunshot wounds but [sustained] body injuries due to impact of the vehicle on [two] cottages," Santos said in a message.
"The driver is 50/50 but prognosis is bad," she added.
The incident happened in broad daylight and even with Witness Protection Program security present, the lawyer also pointed out.
"The person who wants Mohamad killed is very bold," she said in Filipino.
Maguindanao massacre trial reopened in January
Justice Secretary Menardo Guevarra said that he will order the National Bureau of Investigation to conduct an immediate and separate probe into the incident.
"Sangki is a vital witness in the second wave or prosecution for the Maguindanao massacre and it is not far-fetched that this ambush today had something to do with the horrible case," Guevarra added.
When the Quezon City Regional Trial Court Branch 221 issued the historic verdict on the massacre in December 2019, 80 suspects were then at large.
In a 761-page decision, the judge convicted 28 accused – including five members of the Ampatuan clan – of 57 counts of murder.
QC court Judge Jocelyn Solis-Reyes ordered the reopening of the cases in January 2020 after suspects of the massacre were brought to court.
Earlier in March — three months since a local court issued a verdict on the case — Sangki and four of his companions were also fired upon by unidentified gunmen in Shariff Aguak town, in Maguindanao.
The scene of the ambush is a short distance from the Maguindanao provincial hospital and the provincial police office.
The group survived the ambush.