Repatriated OFWs surpass 29,000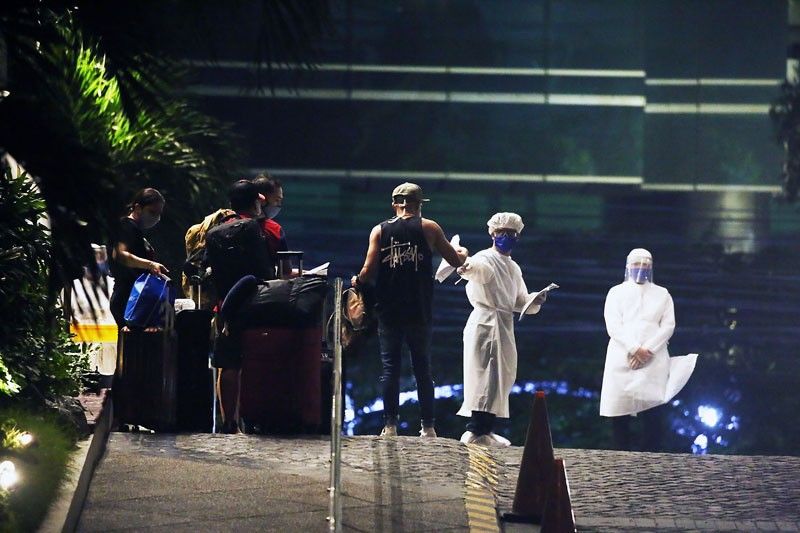 MANILA, Philippines — The number of repatriated overseas Filipino workers (OFWs) has breached the 29,000 mark.
The figure hit the mark after Philippine Airlines flight PR 683 arrived on Saturday with 352 Filipinos who were employees of the Nasser S. Al Hajri Corp. in Dammam, Saudi Arabia, according to the Department of Foreign Affairs (DFA).
Upon arrival at the Ninoy Aquino International Airport - Terminal 2, the repatriates underwent thorough documentation and briefing on current safety protocols prescribed by the Inter-Agency Task Force on Emerging Infectious Diseases as well as reverse transcription polymerase chain reaction (RT-PCR) coronavirus disease 2019 (COVID-19) testing.
The OFWs are temporarily housed at Bureau of Quarantine (BOQ)-approved facilities for their mandatory quarantine while they await the results of their RT-PCR tests.
Through coordination with the Department of Health - BOQ, Department of Labor - Overseas Workers Welfare Administration (OWWA), Department of Transportation - Manila International Airport Authority, Philippine Coast Guard, Department of Tourism, Philippine National Police, the Philippine Red Cross (PRC) and other members of the private sector, the DFA facilitates repatriation efforts for OFWs.
'Inadequate assistance'
Senate Minority Leader Franklin Drilon has chided the OWWA for what he said was its inadequate assistance to OFWs who lost their jobs due to the COVID-19 pandemic.
"It's time for OWWA to really help our OFWs. I appeal to you to go all-out to help ease the problems of our countrymen abroad," Drilon told radio station dwIZ in an interview last Saturday.
He said he will file a resolution to look into the plight of the OFWs and how the OWWA was assisting them.
The senator prodded the OWWA to provide more services to OFWs using its P20-billion trust fund, as he found it "insensitive" that the agency seems to be more concerned about their return of investment than helping OFWs cope with the pandemic.
The P20-billion trust fund came from OFWs themselves and was not for investment purposes, but to help them in times of crises, according to Drilon.
"If the OWWA is able to help our OFWs, that is also an investment, because if they find another job overseas, they can send remittances again to their families, and that will help our economy," he said.
Around 50,000 OFWs are expected to return to the country in June, and the OWWA is asking the government for additional funding to assist them, fearing that their trust fund would be depleted.
The senator, however, stressed that the OWWA does not need any augmentation of its budget from the national government as it can use its trust fund pooled primarily from the $25 membership contributions of OFWs.
The OWWA has 1.6 million as of 2017 data.
Drilon said the agency can tap into its trust fund to provide financial and livelihood assistance to OFWs affected by the pandemic.
Aside from this, the agency receives an annual subsidy from the national government.
The OWWA has a total budget of P1.58 billion under the 2020 General Appropriations Act.
The senator said he is saddened that OFWs are not being provided with sufficient support from the government in this most challenging time.
He added that the OWWA should provide more for OFWs during this trying time and give them small livelihood to be able to continue to provide for their families.
Remittances of the OFWs accounted for 9.3 percent of the country's gross domestic product and 7.8 percent of its gross national income last year.
Queries
Meanwhile, Philippine Coast Guard (PCG) spokesperson Commodore Armand Balilo yesterday said they have personnel assigned to answer queries of repatriated OFWs who have been in quarantine and waiting to be released.
Balilo added that OFWs who have completed their 14-day quarantine and have undergone swab tests but whose certificates of clearance have yet to be released but have not been sent home yet can call their Coast Guard - Public Information Office at telephone numbers 8527-8481 local 6291 or 6292 for information.
The PCG, according to Balilo, treats each complaint on a case-to-case basis since there are instances when the situations of OFWs differ from one another.
One complaint concerned an OFW who reportedly has been in quarantine at a hotel in Ermita, Manila since April 23, and underwent swab test last May 7, but whose test result has not yet been released.
Given only this minimal information, Balilo said: "I do not know why the results of the OFW has not yet been released. Did he check the list of OFWs with negative results in our (Coast Guard) Facebook (account)? Maybe, his name is already there, so he could take a picture of it or maybe there are other problems."
"Many have called and complained, but they have not checked our online posting (on our Facebook account)," he added.
The list of names of OFWs who tested negative that was posted on their social media account were provided by the PRC, which processed their specimen.
The PRC has already improved its capability in processing swab test specimen and can now release 2,000 results a day.
Balilo, however, said there could be other reasons why an OFW remains in quarantine.
Some OFWs reportedly did not give their correct addresses or have incomplete addresses that can be a cause of delay of their release.
There is also a possibility that their manning agency may have gone bankrupt because of stalled operations caused by the enhanced community quarantine and could no longer shoulder the cost of transportation to send the OFWs home.
Balilo said they have taken up the matter with the manning agencies last Saturday evening and will raise the matter again when they meet today. Paolo Romero, Evelyn Macairan