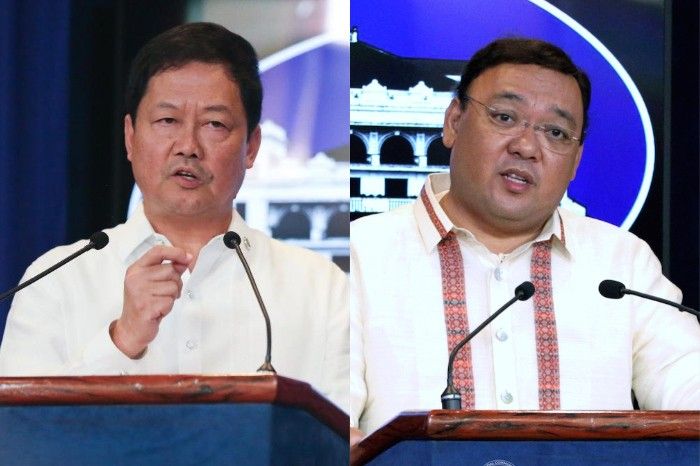 This composite photo shows Justice Secretary Menardo Guevarra and presidential spokesperson Harry Roque.
Presidential Photo/Composite
Guevarra, Roque at odds on Duterte's power over shutdown order on ABS-CBN
MANILA, Philippines — Justice Secretary Menardo Guevarra and presidential spokesperson Harry Roque are at odds on whether the president can overturn the National Telecommunications Commission cease and desist order against ABS-CBN.
In an interview with CNN Philippines' The Source, Guevarra said President Rodrigo Duterte as chief executive can "modify, amend, recall, revoke any order or decision" rendered by its subordinates.
The NTC is a quasi-judicial body under the Department of Information and Communications Technology.
In an interview with ANC, Roque however said that president cannot reverse the NTC order since DICT, an agency part of the executive branch, cannot dictate over NTC, a quasi-judicial body.
If the DICT or the president would dictate over the regulatory body, it "would be a form of graft and a violation of code of ethics," Roque added.
The presidential spokesperson added: "If he could, the president could already have intervened with the issue."
But it may be "useless" to discuss Duterte's powers as chief executive over ABS-CBN's shutdown, Guevarra pointed out, because the president "said that he will not interfere with orders of the NTC."
Guevarra: NTC order under regulatory powers
Guevarra in a text message to reporters explained that the NTC's order was carried under its regulatory powers.
"When I say that the president as chief executive has control over all agencies under the executive department, I am saying that as a general proposition but do not mean that NTC decisions are appealable to the Office of the President," he explained.
He earlier said that the network may subject the order to a judicial review before the regional trial courts or the Court of Appeals.
There is no word yet on where the ABS-CBN will appeal their case.
RELATED: ABS-CBN's Channel 2 went off air but other operations can still be accessed
Roque: Duterte is 'neutral'
ABS-CBN has, for years, been at the bitter end of Duterte's tongue lashing for its supposedly biased coverage against the government and "swindling" him for not airing his campaign material. He told the network in a speech December 2019 that he would block the renewal of its franchise and that ABS-CBN may be better off it would sold off.
But it appears it may be water under the bridge now because Duterte had accepted ABS-CBN's apology months back, Roque stressed in the same TV interview.
Roque said he spoke with Duterte on Tuesday night and the president "is really neutral."
The president also wanted his allies to know that "he will not hold it against them and he will not endear him either way."
"Do not think that he is engaging in doublespeak. He really is neutral, vote as you please," he said.
There are at least 11 proposed measures stuck at the legislative mill of the House of Representatives where franchise bills emanate.
After the NTC order was issued, the House legislative franchise committee said it would summon the Commission's officials.
RELATED VIDEO:
As It Happens
LATEST UPDATE: January 27, 2021 - 3:35pm
ABS-CBN Corp. stopped broadcasting on its TV and radio stations on May 5, 2020 after the National Telecommunications Commission issued a cease and desist order. The network's franchise had lapsed on May 4 without action by the House of Representatives.
January 27, 2021 - 3:35pm
Rep. Mike Defensor (Anakalusugan Party-list) attempts to put the ABS-CBN franchise up for a vote in the plenary, saying it should be taken up as it is in the House's unfinished business.
The House rejects his motion, but he appeals this. House leaders later on commit to begin tackling its unfinished business beginning Monday. — Xave Gregorio
January 18, 2021 - 3:38pm
Rep. Vilma Santos-Recto (Batangas) has filed a bill seeking the renewal of the franchise granted to broadcast giant ABS-CBN.
Senate President Vicente Sotto III earlier filed a similar bill at the Senate, saying a majority of Filipinos get their news primarily from TV.
Franchise bills emanate from the House of Representatives.
January 5, 2021 - 8:00pm
Malacañang is leaving it up to Congress to decide on the new bill seeking to renew the franchise of television network ABS-CBN, which was forced to lay off thousands of workers after its franchise expired last May.
Presidential spokesman Harry Roque disagreed, saying the fate of the bill depends on lawmakers.

"Well, again, I beg to differ; that is a sole constitutional prerogative of Congress which must originate from the House of Representatives," Roque says at a press briefing. — Alexis Romero
January 4, 2021 - 4:53pm
Senate President Tito Sotto files a bill renewing the franchise of broadcast giant ABS-CBN, which went off the air in May.
Sotto's bill seeks to renew the franchise of ABS-CBN Corporation, which expired in March 2020, to another 25 years.
"ABS-CBN's wide reach to Filipinos, alongside with the undeniable advantages of broadcast media relative to mass communication, definitely calls for the immediate renewal of the network's franchise," Sotto says in his bill.
October 6, 2020 - 2:27pm
Broadcast giant ABS-CBN Corp. is returning to free TV starting Saturday after striking a deal with Zoe Broadcasting Network Inc.
The network announces that "some entertainment shows and movies" it produces will be aired in the "rebranded" A2Z channel 11, formerly Zoe TV, the free TV channel of Jesus Is Lord Church led and founded by Eddie Villanueva.
"A2Z channel 11 will be seen on analog TV in Metro Manila and nearby provinces," the network says.