Red Cross opens COVID testing lab in Mandaluyong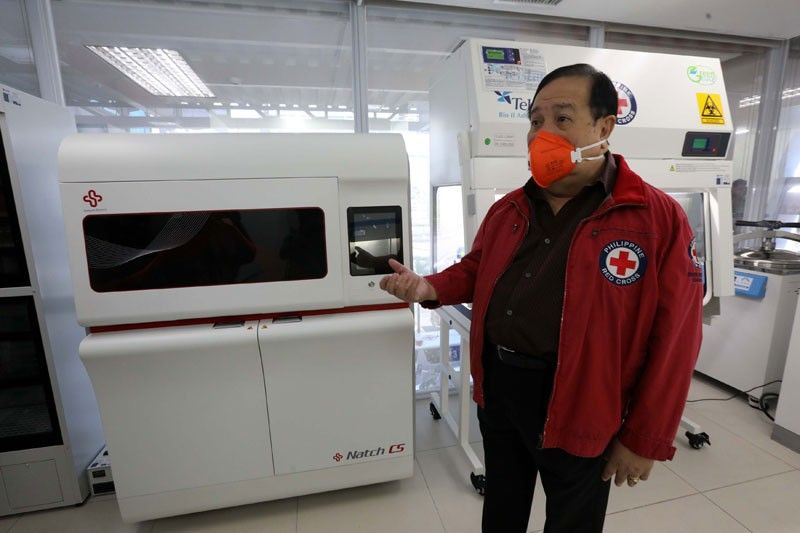 MANILA, Philippines — The Philippine Red Cross can now test 10,000 to 12,000 persons under investigation (PUIs) and monitoring (PUMs) for coronavirus disease 2019 (COVID-19) with the opening on Tuesday of a state-of-the-art molecular testing laboratory in Mandaluyong City.
The Red Cross is also targeting to acquire 12 polymerase chain reaction (PCRs) testing kits, according to Carlito Galvez Jr., chief implementer of the national task force against COVID-19 response.
Galvez said the PRC, headed by Sen. Richard Gordon, showed the task force its automated machines that can read 1,000 tests each day.
He said the Red Cross is also planning to put up testing laboratories in various parts of the country.
"In Mindanao, the Visayas and Luzon, which are beyond the reach by the laboratory of our government. The PRC is of big help to the government's target to test more than two million people nationwide, including arriving overseas Filipino workers," Galvez said.
He said the PRC plans to provide the government with critical data and analysis to help address the health crisis.
"We thanked the PRC led by Sen. Gordon and their colleagues, their private donors including foreign donors for their effort to help the government address the crisis," Galvez said.
The fight against COVID-19, he said, would be better if the government, private sector and civil society will unite as one Filipino nation.
"This is what we call bayanihan," Galvez said, adding the government has so far tested 52,837 people.
"Our testing capacity is now high. We expect that this will rise once the rotation of other testing laboratories nationwide is done."
The government is purchasing 900,000 and two million PCR and rapid test kits, respectively.
The task force has established 3,052 quarantine facilities nationwide for mild COVID cases. – With Cecille Suerte Felipe