Mindanao designer makes Philippines flag-inspired PPEs for COVID-19 frontliners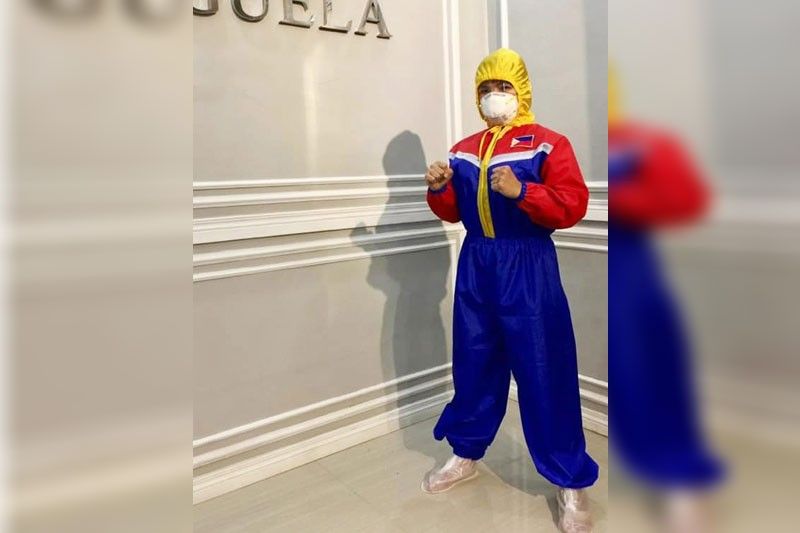 MANILA, Philippines — Doctors are taking care of us, but who will take care of them?
With this question in mind, Guela Ampong, a member of the Mindanao fashion industry based in Cagayan de Oro, started producing Philippine flag-inspired personal protective equipment (PPE) for the nation's medical frontliners.
In her Facebook post, Guela thanked the Office of the Presidential Adviser on the Peace Process for recognizing her work, saying "Proud to be a Kagay-anon."
Dubbed the "Queen of Mindanaoan Fashion," Guela is a nurse-turned-designer with 11 years of experience in the fashion business. As a nurse herself, Ampong understands the need to protect the health of frontliners by using her shears, measuring tape and fabric to make PPE.
When hospitals in Cagayan de Oro asked for donations to purchase PPE sets, Guela teamed up with her good friend, obstetrician-gynecologist Dr. Jamillah Watamama, to design and produce PPEs for the city's health workers.
Guela and Watamama organized a fund-raising campaign called "Donate 1 PPE and Save a Frontliner" wherein individuals or groups can donate P500, the cost of one PPE.
"I was alarmed when I heard the increasing number of deaths of our doctors. While they (doctors) serve our kababayans who are COVID-19 positive, they risk their lives and unknowingly catch the virus due to lack of PPE supplies," Guela wrote on her Facebook post.
"Since then, I was determined to (use) my fashion house and began manufacturing PPE suits and hazmats to be distributed to the frontliners of the hotspot hospitals," she added.
Guela created the Philippine flag-inspired hazmat suit to express her gratitude and boost the morale of medical frontliners.
She explained that each color in the PPE represents a set of virtues: blue for peace, harmony and unity as Filipinos help one another to survive; red for war against the unseen common enemy; yellow for resilience and hope that this crisis will soon pass; and white for purity, as Filipinos are pure in heart and are willing to serve their countrymen.
Guela intends to continue helping the nation's frontliners even after the crisis is over by producing more hazmat suits. This will also help seamstresses and tailors who lost their livelihood during the pandemic.
Meanwhile, more than 6,000 PPE shipments were released by the Bureau of Customs (BOC) since the government-imposed enhanced community quarantine in Luzon.
In a statement, the BOC said they have released 6,791 PPE shipments, including 102 shipments at the Ninoy Aquino International Airport (NAIA), 75 in Cebu and 11 at Clark that were all released last Monday.
The BOC added that the highest number of released PPE shipments was recorded on March 31, with a total of 593.
The bureau said that it has implemented efforts to ensure the free flow of goods, including continuous efforts to look for alternate container yards that will be used in transferring Customs-related containers. – With Robertzon Ramirez