US donates Balikatan beds to Philippines' COVID-19 patients, health workers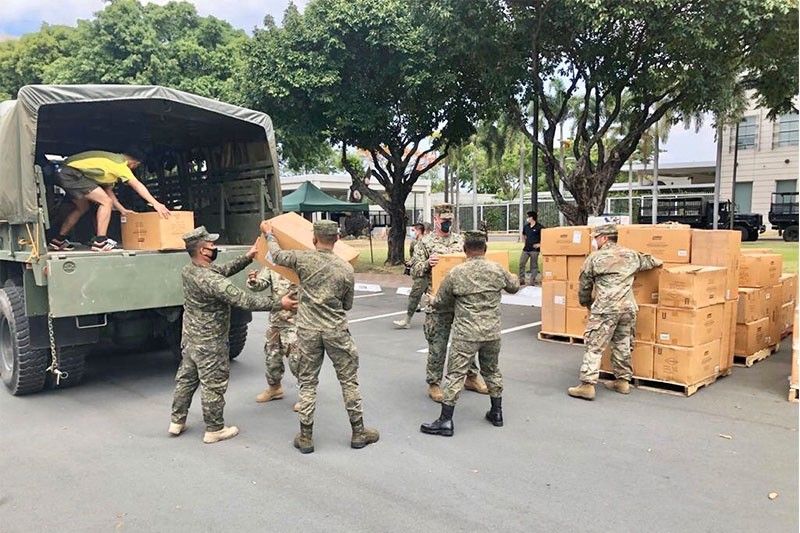 MANILA, Philippines — The United States government donated "nearly 1,300" new folding beds initially intended for its joint military exercise with the Philippines, to form part of the country's coronavirus disease-2019 (COVID-19) response.
Broken down, the US Embassy said "more than 1,100" cots were donated through the Office of Civil Defense, which was tasked by President Duterte to consolidate donations for COVID-19 contingency programs.
The balance of 150 went to the state-run Philippine General Hospital to be used by healthcare workers. PGH was designated by the health department as a hospital for caring of COVID-19 patients.
"I'm pleased to be able to hand over these new cots, on behalf of the US government, to our Philippine partners. We stand together with the Philippines, as both of our nations work to save lives and protect our people in the fight against COVID-19," ambassador Sung Kim said in a statement on Friday.
The embassy said Kim turned over the folding beds to Foreign Affairs Secretary Teodoro Locsin Jr. and civil defense administrator Ricardo Jalad.
The latest assistance came on top of $4 million, or nearly P204 million, in health assistance given earlier by the US to address the COVID-19 outbreak in the country, which has so far infected 4,076 people, 203 of whom died as of Thursday afternoon.
The threat of COVID-19 spread halted what could be the Philippines' last joint military training— known as Balikatan— with the US after President Duterte unilaterally abrogated the Visiting Forces Agreement (VFA) between Manila and Washington last February.
Unless otherwise replaced with another pact or renegotiated, VFA will cease to operate by August when the 180-day period of notification would have expired.
Among its Southeast Asian neighbors, the Philippines received the largest amount of financial assistance from the US in response to the COVID-19 outbreak, data showed.
The US also provided financial assistance to Cambodia worth $2 million, Indonesia ($2.3 million), Laos (nearly $2 million), Myanmar ($3.8 million), Thailand ($1.2 million) and Vietnam (nearly $3 million) to support their fight against the deadly virus.
As It Happens
LATEST UPDATE: March 27, 2021 - 8:09pm
Photo shows members of the Philippine National Police deployed in Manila amid COVID-19 threat. The STAR/Edd Gumban
President Rodrigo Duterte on March 16, 2020 declares an enhanced community quarantine over all of mainland Luzon, an expansion of an earlier general community quarantine over the National Capital Region.
The entire National Capital Region—16 cities and a municipality—is under community quarantine from March 15 to April 14, which means the enforcement of social distancing measures like letting fewer people on public transportation, reduced store hours, and the possibiity of curfews.
According to a memorandum issued by the Palace on Saturday, March 14, the quarantine means that "movement of people shall be limited to accessing basic necessities and work; and uniformed personnel and quarantine officers shall be present at border points."
Travel restrictions in and out of the capital will also be implemented.
March 27, 2021 - 8:09pm
A labor group says another lockdown will never resolve rising COVID-19 cases in the Philippines after the government announced that Metro Manila, Cavite, Laguna, Bulacan and Rizal are placed under the enhanced community quarantine starting Monday.
"The Duterte government seems to be deliberate in focusing its efforts in imposing quarantine and lockdown measures instead of addressing the rising cases of COVID-19 and the worsening state of the pandemic through medical solutions and scientific approach," says Defend Jobs Philippines.
March 27, 2021 - 7:06pm
Presidential spokesperson Harry Roque says the implementation of enhanced community quarantine is meant to slow down the increase of COVID-19 cases, so hospitals and health workers will not be overwhelmed.
March 27, 2021 - 6:37pm
Presidential spokesperson Harry Roque announces that Metro Manila, Cavite, Laguna, Bulacan and Rizal are placed under enhanced community quarantine starting Monday, March 29.
January 19, 2021 - 6:04pm
Tuguegarao City will be placed under enhanced community quarantine from January 20 to 29 due to the rising number of COVID-19 cases in the city.
Cagayan Gov. Manuel Mamba approved the request of Tuguegarao Mayor Jefferson Soriano to place the city under ECQ for 10 days.
According to the Cagayan Provincial Information Office, the city currently has 246 active cases.
April 29, 2020 - 7:51pm
Batangas, one of the provinces hardest hit by the novel coronavirus, has reported no new cases of the disease for two consecutive days.
The provincial DOH Office says the number of COVID-19 cases in the province stood at 91 with no new cases as of Wednesday afternoon.
Lipa City has the most cases with 26, followed by Batangas City (21) and Nasugbu (11).
Tanauan City has the fourth most cases with eight, followed by Bauan (5) and Alitagtag (3). Cuenca and Sto. Tomas City had two cases each, while the municipalities of Calaca, Lemery, Lian, Lobo, Mabini, Mataas na Kahoy, Padre Garcia, San Jose, San Juan, San Pascual and Taal had one case each, respectively. — The Filipino Connection