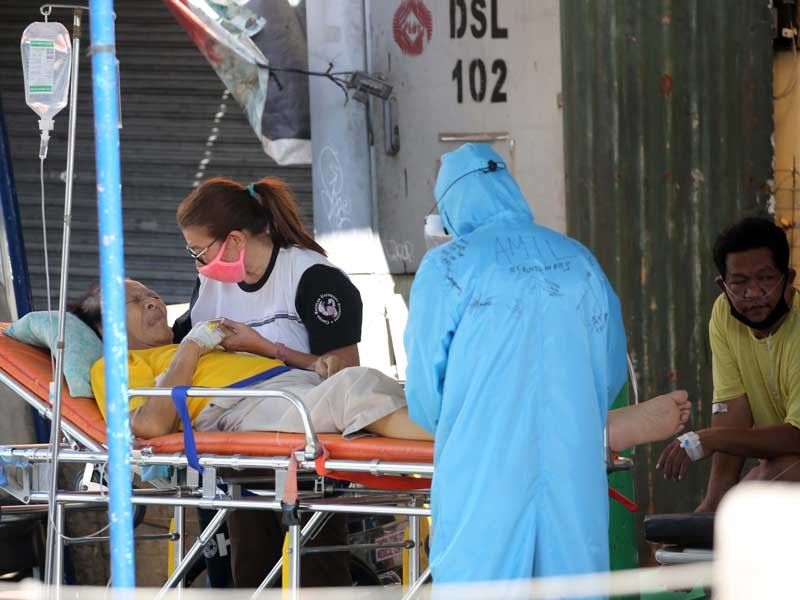 This April 1, 2020 photo shows health workers at the Mandaluyong City Medical Center
The STAR/Boy Santos
Philippines gets nearly $4-M health assistance from US amid COVID-19 outbreak
MANILA, Philippines — The Philippine government received nearly $4 million or approximately P200 million in health assistance from the US in response to the COVID-19 pandemic.
A report released by the US Department of State stated that Washington has released approximately $18.3 million in emergency health and humanitarian assistance to ASEAN member states as of March 26.
"Nearly $4 million in health assistance will help the Philippines government prepare laboratory systems, activate case-finding and event-based surveillance, support technical experts for response and preparedness, risk communication, infection prevention and control, and more," the report read.
Among its ASEAN neighbors, the Philippines acquired the largest amount of financial assistance from the US in response to the coronavirus outbreak.
It also indicated that the US Department of Defense's Defense Reduction Agency also provided locally-sourced personal protective equipment (PPEs), training, exercises and laboratory equipment and materials to the Philippines.
According to the report, the Philippines has received more than $582 million in health assistance and nearly $4.5 billion in total assistance from the US in the past 20 years.
As of Tuesday, the Philippines has recorded 2,084 COVID-19 cases with 88 deaths.
The US also provided financial assistance to Cambodia ($2 million), Indonesia ($2.3 million), Laos (nearly $2 million), Myanmar ($3.8 million), Thailand ($1.2 million) and Vietnam (nearly $3 million).
The US has yet to provide the request of Brunei and Malaysia for respirators and PPEs after US domestic demands are met.
"Our country continues to be the single largest health and humanitarian donor for both long-term development and capacity building efforts with partners, and emergency response efforts in the face of recurrent crises," the US Department of State said.
A total of 40,057 deaths have been recorded across the world, including 29,305 in Europe, with Italy registering 12,428, followed by Spain with 8,189 and China with 3,305.
Since the virus emerged in China in December, 803,645 global infections have been confirmed, more than half of them in Europe, which has 440,928.;
The United States and Canada has 172,071 cases and 3,243 deaths and Asia has 108,421 cases with 3,882 deaths. — with Agence France-Presse
As It Happens
LATEST UPDATE: June 4, 2020 - 6:44pm
Follow this page for updates on a mysterious pneumonia outbreak that has struck dozens of people in China.
June 4, 2020 - 6:44pm
Britain's Prince Charles spoke of his experience of coronavirus, saying he was fortunate to have only mild symptoms and that he hopes the pandemic will refocus efforts on the environment.
"I was lucky in my case and got away with it quite lightly," the 71-year-old heir to the throne told Sky News television in an interview broadcast on Thursday.
"I can so understand what other people have gone through. I feel particularly for those who've lost their loved ones but were unable to be with them at the time.
"That's to me the most ghastly thing," he said. — AFP
June 4, 2020 - 5:05pm
The Department of Health reports 634 additional cases of the coronavirus disease, which brings the national tally to 20,382.
The agency says there are 95 recoveries and 10 deaths.
June 4, 2020 - 10:45am
According to the latest real-time tally reported by Johns Hopkins University, the United States recorded 919 coronavirus deaths in the past 24 hours, bringing the total to 107,099,
The country -- hardest hit by the pandemic in terms of the number of fatalities -- has now confirmed nearly 1.85 million cases, the Baltimore-based school reported at 8:30 pm Wednesday (0030 GMT Thursday).
Even if the pandemic seems to be abating to some extent in the country, health experts are still worried, and say that widespread anti-racism protests over the past week could lead to a new surge in cases. — AFP
June 4, 2020 - 8:38am
Researchers in hard-hit Brazil on Wednesday say they would begin testing a coronavirus vaccine developed in Britain, while across the Atlantic European nations began reopening borders in a bid to emerge from months of devastation caused by the disease.
Authorities in Brazil — the latest frontline of the pandemic, with deaths and infections on the rise — imposed fresh restrictions in the country's northeast after reporting "extremely high" numbers of cases.
Concern over the spread of the coronavirus in Latin America has increased even as the health crisis has eased in other regions of the world. — AFP
June 4, 2020 - 7:11am
The novel coronavirus has killed at least 382,016 people since the outbreak first emerged in China last December, according to a tally from official sources compiled by AFP at 1900 GMT on Wednesday.
At least 6,440,940 cases of coronavirus have been registered in 196 countries and territories. Of these, at least 2,768,700 are now considered recovered.
The tallies, using data collected by AFP from national authorities and information from the World Health Organization (WHO), probably reflect only a fraction of the actual number of infections. — AFP