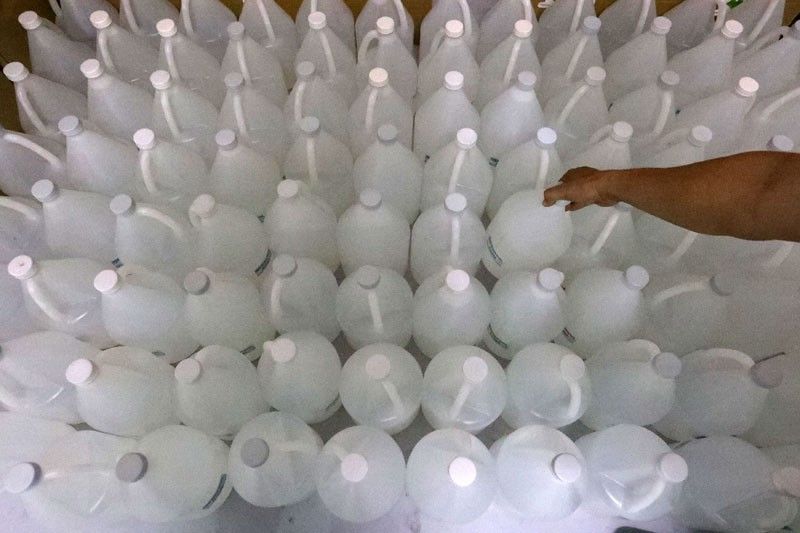 The operation stemmed from a tip that the suspects were selling alcohol online at P650 per gallon, when its suggested retail price is at P520 per gallon.
Edd Gumban/File
650 nabbed for selling overpriced medical supplies
MANILA, Philippines — At least 650 people have been arrested for allegedly hoarding and selling medical supplies at exorbitant prices amid the ongoing coronavirus disease 2019 (COVID-19) pandemic, the Philippine National Police (PNP) said yesterday.
PNP deputy chief for operations Lt. Gen. Guillermo Eleazar said the suspects were arrested in various law enforcement operations from March 17 to April 6.
Of the number, 466 were from Luzon, which is currently under enhanced community quarantine.
In Mindanao, 134 violators were apprehended while the remaining 50 were caught in the Visayas.
"We are intensifying our operations against people who are taking advantage of the current health crisis," Eleazar said in a statement.
Among these violators are Wilbert Holanda and Aileen Bico, owner and cashier, respectively, of Compremed Trading who were arrested by agents of the Criminal Investigation and Detection Group (CIDG) in Lucena City, Quezon last Sunday.
The two were accosted during a sting in Barangay 4 at around 10:30 a.m., the CIDG said in a report.
The operation stemmed from a tip that the suspects were selling alcohol online at P650 per gallon, when its suggested retail price is at P520 per gallon.
The operation resulted in the recovery of P200,000 worth of alcohol.
Police said the suspects would be charged with violation Republic Act 7581 or the Price Act.
Sustained campaign
Meanwhile, authorities have so far arrested some 594 individuals for alleged hoarding, profiteering and other illegal practices to take advantage of the shortage of supplies amid the COVID-19 crisis, according to President Duterte's report to Congress on the implementation of RA 11469 or the Bayanihan to Heal as One Act.
In his second weekly report to lawmakers, Duterte said the campaign against price gouging is being sustained under the authorized powers granted to him by the law, which declared a state of national emergency in the country.
"The national government has closely monitored the enforcement of urgent measures to combat price gouging, especially while the country is under a state of national emergency," the President said.
The Chief Executive added that the Department of Trade and Industry (DTI) has issued Memorandum Circular 20-07 on March 19 and MC 20-10 on March 31 that both prescribed anti-hoarding and anti-panic buying guidelines.
The DTI has launched 544 campaigns against hoarding and profiteering through its Fair Trade Enforcement Bureau.
The agency has also conducted 110 joint operations with the PNP-CIDG and the National Bureau of Investigation (NBI) for violations of various consumer, food, drug, price and cybercrime laws.
Duterte's report also mentioned that the Department of Agriculture also helps in the monitoring and enforcement of suggested retail prices for basic agricultural and fishery commodities in Metro Manila that help regulate the prices of pork, chicken, sugar, milkfish, tilapia, round scad, garlic and onion.
In separate operations, the Bureau of Customs and the Philippine Coast Guard raided three shops in Sta. Cruz, Manila suspected of selling smuggled personal protective equipment and seized an estimated P15 million worth of products, including gloves, face masks and goggles.
"These smuggled items pose a health risk since they may not have complied with the safety standards set by the government for human utilization," the report said.
5 nabbed in Caloocan, QC
The NBI yesterday announced the arrest of five persons, including a Chinese national, for overpricing and hoarding of medical supplies during separate operations in Caloocan and Quezon City last week.
NBI officer-in-charge Eric Distor said John Derrick dela Rosa, Jomel Tapispisan, Sarah Grace Tapispisan and Nathaniel Palingkod were nabbed during an entrapment operation in Caloocan last April 1, while Chen Tian Man was arrested the following day in Quezon City.
The first operation stemmed from an intelligence report that a businessman from Valenzuela City was selling 100-percent alcohol in bulk for P37,500, which is more than the P25,000 price ceiling set by DTI.
After an operative managed to contact the group and proposed to buy two drums of alcohol, Dela Rosa agreed to meet with the "buyer" in front of a drugstore in Monumento, where he was collared as soon as he received the marked money.
The following day, elements of the NBI Environmental Crime Division arrested Chen in another entrapment operation in Quezon City.
Initial reports said the suspect was hoarding medical supplies and manipulating the prices of thermal scanners.
Distor said Chen was selling thermal scanners for P4,400 per unit, a far cry from the P599-P3,400 selling price set by the DTI.
Chen was charged with violations of RA 7349 or the Consumer Act of the Philippines, the Price Act and Bayanihan Act.
Dela Rosa and his cohorts were also charged with the same offenses at the Caloocan Fiscal's Office. – With Paolo Romero, Rey Galupo