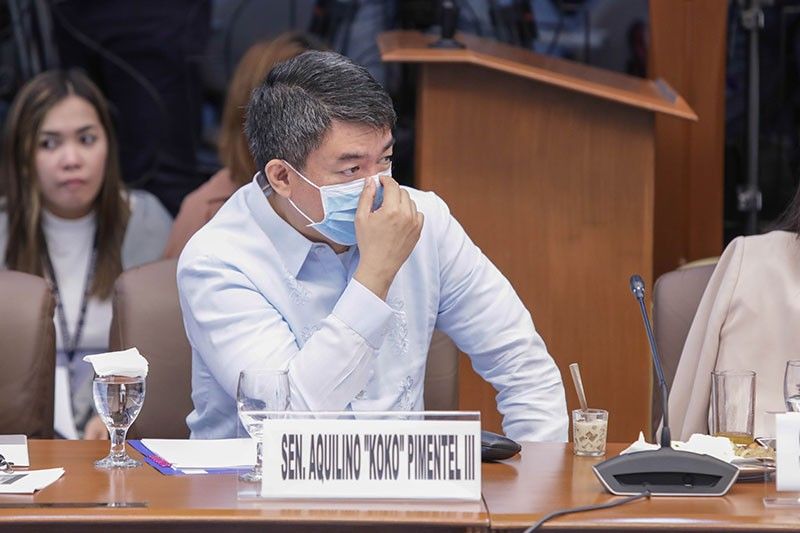 This Feb. 4, 2020 photo shows Sen. Aquilino "Koko" Pimentel III wearing a face mask during a Senate hearing on COVID-19.
The STAR/Mong Pintolo
Coronavirus-infected Pimentel apologizes to Makati Med for protocol breach
(Philstar.com) - March 26, 2020 - 12:25pm
MANILA, Philippines (Updated 9:03 p.m.) — Sen. Aquilino "Koko" Pimentel III apologized to Makati Medical Center (MMC) after breaching the hospital's containment protocols.
MMC earlier denounced Pimentel's for violating his home quarantine protocol by entering the hospital premises upon bringing his wife who was about to give birth.
Pimentel, however, insisted that he did not violate quarantine protocols.
"Nobody imposed any quarantine upon me except that to cooperate with the enhanced community quarantine... With or without COVID I do not go around. I'm a home body. It's natural for me to just stay at home," Pimentel said in a telephone interview with ANC's "Headstart" Thursday morning.
Health Secretary Francisco Duque III, meanwhile, said it was not true that he interceded to help get Pimentel a room at the MMC.
"There is no truth to that," Duque said in an interview with radio dzBB, adding that he was not involved in the case of the senator. The DOH chief also stressed that Pimentel violated the 14-day home quarantine protocol after being exposed to a COVID-19 positive patient in a Senate hearing earlier this month.
According to Pimentel, he and his wife arrived in the hospital between 6 to 7 p.m. on Tuesday. He received a call confirming that he was positive for COVID-19 at around 9 p.m.
The senator said he was already inside the hospital premises when he got the information. Upon receiving the call, Pimentel said he called his wife's doctor and immediately left the hospital.
"I did not intend to breach protocols. But I understand my presence caused anguish to the hardworking frontline health workers present there on whom we all depend," Pimentel said.
Claiming that he never had persistent cough or fever, which are symptoms of the deadly disease, Pimentel said he was simply in the hospital to witness his wife give birth.
"I would like to sincerely and profoundly apologize to the management and staff of the Makati Medical Center for this unfortunate incident," Pimentel said.
"I never intended to do harm to anyone. I am open to communication with the MMC regarding this incident," he added.
MMC Medical Director and Interim Co-CEO doctor Saturnino Javier said at least six doctors have been exposed to Pimentel.
This figure may still increase as the hospital is still determining the second layer of hospital staff who came into close contact with the senator.
"He (Pimentel) added to the burden of a hospital trying to respond in its most competent and aggressive manner to cope with the daunting challenges of this COVID-19 outbreak. More than anyone else, Mr. Pimentel, should have realized the ardent desire of every well-meaning Filipino and every dedicated healthcare institution to contain the spread of the infection," MMC said in a statement Wednesday night.
Makati Medical Center in a statement on Thursday thanked the public for its support to the hospital and its healthcare professionals in denouncing Pimentel's breach of quarantine protocols.
It also thanked the Philippine Medical Association and the Philippine College of Physicians for their support and said that it is pleased that Health Secretary Franciso Duque III concurred that Pimentel's visit to the hospital while waiting for the results of his COVID-19 test was a breach of protocol."
The hospital also said that it takes note of Pimentel's apology for the breach.
Dr. Javier urged the hospital community to move forward and "focus our energis, skills and passion once again toward conquering the virulent pathogen confronting us—COVID 19."
— Patricia Lourdes Viray
As It Happens
LATEST UPDATE: June 1, 2020 - 8:00am
Follow this page for updates on a mysterious pneumonia outbreak that has struck dozens of people in China.
June 1, 2020 - 8:00am
More than one million cases of COVID-19 have been recorded in Latin America and the Caribbean, half of them in Brazil, according to an AFP toll on Sunday based on official data.
Since the start of the novel coronavirus pandemic 1,016,828 people have been infected, with 514,849 cases recorded in Brazil, which currently has the world's fourth highest COVID-19 death toll after the United States, Britain and Italy. — AFP
June 1, 2020 - 7:58am
The novel coronavirus has killed at least 370,261 people since the outbreak first emerged in China last December, according to a tally from official sources compiled by AFP at 1900 GMT Sunday.
At least 6,113,340 cases of coronavirus have been registered in 196 countries and territories. Of these, at least 2,520,800 are now considered recovered.
The tallies, using data collected by AFP from national authorities and information from the World Health Organization (WHO), probably reflect only a fraction of the actual number of infections. — AFP
May 31, 2020 - 2:59pm
Jerusalem's Al-Aqsa mosque compound -- the third holiest site in Islam after Mecca and Medina in Saudi Arabia -- reopened on Sunday after being closed for more than two months because of the coronavirus pandemic.
Dozens of worshippers in protective masks were let into the compound before the first prayers of the day, held in a cool and windy night.
Chanting "God is greatest, we will protect Al-Aqsa with our soul and blood", the group gathered in front of the large wooden doors were welcomed by mosque director Omar al-Kiswani, who thanked them for their patience.
It followed a fraught day in annexed east Jerusalem, where the compound is located.
Israeli police on Saturday shot dead a disabled Palestinian they mistakenly thought was armed, prompting furious condemnation from the Palestinians.
The religious site, which houses Al-Aqsa mosque and the Dome of the Rock, had closed its doors in March as part of measures to limit the spread of COVID-19. — AFP
May 31, 2020 - 9:01am
The US recorded 960 coronavirus deaths on Saturday, bringing its total to 103,758 since the global pandemic began, according to a tally kept by Johns Hopkins University.
The country has officially logged 1,769,776 cases of the virus, far more than any other nation, the tracker by the Baltimore-based university showed at 8:30 pm (0030 GMT Sunday). — AFP
May 30, 2020 - 8:49pm
The Department of Health reports 590 new cases of the coronavirus disease, bringing the national tally to 17,224.
Of the new confirmed cases, 252 were considered "fresh" and 338 were positive results returned "late."
There are 88 recoveries 8 deaths, the Health department adds.