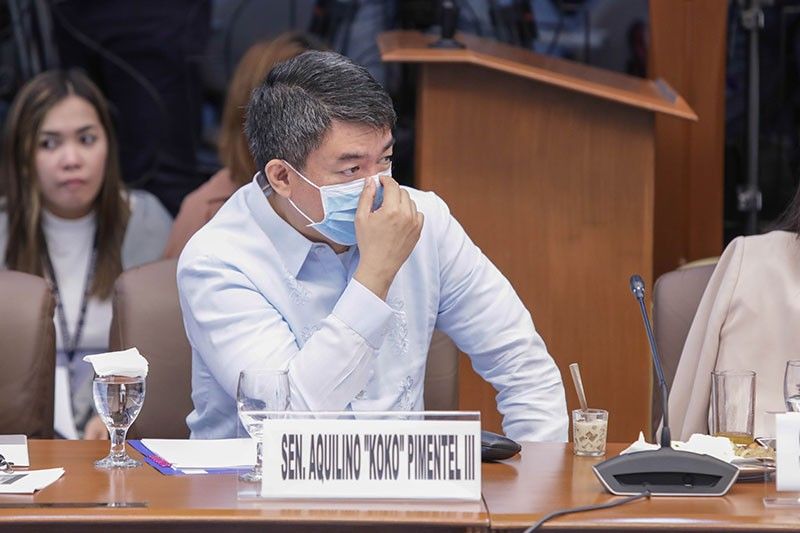 This Feb. 4, 2020 photo shows Sen. Aquilino "Koko" Pimentel III wearing a face mask during a Senate hearing on COVID-19.
The STAR/Mong Pintolo
Coronavirus-infected Pimentel apologizes to Makati Med for protocol breach
(Philstar.com) - March 26, 2020 - 12:25pm
MANILA, Philippines (Updated 9:03 p.m.) — Sen. Aquilino "Koko" Pimentel III apologized to Makati Medical Center (MMC) after breaching the hospital's containment protocols.
MMC earlier denounced Pimentel's for violating his home quarantine protocol by entering the hospital premises upon bringing his wife who was about to give birth.
Pimentel, however, insisted that he did not violate quarantine protocols.
"Nobody imposed any quarantine upon me except that to cooperate with the enhanced community quarantine... With or without COVID I do not go around. I'm a home body. It's natural for me to just stay at home," Pimentel said in a telephone interview with ANC's "Headstart" Thursday morning.
Health Secretary Francisco Duque III, meanwhile, said it was not true that he interceded to help get Pimentel a room at the MMC.
"There is no truth to that," Duque said in an interview with radio dzBB, adding that he was not involved in the case of the senator. The DOH chief also stressed that Pimentel violated the 14-day home quarantine protocol after being exposed to a COVID-19 positive patient in a Senate hearing earlier this month.
According to Pimentel, he and his wife arrived in the hospital between 6 to 7 p.m. on Tuesday. He received a call confirming that he was positive for COVID-19 at around 9 p.m.
The senator said he was already inside the hospital premises when he got the information. Upon receiving the call, Pimentel said he called his wife's doctor and immediately left the hospital.
"I did not intend to breach protocols. But I understand my presence caused anguish to the hardworking frontline health workers present there on whom we all depend," Pimentel said.
Claiming that he never had persistent cough or fever, which are symptoms of the deadly disease, Pimentel said he was simply in the hospital to witness his wife give birth.
"I would like to sincerely and profoundly apologize to the management and staff of the Makati Medical Center for this unfortunate incident," Pimentel said.
"I never intended to do harm to anyone. I am open to communication with the MMC regarding this incident," he added.
MMC Medical Director and Interim Co-CEO doctor Saturnino Javier said at least six doctors have been exposed to Pimentel.
This figure may still increase as the hospital is still determining the second layer of hospital staff who came into close contact with the senator.
"He (Pimentel) added to the burden of a hospital trying to respond in its most competent and aggressive manner to cope with the daunting challenges of this COVID-19 outbreak. More than anyone else, Mr. Pimentel, should have realized the ardent desire of every well-meaning Filipino and every dedicated healthcare institution to contain the spread of the infection," MMC said in a statement Wednesday night.
Makati Medical Center in a statement on Thursday thanked the public for its support to the hospital and its healthcare professionals in denouncing Pimentel's breach of quarantine protocols.
It also thanked the Philippine Medical Association and the Philippine College of Physicians for their support and said that it is pleased that Health Secretary Franciso Duque III concurred that Pimentel's visit to the hospital while waiting for the results of his COVID-19 test was a breach of protocol."
The hospital also said that it takes note of Pimentel's apology for the breach.
Dr. Javier urged the hospital community to move forward and "focus our energis, skills and passion once again toward conquering the virulent pathogen confronting us—COVID 19."
— Patricia Lourdes Viray
As It Happens
LATEST UPDATE: March 28, 2020 - 6:29pm
Follow this page for updates on a mysterious pneumonia outbreak that has struck dozens of people in China.
March 28, 2020 - 6:29pm
Iran announces that 139 more people had died from the novel coronavirus, raising the official death toll to 2,517 in one of the world's worst-affected countries.
Health ministry spokesman Kianoush Jahanpour says in a press conference that 3,076 more cases had been confirmed in the past 24 hours, bringing the total number of infections to 35,408. — AFP
March 28, 2020 - 3:53pm
Actress Iza Calzado tested positive for the coronavirus disease, her manager says.
March 28, 2020 - 1:30pm
Toyota Makati Inc. announces that a team member tested positive for COVID-19.
"The safety and security of our employees, customers, and all of our stakeholders, is paramount to us. Keeping this in mind, and under the guidance and support of the relevant national and local authorities, we are taking immediate and comprehensive actions necessary, including disinfection of the dealership, to prevent any spread of the virus," the company says.
"Furthermore, all employees who have had close contact with the infected member have been quarantined," it adds.
March 28, 2020 - 10:43am
The United States now has more than 100,000 confirmed cases of the new coronavirus, a tracker maintained by Johns Hopkins University shows.
There have been 100,717 cases including 1,544 deaths as of 6:00 pm Eastern time (2200 GMT).
The biggest cluster by far is in New York, home to almost half the cases, overwhelming the hospital system. — AFP
March 28, 2020 - 9:08am
Manila Development Authority General Manager Jojo Garcia has tested positive for the coronavirus disease.
"I wish to inform everyone that I will have to work from home as I have been found positive for COVID-19," Garcia says in a statement.
"I embrace this challenge with full trust and faith in God that I will overcome the same with your prayers," he adds.