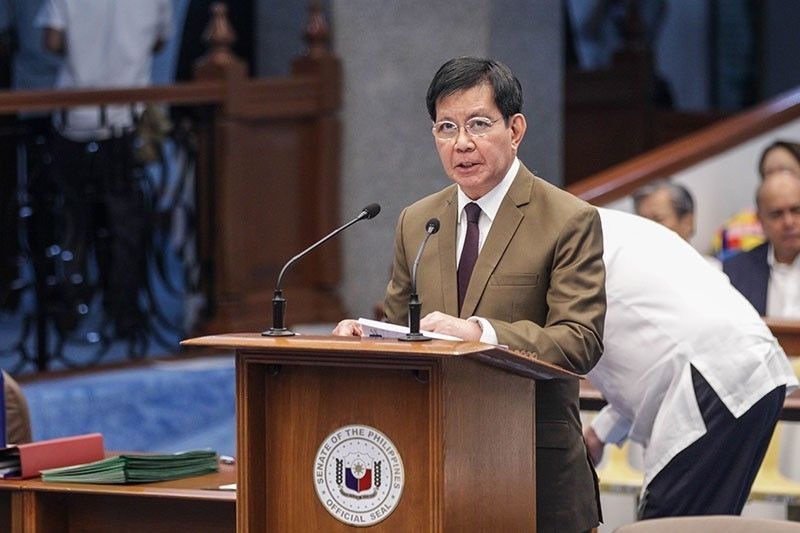 The Anti-Terrorism Act of 2020, authored by Sen. Panfilo Lacson, amends the Human Security Act (HSA) of 2007, providing a clear, concise, balanced and rational anti-terrorism law that adheres to regional and international standards.
STAR/Mong Pintolo
Senate OKs Anti-Terror Act on final reading
MANILA, Philippines — Voting 19-2 with no abstention, the Senate approved on third and final reading Senate Bill No. 1083 or the Anti-Terrorism Act of 2020 that would prevent foreign terrorists from using the Philippines as a transit point and safe haven to plan missions and train recruits.
The Anti-Terrorism Act of 2020, authored by Sen. Panfilo Lacson, amends the Human Security Act (HSA) of 2007, providing a clear, concise, balanced and rational anti-terrorism law that adheres to regional and international standards.
Sens. Risa Hontiveros and Francis Pangilinan voted against the measure.
Hontiveros expressed apprehension that certain provisions of the bill – specifically those allowing the preliminary proscription of suspected terrorist organizations prior to their being given an opportunity to be heard as well as those lowering the standard for warrantless arrest and detention – go too far and might lead to a number of pernicious consequences.
"I firmly believe that Congress should do all it can to ensure the safety and security of the Filipino people, particularly from acts of terror and other forms of violence. Acts of terror do more than destroy the lives of the people directly affected, they also lead to economic disruption and uncertainty, as well as an atmosphere of fear and paranoia," Hontiveros added.
"As I premised in my interpellation, Mr. President, we must craft laws presuming the most despotic of implementors instead of the most benevolent of leaders. After conferring with the Sponsor, it is with deep regret that I must vote against his proposed measure amending the HSA," she added.
In voting against the HSA amendment, Pangilinan said he fears that the bill might be abused as it will allow law enforcers or military personnel to place individuals and organizations under surveillance, compel telcos to divulge their calls and messages, arrest these people without warrant and detain them for an extended period of 14 days.
"The measure also allows regional trial courts to outlaw an organization as terrorist at the request of even foreign and supra-national jurisdictions. It likewise removes the compensation for persons wrongfully detained," he pointed out.
He also said the amendment came at a time when legitimate critics and democratic dissent are being attacked, the HSA could be likened to a certain extent the anti-subversion law during martial law and may be used against critics and opposition leaders.
He also detailed some incidents of abuses during the martial law years, including that of former senator Jovito Salonga who was implicated in several bombings while he had serious health problems – possible removal of his left eye to save his right eye.
"Our fear with an administration that has jailed an incumbent senator on a case whose key witnesses are convicted drugs lords, that has repeatedly warned about imposing martial law all over the country, that has in fact imposed martial law in Mindanao under what we continue to believe to be questionable constitutional grounds," he said. "These instances are more than simply déjà vu, they are more like foreboding."
The 19 senators agreed to remove the HSA of 2007 provision on payment of P500,000 damages per day of detention of any person acquitted of terrorism charges and prolong to 14 calendar days, extendable by 10 days, the number of days a suspected person can be detained without a warrant of arrest.
Senate Bill No. 1083 also includes a new section on foreign terrorist fighters to cover Filipino nationals who commit terrorist offenses abroad.
"(With SB 1083), we can be sure that whether the terroristic act is committed here or abroad, the perpetrator shall be within the arm of the law once he or she comes to our country," said Lacson, who chairs the Senate committee on national defense and security.
In pushing for SB 1083, Lacson said that the existing HSA did virtually nothing to deter participation in the plotting of terrorist acts.
Lacson's proposed measure introduced some provisions that would penalize those who will propose, incite, conspire, participate in the planning, training, preparation and facilitation of a terrorist act. If enacted into law, SB 1083 would also penalize those who will provide material support to terrorists and recruit members in a terrorist organization.
"As a responsible member of the community of nations, we are duty-bound to improve our laws to ensure that we can implement UN Security Council Resolutions, meet international standards and fulfill state obligations with the United Nations," said Lacson.
Lacson said the proposed measure will not only establish Philippine jurisdiction over Filipino nationals who may join and fight with terrorist organizations outside the Philippines but also ensure that foreign terrorists do not use the country as a transit point, a safe haven to plan and train new recruits for terrorist attacks in other countries.
"We send a strong message to them: you are not welcome here. If you dare set foot in our country, you will be dealt with the full power of our laws," Lacson said, adding that the penalty of life imprisonment without benefit of parole will be meted out to them.
Lacson gave assurance that there are enough safeguards against possible abuses by arresting officers and that amendments were crafted to ensure the rights and wellbeing of the accused individuals or suspected terrorists inside jail facilities are protected.
A new provision, designating certain regional trial courts as Anti-Terror Courts, was also introduced to ensure the speedy disposition of cases.
A provision of SB 1083 will also allow the use of videoconferencing for the accused and witnesses to remotely appear and testify.
The amendments also provide for the police or the military to conduct 60-day surveillance on suspected terrorists, which may be lengthened to another non-extendable period of 30 days, provided that they secure a judicial authorization from the Court of Appeals.?Lacson's proposed measure also provides that any law enforcement or military personnel found to have violated the rights of the accused persons shall be penalized with imprisonment of 10 years.?He said the Commission on Human Rights (CHR) shall be notified in case of detention of a suspected terrorist to allay concerns of possible excesses by the authorities.
The measure also mandates the CHR to give the highest priority to the investigation and prosecution of violations of civil and political rights of persons and shall have the concurrent jurisdiction to prosecute public officials, law enforcers and other persons who may have violated the civil and political rights of suspects and detained persons.