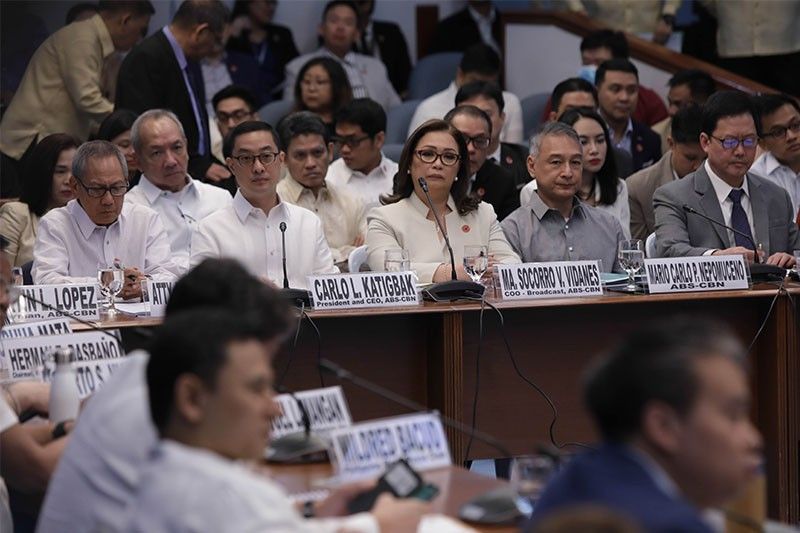 (Left to right) ABS-CBN general counsel Mario Bautista, ABS-CBN President and CEO Carlo Katigbak, ABS-CBNN COO Cory Vidanes, ABS-CBN Human Resources head Mario Carlo Nepomuceno and Justice Secretary Menardo Guevarra attend the Senate inwuiry into the network's franchise renewal.
The STAR/Mong Pintolo
Duterte's ad not the only one ABS-CBN failed to air, senators say
(Philstar.com) - February 24, 2020 - 5:40pm
MANILA, Philippines — President Rodrigo Duterte, then Davao City mayor, is not the only political candidate whose ads were not aired by ABS-CBN, some senators said on Monday.
Duterte has been hostile to the broadcast giant for failing to air around P7 million worth of ads out of P65 million in local advertising airtime that he bought for his presidential campaign in 2016.
During the Senate inquiry into the renewal of the legislative franchise of ABS-CBN, the company's president and CEO Carlo Katigbak apologized to Duterte and said it was not the network's intention to offend him.
Sen. Christopher "Bong" Go, the president's longtime aide and de facto spokesman, confirmed during the hearing that the unaired ads and the network's airing of ads paid for by then-Sen. Antonio Trillanes IV attacking Duterte, are the source of the president's anger at the station.
Senate Majority Leader Juan Miguel Zubiri admitted that he experienced the same thing when he ran for senator in 2013 under then opposition party United Nationalist Alliance.
"In 2013, I ran in the opposition UNA and we really felt that we had a difficult time coming into the network in putting our ads," Zubiri said.
Zubiri added that the same experience happened to Sens. Sherwin Gatchalian and Francis Tolentino and Senate President Pro Tempore Ralph Recto.
Gatchalian is from the Nationalist People's Coalition, Tolentino is a member of the administration PDP-Laban party and Recto was with the Liberal Party before switching to the Nacionalista Party in 2018.
'Pay before broadcast'
ABS-CBN has a "pay before broadcast" policy but refunds the payment to political candidates when their ads are not aired on the network.
"I think it's not right to be personal about it and I believe Carlo (Katigbak) and Mark Lopez... have already committed to make changes. Maybe we should have steps, for example, if the candidate pays for the slot you should have a commitment that the ad will be aired on that slot," Zubiri told ABS-CBN executives.
Katigbak earlier explained that ABS-CBN airs ads on a "first come, first served" basis and that it has limited airtime—19 minutes an hour for national ads and two minutes per hour for local—and cannot accomodate all political ads.
Sen. Francis Pangilinan, meanwhile, said opposition coalition Otso Diretso also paid for millions in political ads last year that were not aired by ABS-CBN.
"For the record, nangyari sa amin 'yan at may hinanakit din kami pero hindi natin dadalhin sa usapin ng mawawalan ng trabaho ang 11,000 mga kababayan natin," Pangilinan said.
(That also happened to us and it also pains us but we will not escalate the issue to the point that 11,000 workers will lose their jobs.)
Pangilinan pointed out that the last 10 days of the campaign period were critical for the Liberal Party-led coalition and may have changed the results of 2019 midterm elections but they cannot do anything about it anymore.
In defense of the company's policy, Katigbak said they implement the "payment before broadcast" scheme to comply with the Commission on Elections' order to submit all relevant documents within five days from signing the agreement with the political candidate.
Katigbak assured senators that ABS-CBN will find a way to make the process "less painful" for candidates, adding that they are hoping to prove this in the next election.
"In 2016, one of the pain points of the political candidates was the refunds, as you mentioned, but I think in 2019 so far we haven't received any major complaints given the new policies we implemented," Katigbak said. He said the network wants refunds out within seven days of failing to air the ad.
"As we said earlier, we continue to try and improve on pur shortcomings and we hope that in the succeeding elections we do a better job of things."
As It Happens
LATEST UPDATE: March 5, 2020 - 11:42am
President Duterte threatens not to renew ABS-CBN's franchise, his latest in what critics call a string of verbal attacks against dissenting media.
March 5, 2020 - 11:42am
Labor unions with Bukluran ng Manggagawang Pilipino will march to the ABS-CBN compound in Quezon City on Friday, March 6, in a show of solidarity with the network's employees and talents, BMP says in a release.
Among those marching will be union members from St. Luke's Medical Center Bonifacio Global City and University of Santo Tomas Hospital, who BMP says "will extend their support and called on the Duterte administration to protect the workers facing job insecurity."
BMP "calls on workers to unite against the threat of unemployment as it may lead to desperate and futile actions such as the hostage-taking by former security guard Alchie Paray, which could only amplify the sorry plight of contractual workers but would not put an end to the anti-labor scourge of contractualization."
March 4, 2020 - 3:42pm
Speaker Alan Peter Cayetano announces that the House committee on franchises will start a hearing on the legislative franchise of broadcast giant ABS-CBN on March 10.
The hearing is set four days before the lower chamber of Congress goes on a recess on March 14. ABS-CBN's franchise will expire on May 4.
February 27, 2020 - 4:38pm
The House of Representatives missed its chance to lead the initiative to renew the ABS-CBN franchise, a think tank says.
"Today it can be said: The entire Duterte establishment except Congress has already endorsed the renewal of the ABS-CBN franchise. Its major pillars are now openly supporting the renewal for the sake of the network's employees —Senator Bong Go and Davao City Mayor Sara Duterte," Terry Ridon of Infrawatch PH says.
"President Rodrigo Duterte has also declared that the onus is on no one else but Congress. There is thus absolutely no more reason for Congress to delay deliberations. It is now time to decide whether to approve or reject the franchise. It has dropped the ball far too long, and it is now time to pick it up," Ridon a former House member and member of the panel on legislative franchises, says.
February 27, 2020 - 3:48pm
Media giant ABS-CBN says they are grateful to President Rodrigo Duterte for accepting their apology.
"We will coordinate with the President's office as it relates to his guidance on donating the refund to a charitable institution," the Kapamilya network says.
"ABS-CBN remains to becoming a better organization and to provide a more meaningful service to Filipinos," it adds.
February 27, 2020 - 1:47pm
The Department of Justice tells the National Telecommunications Commission that "there is sufficient equitable basis to allow broadcast entities to continue operating while the bills for the renewal of their respective franchise remain pending with Congress."
The NTC earlier sought guidance from the Justice department on the congressional franchise of ABS-CBN.

News5 reports that DOJ's legal guidance, signed by Justice Secretary Menardo Guevarra, adds that a "more stable legal environment could be created if Congress, by a concurrent resolution, would authorize the NTC to issue a provisional authority to these broadcasting companies."