Leni not supporting calls for Duterte resignation
February 21, 2020 | 12:00am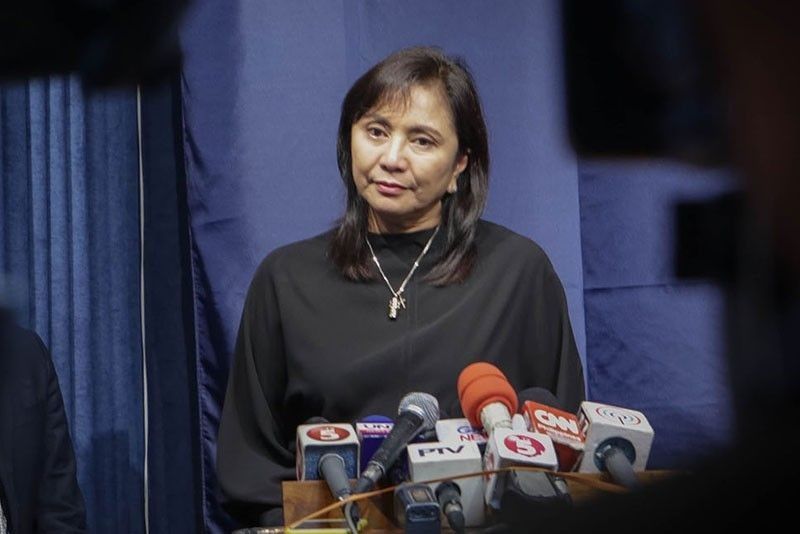 MANILA, Philippines — Vice President Leni Robredo is not supporting any call for President Duterte to resign.
Robredo, in a statement yesterday, said she has received reports of people mobilizing for mass action on Feb. 22, ahead of the 34th anniversary of the 1986 People Power Revolution on Feb. 25.
While she recognizes the constitutional right of every Filipino to gather and air their grievances, the Vice President stressed that seeking accountability from officials should follow the processes set by the Constitution.
"I openly say: 'I am not a part of any call for President Duterte to step down from office.' My only request is that we all do our job as public servants," said Robredo in Filipino.
But she underscored the importance of accountability in public office in strengthening government institutions.
"We must be fully committed to the institutions and to the law. We should express our grievances and seek accountability from our leaders through processes in accordance with the Constitution. In that way, we can contribute to the strengthening of our institutions," she said.
Yesterday, government said it will highlight the campaign against communist terrorist groups in the celebration of the EDSA People Power anniversary.
Under Memorandum Circular 2020-037, the Department of the Interior and Local Government (DILG) set the focus of the celebration on "safeguarding Filipino families from the destruction of the communist-terrorist groups."
Signed by DILG Secretary Eduardo Año last Wednesday, the memorandum promotes the mottos "Pamilyang Matatag, Sandigan sa Pag-Unlad" and "We are Juan Family" as part of the EDSA festivities.
The DILG noted that the holiday remembers the historic role of the EDSA revolution in the attainment of genuine peace and democracy in the country with the downfall of the dictatorial regime of Ferdinand Marcos.
"The celebration will also be an appropriate avenue to emphasize the similar goals being put forward by the National Task Force on Ending Local Communist Armed Conflict," read the memorandum.
Local government units were tasked to participate in EDSA family day activities in light of the celebration.
For her part, Robredo said she is confident that the EDSA celebration will be orderly and peaceful and that calls which are not in accordance with the Constitution will not be made. – With Romina Cabrera