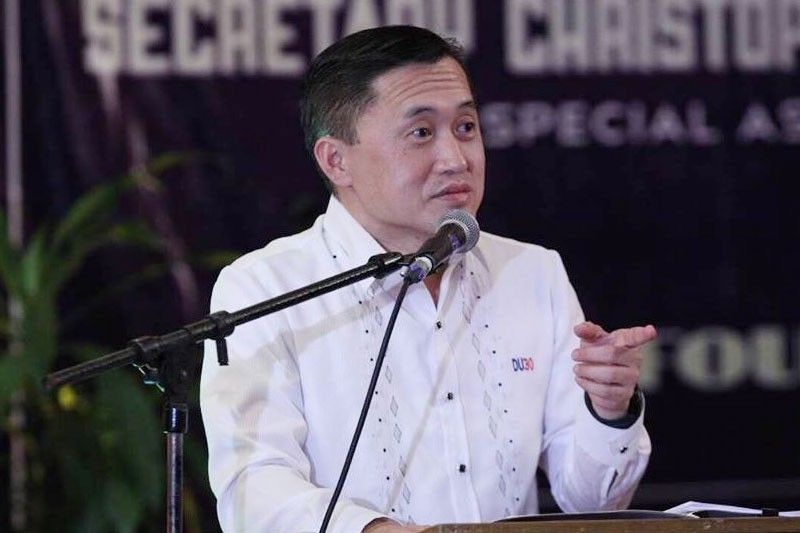 "Once (the franchise renewal) reaches our office here at the Senate, I will decide. I've already said it: vote according to your conscience," Go said yesterday, adding that his conscience is in accordance with the best interests of the Filipino people.
Bong Go FB Page
Go calls for Congress conscience vote on ABS-CBN franchise
Paolo Romero
(The Philippine Star) - February 20, 2020 - 12:00am
MANILA, Philippines — Sen. Christopher "Bong" Go is urging his fellow lawmakers to vote on the franchise renewal of broadcast giant ABS-CBN according to their conscience.
"Once (the franchise renewal) reaches our office here at the Senate, I will decide. I've already said it: vote according to your conscience," Go said yesterday, adding that his conscience is in accordance with the best interests of the Filipino people.
The Office of the Solicitor General has asked the Supreme Court (SC) to
revoke the legislative franchises of ABS-CBN Corp. and its subsidiary ABS-CBN Convergence Inc., citing what it described as "highly abusive practices" of the network.
ABS-CBN has denied any wrongdoing.
The Senate committee on public services, chaired by Sen. Grace Poe, is set to hold its first hearing on ABS-CBN's application for the renewal of its franchise on Feb. 24.
Senate President Pro Tempore Ralph Recto said he counts 17 to 19 senators voting to renew the franchise.
Go said he would participate in the hearing, saying it may be in aid of legislation.
"Maybe, that's the proper forum to hear both sides. We will listen to whomever wants to speak, whomever wants to complain... I might also ask some questions," he added.
The senator said any legislative action regarding franchise bills must emanate from the House of Representatives, according to the law; thus, the lower chamber should immediately tackle the franchise application with congressmen also voting according to their own conscience.
"The longer we prolong the application, the hotter the issue becomes. Talk it among yourselves. That's the process, anyway, and then send it here to the Senate and the President will decide, and let him approve it or exercise his veto power," he said.
The senator added that he recently spoke with Speaker Alan Peter Cayetano on the issue, and the latter told him that the franchise application was a priority of the House, but there were many other applications lined up.
Go said he would make his decision when the franchise documents reach the Senate even as he vowed to be impartial and fair in casting his vote on the application.
Despite Duterte's rants against the network, it does not mean he does not want its franchise to be renewed, according to the former special assistant to the President.
"(The President has) been very vocal with his grievances, but he has not ordered anyone, even me who's close to the President. He always says vote according to your conscience and prioritize the interest of Filipinos," Go said.
Provisional permit
Meanwhile, the National Telecommunications Commission (NTC) would do well if it issues a provisional permit for ABS-CBN to continue operating if and when Congress fails to act on the broadcast network's application for the renewal of its franchise, which expires on March 30, according to the senator.
Go prodded the House to quickly act on the network's franchise application so that the same can be forwarded to the Senate for deliberation.
"There have been many previous cases like this that were also handled by the NTC where while the renewal is still being processed, (it lets broadcast networks) operate until they are approved, like the case of the CBCP (Catholic Bishops' Conference of the Philippines)," he told reporters.
The senator said he learned that the NTC has sought a legal opinion from the Department of Justice on the matter, apparently because the matter of ABS-CBN's franchise renewal has become a "hot" issue.
"The usual practice is that the NTC allows them to operate, but I think this time, they're reluctant to decide on their own," he added.
'Confused'
Meanwhile, Malacañang yesterday described as "confused" lawmakers pushing for a resolution which states that broadcast giant ABS-CBN could still operate even after its franchise expires in March.
Presidential spokesman Salvador Panelo said lawmakers could just pass a law extending all franchises pending in Congress if they are inclined to act favorably on bills renewing ABS-CBN's franchise.
"They are confused. One lawmaker is saying he needs a resolution from the House that ABS-CBN can still operate even beyond the expiration because the practice is (a network can operate) as long as there is a pending (franchise bill)," Panelo said in a chance interview.
"My response to that is why not just pass a law extending it? While the franchise bills are pending, they can pass a law that says that, there is an extension for this period of time," he added.
Senate Minority Leader Franklin Drilon had earlier filed Joint Resolution 11, which extends the franchise of ABS-CBN until Dec. 31, 2022.
In the resolution, Drilon said both the Senate and the House of Representatives need additional time to review, assess and determine whether ABS-CBN should be granted the renewal of its franchise.
Panelo said President Duterte, who had vowed to make sure that ABS-CBN would be "out," would not stop Congress from renewing the network's franchise.
"As matter of principle he does not interfere with a co-equal branch," the Palace spokesman said.
Panelo was also puzzled as to why some lawmakers insist on adhering to a practice of allowing a network to operate even if its franchise had lapsed.
"They said that's the practice. I cannot understand them. Why would they adhere to a practice? Just pass a law extending it. It's that simple," he told Radyo Singko 92.3 FM yesterday.
"Even if they say it's the practice, it doesn't mean that it's the law. It's the practice because nobody is questioning it. What if somebody questions it?" he added.
Go also questioned Drilon's joint resolution.
"Why a joint resolution? Why not just approve or disapprove the franchise renewal? Why Dec. 31, 2022? Is there politics here?" he said. "It's either we approve or we deny or reject."
Robredo condemns gag order
Vice President Leni Robredo yesterday condemned the petition filed by Solicitor General Jose Calida asking the SC to prohibit ABS-CBN and its representatives from discussing the merits of the quo warranto case which he filed against the broadcast network.
"First and foremost, the freedom of expression is primordial," Robredo said in an interview in Quezon City.
"And what's hilarious is that he's seeking a gag order against the media. It's very ironic because we expect the media to provide information to the public, yet they are the ones who are prohibited from speaking," she added.
Robredo said Calida's move to suppress freedom of expression would affect not only the media company, but all Filipinos in general.
"It has implications on all of us. If it can suppress a media company like ABS-CBN through this means, then who are safe from this kind of harassment?" the Vice President said.
On Tuesday, Calida filed a "very urgent motion" asking the SC to issue a gag order which bans "parties and persons acting on their behalf" from releasing statements discussing the merits of his plea to forfeit ABS-CBN's existing franchise.
He said this violates the sub judice rule, which prohibits anyone from publicly assessing an ongoing case to avoid pre-judgment.
Bato apologizes
In a related development, Sen. Ronald "Bato" dela Rosa apologized to the 11,000 employees of ABS-CBN who felt offended when he compared their concern with that of the entire nation.
Dela Rosa said the issue of the ABS-CBN franchise is not about its employees but oligarchs who have disregarded the rule of law for a long time now.
He also claimed that there are only about 3,000 regular employees of ABS-CBN and the number 11,000 may have included their families.
"I'm sorry if you felt offended. It's not that I don't value their jobs. I consider the entire nation, ABS-CBN employees included," Dela Rosa said in Filipino.
"We can't just ignore wrongdoings because of compassion. We will not allow those who violate the law. We will not allow these oligarchs to take advantage of us because we are poor. We should be fair and not because we are poor, they will put one over us," he added.
The point, according to the senator, is "not because we pity those 11,000 employees, we will allow a TV station to violate laws and the government will just turn a blind eye on the violation."
Dela Rosa said he is supportive of Poe's initiative to conduct a public hearing on the ABS-CBN franchise to discuss the alleged violations.
He also gave assurance that in the event the senators fail to find any violation, he will personally talk to Duterte to convince him to approve the franchise.
"A public hearing is really necessary. If during the hearing, we establish that ABS-CBN is a saint, not a sinner, I will personally push for their franchise renewal. I will also personally tell the President, 'Sir, it seems wrong information reaches you, this is the correct information.' Only the truth should prevail," he said.
If proven that they have violated the law, however, Dela Rosa said ABS-CBN should face the consequence of their action.
On the call for his resignation, the senator said he was voted to office by more than 19 million and those calling for his resignation were not among them.
On the accusation of some netizens that he was being a blind follower of the President, Dela Rosa said that his pronouncement that he would swim or sink with Duterte should not be taken against him as he pointed out that the President's primary concern is the plight of the Filipino people.
"It's logic. I am loyal to the President because I can see that his loyalty is with the Filipino people. Where should I put my loyalty, to oligarchs?" he said. – With Alexis Romero, Helen Flores, Cecille Suerte Felipe, Delon Porcalla, Louella Desiderio, EvelynMacairan