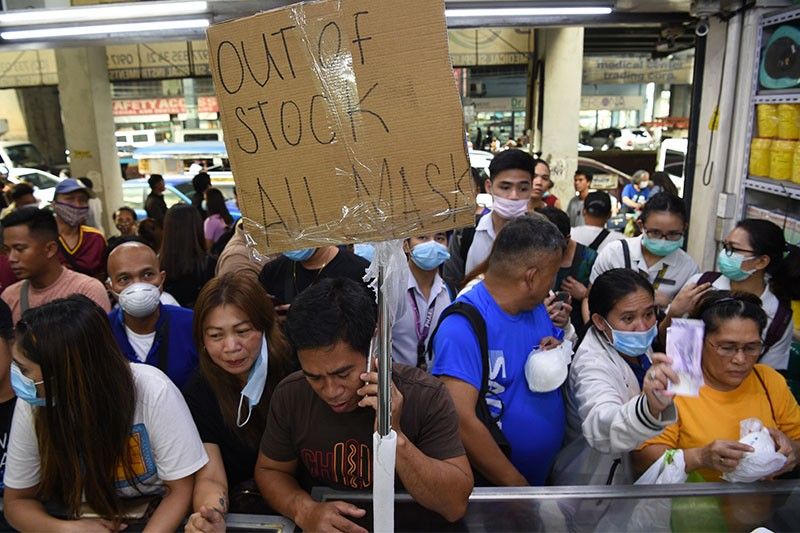 People buying protective masks at a medical supplies store in Manila on January 31, 2020.
AFP/Ted Aljibe
WHO: No benefit for general public to wear mask amid nCoV scare
MANILA, Philippines — The World Health Organization on Tuesday said it does not see any benefit of the general public wearing masks amid the novel coronavirus (2019-nCoV) threat.
Rabindra Abeyasinghe, acting WHO representative in the Philippines, said it would be preferable to reserve masks for high-risk individuals, including health workers.
"Our message is that we need to be rational about the use of masks. Factually, it shows that non-symptomatic people using masks — it will give them a false sense of confidence and put them at more risk because they tend to wash hands less," Abeyasinghe said in a Senate hearing.
The WHO representative stressed that people with respiratory symptoms need to practice cough etiquette and wear masks but everybody should wash their hands frequently.
Abeyasinghe added that those with respiratory symptoms, such as coughs and colds, should wear their masks properly and wash their hands regularly.
"Just because you wear a mask you should not neglect keeping your hands clean because if you touch the mask and if you have droplets on the outer surface of the mask that somebody else coughed on, you can get infected so what is more important is hand hygiene," he said.
The WHO doctor also warned that the virus can be present on utensils and other home items where an infected person has coughed.
Citing evidence, Abeyasinghe told the Senate inquiry that the virus can survive on those surfaces from eight to 10 hours.
"If you have somebody sick who is having respiratory symptoms make sure that you make an effort to clean surfaces that are handled by those people," the WHO representative said.
China's National Health Commission confirmed that infections in the 2019-nCoV outbreak have passed 20,400 nationwide with 3,235 cases confirmed.
The first death from the virus has been recorded in the Philippines last Saturday, which is also the second confirmed case of the illness in the country.
The Department of Health announced that a 44-year-old Chinese man, which is a companion of the first confirmed 2019-nCoV patient in the country, died days after he was admitted for fever, cough and sore throat.
As It Happens
LATEST UPDATE: March 28, 2020 - 6:29pm
Follow this page for updates on a mysterious pneumonia outbreak that has struck dozens of people in China.
March 28, 2020 - 6:29pm
Iran announces that 139 more people had died from the novel coronavirus, raising the official death toll to 2,517 in one of the world's worst-affected countries.
Health ministry spokesman Kianoush Jahanpour says in a press conference that 3,076 more cases had been confirmed in the past 24 hours, bringing the total number of infections to 35,408. — AFP
March 28, 2020 - 3:53pm
Actress Iza Calzado tested positive for the coronavirus disease, her manager says.
March 28, 2020 - 1:30pm
Toyota Makati Inc. announces that a team member tested positive for COVID-19.
"The safety and security of our employees, customers, and all of our stakeholders, is paramount to us. Keeping this in mind, and under the guidance and support of the relevant national and local authorities, we are taking immediate and comprehensive actions necessary, including disinfection of the dealership, to prevent any spread of the virus," the company says.
"Furthermore, all employees who have had close contact with the infected member have been quarantined," it adds.
March 28, 2020 - 10:43am
The United States now has more than 100,000 confirmed cases of the new coronavirus, a tracker maintained by Johns Hopkins University shows.
There have been 100,717 cases including 1,544 deaths as of 6:00 pm Eastern time (2200 GMT).
The biggest cluster by far is in New York, home to almost half the cases, overwhelming the hospital system. — AFP
March 28, 2020 - 9:08am
Manila Development Authority General Manager Jojo Garcia has tested positive for the coronavirus disease.
"I wish to inform everyone that I will have to work from home as I have been found positive for COVID-19," Garcia says in a statement.
"I embrace this challenge with full trust and faith in God that I will overcome the same with your prayers," he adds.