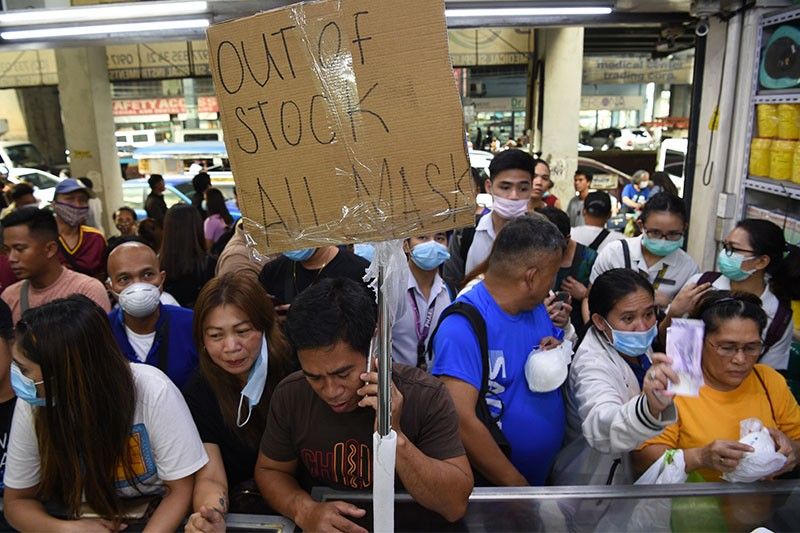 People buying protective masks at a medical supplies store in Manila on January 31, 2020.
AFP/Ted Aljibe
WHO: No benefit for general public to wear mask amid nCoV scare
MANILA, Philippines — The World Health Organization on Tuesday said it does not see any benefit of the general public wearing masks amid the novel coronavirus (2019-nCoV) threat.
Rabindra Abeyasinghe, acting WHO representative in the Philippines, said it would be preferable to reserve masks for high-risk individuals, including health workers.
"Our message is that we need to be rational about the use of masks. Factually, it shows that non-symptomatic people using masks — it will give them a false sense of confidence and put them at more risk because they tend to wash hands less," Abeyasinghe said in a Senate hearing.
The WHO representative stressed that people with respiratory symptoms need to practice cough etiquette and wear masks but everybody should wash their hands frequently.
Abeyasinghe added that those with respiratory symptoms, such as coughs and colds, should wear their masks properly and wash their hands regularly.
"Just because you wear a mask you should not neglect keeping your hands clean because if you touch the mask and if you have droplets on the outer surface of the mask that somebody else coughed on, you can get infected so what is more important is hand hygiene," he said.
The WHO doctor also warned that the virus can be present on utensils and other home items where an infected person has coughed.
Citing evidence, Abeyasinghe told the Senate inquiry that the virus can survive on those surfaces from eight to 10 hours.
"If you have somebody sick who is having respiratory symptoms make sure that you make an effort to clean surfaces that are handled by those people," the WHO representative said.
China's National Health Commission confirmed that infections in the 2019-nCoV outbreak have passed 20,400 nationwide with 3,235 cases confirmed.
The first death from the virus has been recorded in the Philippines last Saturday, which is also the second confirmed case of the illness in the country.
The Department of Health announced that a 44-year-old Chinese man, which is a companion of the first confirmed 2019-nCoV patient in the country, died days after he was admitted for fever, cough and sore throat.
As It Happens
LATEST UPDATE: June 22, 2021 - 10:48am
Follow this page for updates on a mysterious pneumonia outbreak that has struck dozens of people in China.
June 22, 2021 - 10:48am
The health ministry says Colombia's death toll from COVID-19 passed the 100,000 mark with a new 24-hour record of almost 650 deaths,.
After three weeks of demonstrations that have brought thousands of people into the streets to protest the government of conservative President Ivan Duque, the South American country of 50 million is suffering its worst moment since the pandemic began.
It has now recorded 100,582 dead, including 648 in the past 24 hours, the ministry says. — AFP
June 22, 2021 - 7:56am
Facemasks will no longer be compulsory outdoors in Italy, one of the countries in Europe worst hit by the coronavirus, from June 28, the health ministry said Monday.
The lifting of the mask requirement would come into effect in regions labelled "white" under Italy's classification system for how rapidly the virus is spreading, Health Minister Roberto Speranza wrote on Facebook.
This includes all Italian regions except the tiny Aosta Valley in the far northwest. — AFP
June 20, 2021 - 9:09am
Brazil on Saturday crossed the grim threshold of 500,000 coronavirus deaths, trailing only the United States in lives lost to Covid-19.
"500,000 lives lost due to the pandemic that affects our Brazil and the world," Health Minister Marcelo Queiroga tweeted.
The latest update from his ministry said the toll is now 500,800, with 2,301 deaths in the past 24 hours. Experts say government Covid figures underestimate the real toll from the health crisis. — AFP
June 19, 2021 - 2:06pm
The Netherlands announces further easing of a raft of measures to combat coronavirus, including an end to mask-wearing in most places.
Prime Minister Mark Rutte says the country was "taking a big step" towards a life without restrictions, from June 26.
"Almost everything is possible at a distance of 1.5 metres," he adds. — AFP
June 18, 2021 - 2:41pm
Lights, camera, real live audiences — Milan fashion welcomes back actual people to its shows Friday, a sign the industry is ready to start turning the page on virtual formats adopted during the pandemic.
The numbers are still modest, with only Armani, Dolce & Gabbana and Etro inviting an audience to their men's Spring/Summer 2022 collections.
"This is the dress rehearsal of the return to normalcy," Federica Trotta Mureau, editor of the Italian fashion magazine Mia Le Journal, told AFP.
The shows represent baby steps but the effect of the live events, instead of the video presentations or short films relied on since early last year when coronavirus cut short the twice-yearly shows in Italy's business capital, would still be appreciated, Mureau said. — AFP