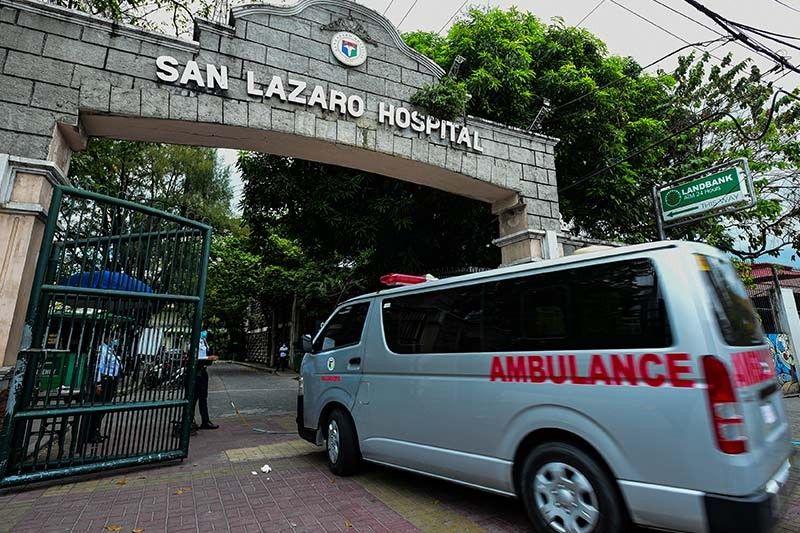 An ambulance enters the main gates of the San Lazaro Hospital in Manila on Feb. 2, 2020. The Philippines reported the first death outside of China from a new coronavirus, deepening global fears about an epidemic that has claimed more than 300 lives.
Maria Tan/AFP
Cebu Pacific says it is locating co-passengers of 2 confirmed nCoV patients
MANILA, Philippines — Cebu Pacific said it is working closely with the Department of Health, Bureau of Quarantine and the National Epidemiology Center in contacting the passengers who were on the same flights as the two patients who tested positive for the novel coronavirus in the country.
According to the airline, the passengers aboard flights 5J 241 (Hong Kong-Cebu) and DG 6519 (Cebu-Dumaguete) last Jan. 21, 2020 were in the process of being contacted.
Meanwhile, the crew and pilots of both flights have been placed on quarantine, while both aircraft used "have undergone thorough disinfection."
Cebu Pacific also said that all flights between the Philippines and mainland China were suspend until March 29, 2020 while flights to and from Hong Kong and Macau "have been reduced."
The DOH has not responded to Philstar.com's queries as to the status of the passengers on the flights the two were on.
As of this writing, the department has listed 36 total persons under investigation with 23 of them admitted.
Cebu Pacific requested passengers who were aboard the aforementioned flights and who have not yet been contacted to reach out to the airline via +632 87020886 between 7 a.m. and 10 p.m.
"We also advise them to seek immediate medical attention if they have flu-like symptoms such as coughing, colds and fever," the airline said.
As It Happens
LATEST UPDATE: April 13, 2021 - 12:47pm
Follow this page for updates on a mysterious pneumonia outbreak that has struck dozens of people in China.
April 13, 2021 - 12:47pm
The English variant of the novel coronavirus does not increase the severity of COVIDompared to other strains, according to research published Tuesday that also confirmed its increased transmissibility.
The variant, known as B117, is now the dominant viral strain across much of Europe, and previous studies had shown it was linked to a higher likelihood of death than normal variants. — AFP
April 7, 2021 - 6:09pm
Prime Minister Narendra Modi's home state Gujarat becomes the latest to tighten coronavirus curbs as India's infections surge to a record of almost 116,000 new cases in 24 hours.
Experts blame the country's fresh wave on people ignoring guidelines and attending huge religious and political events, as well as weddings and cricket matches in recent months.
India has now recorded 12.8 million cases, the third-highest behind the United States and Brazil, although those nations have much smaller populations. More than 166,000 Indians have died. — AFP
April 7, 2021 - 9:24am
Brazil registers more than 4,000 Covid-19 deaths in 24 hours for the first time Tuesday, the health ministry says, as the country reeled from a surge of infections that has made it the current epicenter of the pandemic.
The coronavirus claimed 4,195 lives in the deadliest day of the pandemic yet for the hard-hit country, whose total reported death toll is now nearly 337,000, second only to the United States.
Brazil's health system is buckling under the strain of the latest virus wave, which has forced doctors into agonizing decisions over which patients to give life-saving care and led cemeteries to hold nighttime burials to deal with the crush of coffins. — AFP
April 4, 2021 - 9:17am
Argentina's President Alberto Fernandez, who has been vaccinated against Covid-19, announced late Friday that he had tested positive for the coronavirus.
"At the end of today, after presenting a fever of 37.3 (99 Fahrenheit) and a slight headache, I performed an antigen test, which was positive," he tweeted.
A PCR test later confirmed the diagnosis.
The president, who turned 62 on Friday, was in isolation as a precaution but said he was "physically well."
"Although I would have liked to end my birthday without this news, I am also in good spirits," he said. — AFP
April 3, 2021 - 1:03pm
Argentina's President Alberto Fernandez, who has been vaccinated against COVID-19, announces that he had tested positive for the coronavirus.
"At the end of today, after presenting a fever of 37.3 and a slight headache, I performed an antigen test, which was positive," he tweets, adding he was waiting for the results of a PCR test to confirm the diagnosis. — AFP