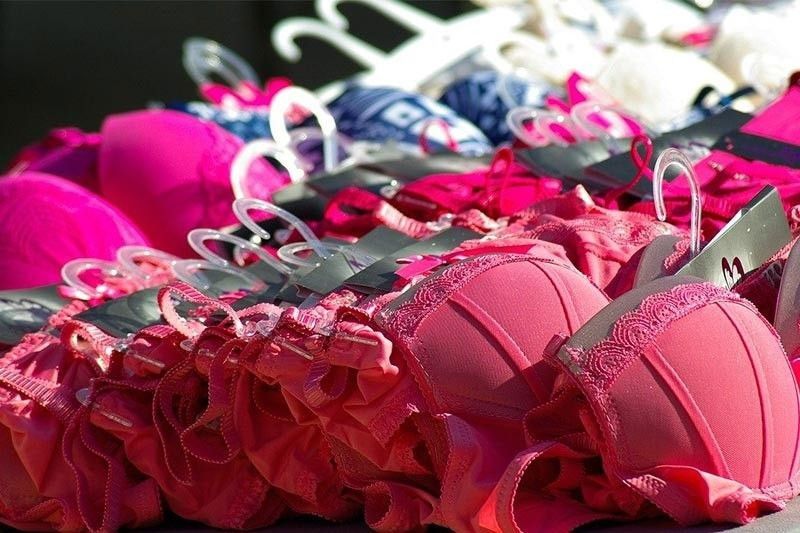 Health Assistant Secretary Maria Francia Laxamana yesterday said people can use shirts, bras and diapers as protection from the hazardous chemicals from ashfall.
Image by jacqueline macou from Pixabay
Yes, bras and diapers can be used as masks
MANILA, Philippines — Yes, bra pads and baby diapers can be used as protective masks to avoid inhaling toxic sulfur from the ashfall from Taal Volcano.
Health Assistant Secretary Maria Francia Laxamana yesterday said people can use shirts, bras and diapers as protection from the hazardous chemicals from ashfall.
The Department of Health (DOH) is preparing an emergency procurement for N95 masks to be distributed to at least 400,000 affected residents and evacuees.
The Office of Civil Defense reported that a total of 6,891 families composed of 30,423 people were evacuated from the affected areas surrounding Taal Volcano since the Philippine Institute of Volcanology and Seismology (Phivolcs) issued alert level 4 in Taal Volcano.
The DOH central office has in its inventory around 200,000 N95 masks and another 51,000 from the region.
The agency has started distributing N95 masks to evacuees, which is done by health personnel in coordination with local government units.
At a joint press briefing yesterday in Malacañang attended by the DOH, Phivolcs, Office of Civil Defense, Manila International Airport Authority and Civil Aviation Authority of the Philippines, Laxamana noted that panic buying of masks resulted in lack of supply in the market.
Laxamana said practical substitutes are regular surgical masks with moist handkerchiefs to prevent inhalation of ash.
"We can also use clothing like a Ninja, use improvised mask. It was used during the Mt. Pinatubo (eruption in 1991) and it worked in preventing respiratory illnesses," she said.
Laxamana said the most important thing is to prevent respiratory diseases caused by the ashfall.
"I think diapers can be used… just put some moisture to avoid suffocation. What is important is you can protect the ear, nose, mouth and put the side with Velcro (tape) on the back of your head. That's very creative," Laxamana said.
"There are creative ways of doing things such as bra and panty," she added.
To protect the eyes, Laxamana said the DOH also welcomes the use of diving and motorcycle goggles.
She urged those who underwent cataract operations to donate used eye protection gear for the use of evacuees.
The DOH also urged the public, particularly residents of Metro Manila and Central Luzon, not to panic because the N95 masks are highly recommended for the use of those within the 14-kilometer danger zone.
"We have a problem on the availability of masks. People in Manila also bought N95 masks, when the people from the (affected) areas should be the first line who should wear these masks," Laxamana said.
"In areas like Metro Manila and Region 3 reached by ashfall, they can use the regular surgical masks and those called four-ply masks. The ashfall in Metro Manila is not that serious. Sad to say, we ran out of stock," she said.
"It's not really advisable to use N95 here because it is really expensive. Please don't panic. Let us allow our fellow countrymen in Batangas and Cavite to wear these N95 masks," she added.
Laxamana said the DOH had asked suppliers to bring their supplies to Region 4, including Batangas, Quezon and Cavite. "If there will be a surge (in the affected populace), we will have bigger health concerns such as diarrhea, cough, bronchitis, pneumonia and eye irritation because of the ashfall.
"We need the N95 masks for protective measure for the people who are within the affected areas," she said.
The DOH had directed the other regions in Luzon to turn over their supplies to the central office for distribution to Cavite, Laguna, Batangas and Quezon (Calabarzon) area.
"The regions have already requested for funds and we are still preparing the budget," she said. "The need is really around 400,000 of N95 masks for Cavite and Batangas. The requirement is 3M (brand). They counted the specific needs last Monday. We hope it will not last so many weeks," Laxamana added.
Warnings
In the aftermath of the Taal Volcano unrest, Malacañang on Tuesday reminded residents near the volcano to always listen to government advisories and warnings.
At a separate press briefing, Palace spokesman Salvador Panelo said that these advisories are intended to protect residents from any harm that might happen after the eruption.?Phivolcs director Undersecretary Renato Solidum said the government has ordered the evacuation of the people to avoid any casualties in case of Taal's explosion.
Solidum said residents within the 14-kilometer radius should now all have been evacuated.
Residents as well members of the media are barred from returning and going to the affected barangays and municipalities.
"People need to be reminded that going inside the recommended danger zones is risky business. In reality, we need to focus on moving people away from identified areas," Solidum said.
"As I have been mentioning, the mere fact that we are recording a lot of earthquakes and many fissures are now observed means that the area of Taal is really being pushed by a lot of... fusion that would be a possible source, if ever... for a possible eruption. Hopefully, it's not explosive. But based on past events, it becomes explosive," Solidum added.
Panelo also called on the residents to follow even menial reminders from the government, including using masks when going out of their homes or evacuation centers and not going back to their houses until everything is cleared. ?President Duterte was set to visit Batangas late Tuesday for distribution of assistance to the affected population. The President will also be given a situation briefing on developments in the area.
According to Panelo, the President wants to see first-hand the destruction wrought by the natural calamity.
"Well, first he will have a briefing from various agencies who are presently undertaking measures to help the victims as well as make some undertakings that would be helpful to them," Panelo said. ?"He wants to see for himself the devastation wrought by the eruption. Then from there, he'll be making orders to respond to whatever problems he will see," he said.