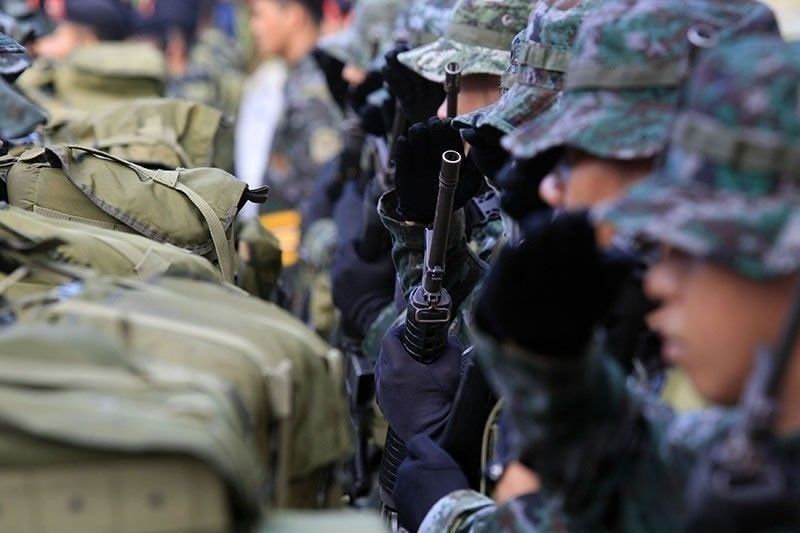 The Armed Forces of the Philippines will be deploying two battalions of soldiers to aid in the repatriation of Filipino workers in the Middle East.
The STAR, File
Philippines to send 2 battalions to Middle East for OFW repatriation
(Philstar.com) - January 8, 2020 - 4:15pm
MANILA, Philippines — The Armed Forces of the Philippines will be sending two battalions of soldiers, along with air and naval assets, to assist in the repatriation of Filipino workers in Iraq and Iran.
Tensions have escalated in the Middle East after the death of top Iranian general Qasem Soleimani from a US drone strike at an international airport in Baghdad last week.
Defense Secretary Delfin Lorenzana clarified that the two battalions — one from the army and one from the marines — will not engage in combat but will facilitate and assist in the repatriation of OFWs in Iraq.
The Philippine Embassy in Iraq has issued Alert Level 4, calling for evacuation or mandatory repatriation in the country.
"All Filipinos who want to go home, we will bring them home, especially those whose safety are in danger," Lorenzana said.
The Defense chief added that the government's priority is to evacuate Filipino workers in Iraq, Iran and Libya. While Libya is not involved in the US-Iran conflict, the country has also been caught between warring factions.
While the Department of National Defense and the AFP are plotting safe positions for the soldiers and assets, the Department of Foreign Affairs is negotiating their clearances.
The navy is ready to deploy two landing docks BRP Tarlac and BRP Davao del Sur, which can accommodate up to 500 people with luggage.
The military will also deploy one C-130 plane and one C-295 plane, according to Lorenzana.
Lorenzana added that the government may also lease cruise ships and commercial plan for repatriation, depending on the number of Filipinos who will be evacuated.
Meanwhile, the Department of Labor and Employment has come up with alternative plans for OFWs who will be returning to the Philippines.
The DOLE has been talking with other countries such as China, Russia, Canada, Germany and Japan for possible redeployment of OFWs from the Middle East. The agency is also working on livelihood programs for returning OFWs who wish to stay in the Philippines.
The estimated number of documented Filipinos in Iraq is at 1,600 while there are 1,000 in Iran.
Bello said there are more than 2 million documented Filipinos in the entire Middle East. This number could be doubled if undocumented workers will be included. — Patricia Lourdes Viray
As It Happens
LATEST UPDATE: March 2, 2020 - 8:13am
Saudi Arabia reveals extensive damage to key oil facilities following weekend aerial strikes that were blamed on Iran, but vows to quickly restore full production even as regional tensions soar.
Yemen's Tehran-linked Huthi rebels, who announced a sudden halt to attacks on Saudi Arabia, claims the strikes on state giant Aramco's facilities in Khurais and the world's largest oil processing facility at Abqaiq.
But Washington has pointed the finger at Tehran, condemning an "act of war" which knocked out half of Saudi Arabia's oil production and on Friday prompted US President Donald Trump to sketch out the latest in a series of economic sanctions against Iran. — AFP
March 2, 2020 - 8:13am
Two rockets crashes overnight near the US embassy in the Iraqi capital's Green Zone, a security source said, in the 20th attack against US assets in the country in four months.
None of the multiple attacks since October targeting either the Baghdad embassy or the roughly 5,200 US troops stationed across Iraq has been claimed.
But the US has pointed the finger at Iran-backed groups within the Hashed al-Shaabi, a military network officially incorporated into Iraq's state security forces. — AFP
February 2, 2020 - 2:39pm
Top EU diplomat Josep Borrell is expected in Tehran Monday, Iran's foreign ministry announces a day ahead of the visit, amid new tensions over the Iranian nuclear issue.
Borrell "will visit Iran tomorrow for the first time since taking office (in early December). He is set to meet the foreign minister (Mohammad Javad Zarif) and other Iranian senior officials for consultations," foreign ministry spokesperson Abbas Moussavi says in a statement. — AFP
January 29, 2020 - 12:33pm
The number of US troops injured by an Iranian missile strike in Iraq this month has risen to 50, according to new figures released by the Pentagon on Tuesday.
The personnel have been diagnosed with traumatic brain injury (TBI), Lieutenant Colonel Thomas Campbell, a Pentagon spokesman, said in a statement.
The military had said on Friday that 34 troops were injured in the strike on the Ain al-Asad base in western Iraq on January 8.
US President Donald Trump had initially said no Americans were hurt by the missiles, and Democrats later accused him of trying to downplay the injuries.
Iran fired on Iraqi bases housing US troops in retaliation for an American drone attack that killed Iranian commander Qasem Soleimani in Baghdad, raising fears of war. — AFP
January 21, 2020 - 9:09am
Three rockets hit near the US embassy in the Iraqi capital's high-security Green Zone, security sources told AFP, with no immediate reports of casualties.
Sirens could be heard across the zone immediately after the rockets made impact.
The US has blamed Iran-backed paramilitary groups for a spate of similar attacks in recent months on the Green Zone, but there has never been a claim of responsibility.
January 18, 2020 - 2:46pm
President Donald Trump warns Iran's supreme leader, Ayatollah Ali Khamenei, to be "very careful with his words."
"The so-called 'Supreme Leader' of Iran, who has not been so Supreme lately, had some nasty things to say about the United States and Europe," Trump tweets of Khamenei's comments in Tehran.
According to Trump, Khamenei's blistering speech, in which he attacked the "vicious" United States and described Britain, France and Germany as "America's lackey's," is a mistake.
"Their economy is crashing, and their people are suffering. He should be very careful with his words!" Trump tweets.
The so-called "Supreme Leader" of Iran, who has not been so Supreme lately, had some nasty things to say about the United States and Europe. Their economy is crashing, and their people are suffering. He should be very careful with his words!

— Donald J. Trump (@realDonaldTrump) January 17, 2020