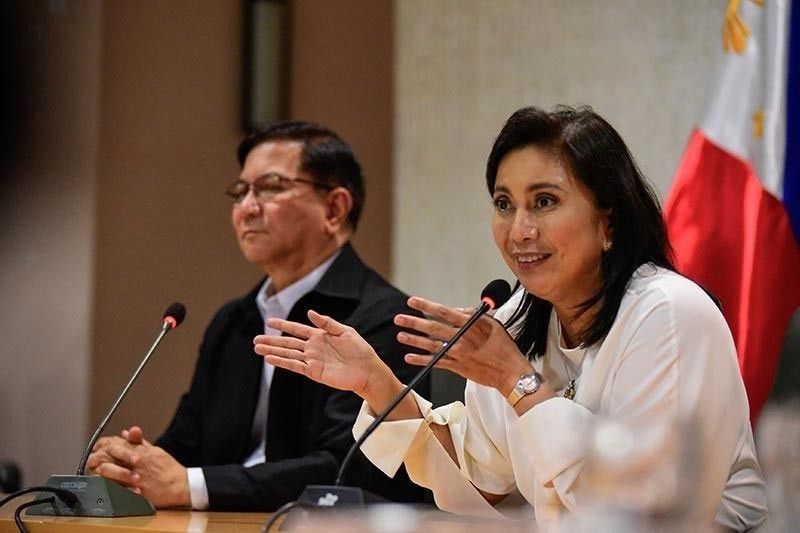 The Vice President defended her actions, saying the officials she met were from the United Nations Office of Drugs and Crime and the United States government, both already involved in the country's efforts against illegal drugs.
AFP/Maria Tan
VP won't resign as drug czar – spokesman
MANILA, Philippines — Despite being scorned and belittled by President Duterte, Vice President Leni Robredo will not resign as co-chairperson of the Inter-Agency Committee on Anti-Illegal Drugs (ICAD), according to her spokesman.
"She will not resign even if they make things difficult or try to stop her," Robredo's spokesman Barry Gutierrez said in a mix of English and Filipino yesterday.
"She made it very, very clear when she accepted this designation two weeks ago (that) despite warnings by close allies, by experts observing the proceedings, that she would not be allowed to succeed, that obstacles will be put in her way," he added.
Gutierrez said efforts to limit her mandate would not affect her commitment to do the job, which Duterte offered to her late last month – apparently out of pique – after she described the administration's drug war as a failure.
"She expected this to be difficult. She expected that there will be some level of lack of cooperation that will happen. And she's prepared to still do her job despite that," he said.
"For me, the solution is very easy. If they want her out, then kick her out. The President has always had the authority to limit her mandate. The President has always had the authority to remove her, so if he wants, be direct with it," he added.
Robredo earlier said that she would not hesitate to leave her post if Duterte would ask her to do so.
The President earlier issued a scathing tirade against the Vice President for her actions since accepting the ICAD post, including meeting with foreigners to discuss the illegal drug campaign.
The Vice President defended her actions, saying the officials she met were from the United Nations Office of Drugs and Crime and the United States government, both already involved in the country's efforts against illegal drugs.
Gutierrez said it is up to the administration to deal with the Vice President, noting that it was Duterte who offered the job to Robredo in the first place.
"If they had known the Vice President even a little, they should have known that she is the kind of person that when she accepts a job, she will do everything within her power to do it well," he said.
"The point is, it was the President who made this offer, he was the one who extended the designation. The Vice President never asked for this. So, you know, it's something that they have to deal with now," he added.
Gutierrez said Robredo is waiting for clarification on the extent of her mandate, noting that she declined an offer from Philippine Drug Enforcement Agency (PDEA) director general Aaron Aquino to give her access to the confidential lists of high-value targets, pending a response from Malacañang.
"He was already offering to show her supposedly the lists of high-value targets," said Gutierrez, referring to Aquino. "It was the Vice President who said 'not yet, because the President said I should have limited access. I wrote to him asking for clarification. Let us wait.'"
Wrong information
Gutierrez also said President Duterte had been fed wrong information about some of the activities of Vice President Robredo as ICAD co-chairperson.
He said Robredo's supposed decision to invite a "prosecutor" of the "Human Rights Commission" to the Philippines was fake news.
"VP Leni is focused on the job passed to her by the President – to fix and strengthen the campaign against illegal drugs. She has not issued such invitation," Gutierrez said in Filipino.
"The staff of the President must ensure that the President receives the right information. It would affect our campaign against illegal drugs if what he receives are fake news," he added.
Earlier, Duterte mistakenly accused Robredo of inviting to the country human rights advocate Phelim Kine, former deputy director of Human Rights Watch-Asia Division.
"I saw the prosecutor's tweet saying, 'I am packed and ready to go and arrest Duterte.' You are going to invite someone who talks to me that way? Leni, I will slap him in front of you. Bring him here," Duterte said in Filipino.
Kine, who posted the tweet after Robredo's decision to accept the ICAD post earlier this month, is not a prosecutor and is now connected with organization Physicians for Human Rights.
Robredo herself said the President was mistaken about his assertions that she had invited a prosecutor to the country.
"That is fake news. If they say that I invited a prosecutor, that is fake news. And I hope that the President would not believe in fake news," she said in Filipino on Wednesday.
"This is easy to check. The only international organizations that I have invited for a meeting were the UN Office of Drugs and Crime and the different agencies of the US embassy… I do not know any UN prosecutor," she added.
The Vice President also defended meeting with representatives from the US and the UN, saying they are already involved in the country's campaign against illegal drugs even before she accepted the ICAD post.
"Our meetings were just briefings on what they are doing to help our government," she added.
Bahay Pagbabago
Robredo was in Bataan yesterday to attend the 3rd anniversary of the Bahay Pagbabago Community-based Reformation Center in Dinalupihan.
She stressed the need to look into the drug problem as an issue that affects everyone, highlighting the need to focus also on prevention and rehabilitation.
At the Pagbabago Community, acting chief of the Police Regional Office-3 Brig. Gen. Rhodel Sermonia urged Robredo to make Central Luzon the pilot-region for ICAD's effort to institutionalize the creation of more community-based rehabilitation and reformation facilities.
Sermonia, considered the chief architect of the program establishing the Bahay Pagbabago Reformation Center in Bataan four years ago, said that with Robredo in ICAD, there would be a more balanced approached to addressing the drug problem.
The program earned for Sermonia recognition from the Dangerous Drugs Board, which made the project a template for its own Balay Silangan Reformation Center.
Sermonia said that from July 2016 to November 2019, rehabilitation facilities in Central Luzon have "graduated" 58,637 former drug personalities. With ICAD under a new leadership, there would likely be less killings of suspected drug offenders, which critics believed were perpetrated or condoned by law enforcers.