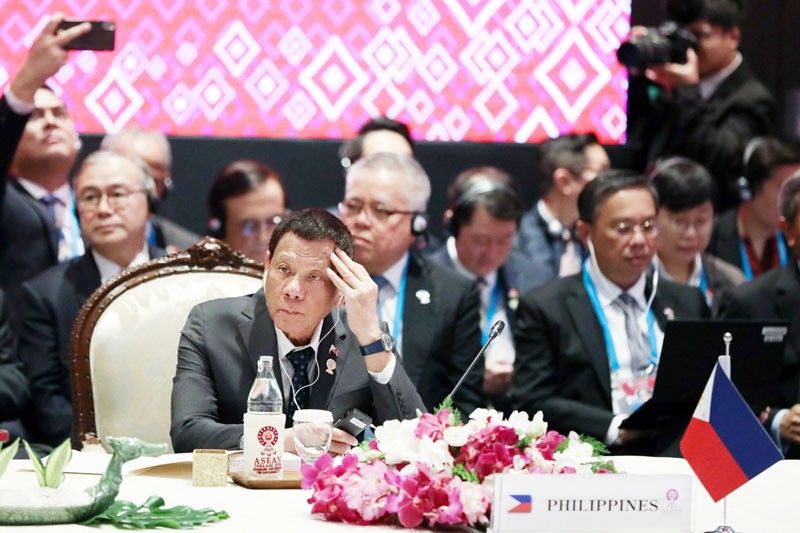 Photo taken on Nov. 3, 2019 shows President Duterte attending the Association of Southeast Asian Nations-India Summit at the Impact Exhibition and Convention Center in Nonthaburi, Thailand.
Duterte takes it slow, to work from home
Alexis Romero
(The Philippine Star) - November 12, 2019 - 12:00am
'3-day rest unrelated to health'
MANILA, Philippines — Hours after Malacañang's announcement that President Duterte would be taking a three-day break from his "punishing" schedule starting today, the Palace clarified that he would not do so after all but would only work from his Davao City home.
Earlier yesterday, the Palace said Duterte had decided to take a break not a leave of absence for three days for reasons not related to health.
Presidential spokesman Salvador Panelo yesterday said Duterte would still be doing paperwork while at home in Davao City.
Executive Secretary Salvador Medialdea was initially named caretaker while Duterte goes on break.
Panelo later clarified at a press briefing: "Rest lang iyon, parang pahinga lang sa kanyang maraming trabaho (It's just rest, like a respite from his work load)."
The President is getting some rest "upon the advice of friends, of colleagues in the world scene and most likely the advice of the doctors," Panelo added.
He stressed that the three-day rest is not related to Duterte's health condition. Except for previous illnesses, the 74-year-old President is not experiencing any health problem, Panelo said.
The rest would also allow Duterte to catch up on sleep, Panelo added.
"I told him (Duterte), every time you have eight hours sleep, you look good. I think he lacks sleep," Panelo said.
Asked if Duterte's three-day rest could be extended, Panelo replied: "Everything is possible, subject to change without prior notice."
Panelo said Duterte attended a birthday party and visited the wake of the late representative Rodolfo Albano Jr. last Saturday.
Duterte's former aide Sen. Christopher Go previously said Duterte had been advised to rest so he could recover from the back pain he felt after figuring in a motorcycle accident.
Lawmakers said they saw nothing wrong with the President's taking a three-day leave, saying he deserves the much-needed break.
Senate President Vicente Sotto III said it is "about time" Duterte goes on leave.
"His doctor has been telling him to relax even for just a few days. I'm sure he will be recharged thereafter," Sotto said.
Sen. Francis Tolentino said everybody deserves a rest, "especially the Chief Executive – a very taxing role – considering that he will embark again on a trip to South Korea to attend an ASEAN conference."
Sen. Aquilino Pimentel III said people deserve to take some break from work.
He said it was good that Malacañang made an announcement that made rest a formal break or leave.
"Even US presidents take a break from work. And that is the president of the world policeman. The Philippine president can take a break from work by clearing his calendar for a few days," Pimentel said.
"That is the usual practice whenever the President will be taking a short leave of absence or whenever he leaves the country, a caretaker is usually chosen by the President," Dasmariñas City Rep. Elpidio Barzaga Jr. said.
"Such was the practice during the time of former president Aquino and former president Gloria Macapagal-Arroyo. And such practice is not violative of the 1987 Constitution," the veteran legislator said. – With Paolo Romero, Delon Porcalla