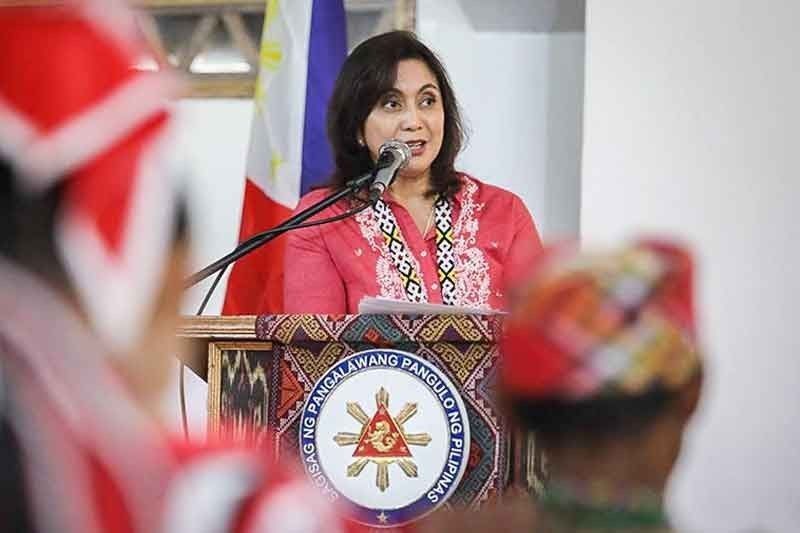 Vice President Leni Robredo yesterday expressed gratitude to US ambassador to the Philippines Sung Kim for his commitment to partner with the government in efforts to eradicate illegal drugs.
Facebook/Leni Robredo
Robredo to discuss drug war with US, UN
MANILA, Philippines — Vice President Leni Robredo will meet with officials of the United States and the United Nations, as well as other stakeholders, to discuss the government's campaign against illegal drugs.
Robredo yesterday expressed gratitude to US ambassador to the Philippines Sung Kim for his commitment to partner with the government in efforts to eradicate illegal drugs.
"Within the week, we will have a meeting with officials of the US embassy to coordinate the flow of cooperation and information," she said in a mix of English and Tagalog.
"On Monday, I will also meet the UN officers here in the Philippines. They have a lot of researches and studies about best practices and lessons from other countries regarding the campaign against illegal drugs," she added.
The Vice President will meet the local UN and US officials, even as she earlier expressed preference for the country to first try to solve its problems internally before inviting international investigators to come in.
"I think it is only fair to the agencies involved that I talk to them directly about it before deciding what to do next," she said on Friday when asked if she would support an international probe of the drug war.
"If I believe that the government is not doing anything to punish whoever needs to be punished, or to put to justice whatever needs to be put to justice, then I don't have any problems with inviting them over – inasmuch as I have always said that if there's nothing to hide, then what are we fearful of?" she added.
Challenges accepted
The Vice President on Wednesday accepted the challenge of President Duterte to lead the government's war against illegal drugs, accepting the designation as co-chair of the Inter-Agency Committee on Anti-Illegal Drugs (ICAD).
Robredo, who led the ICAD meeting on Friday, expressed the need to tap other stakeholders and provide a platform for those who want to help.
On Friday, Philippine Drug Enforcement Agency (PDEA) director general Aaron Aquino, who co-chairs ICAD with Robredo, challenged the Vice President to join an operation to see how they work.
Robredo said yesterday she will "gladly be there" to join an actual anti-illegal drug operation if operatives believe that her presence would not be a problem.
"We are not backing down from a challenge. For me, what's important is what will be the result of the operation? Not who is there," Robredo said.
"If I were invited, I would go. The only question is, would I be getting in their way? For me, if something got in the way, it's more likely to compromise the operation. But in terms of willingness, I am willing," she added.
"I will also be there together with you, so that from the planning stage until such time that during the conduct of operations and after the operations, at least you feel, Ma'am, what it's like, how our law enforcers conduct operations," the PDEA chief told the Vice President.
Asked about specific proposals such as the provision of body cameras to operatives, Robredo said these have yet to be discussed but expressed support for the proposal.
She also met with Sen. Panfilo Lacson, who gave her advice on how to take on her new responsibility.
"She should really watch her back all the time," Lacson said in an interview with Senate reporters.
The senator added that he could not be formally appointed as Robredo's adviser since they belong to two equal branches of government. Lacson noted that he referred some active and retired police officers who could help her execute her new task.
"I will refer many people, both active service and retired, who are knowledgeable in the operation of dangerous drugs. I will talk to them so they may help you," said Lacson in a mix of English and Tagalog.
He also said he gave advice to Robredo on how to carry out supply constriction for the next two and a half years and coordinate with the Department of Education to study the Drug Abuse Resistance Education (DARE) program of the US.
Lacson also gave Robredo some inputs on resources, since he will sponsor the 2020 national budget of both the Dangerous Drugs Board and PDEA.
The Ssenator said he does not see the need for Robredo to personally join the actual illegal drug operations, which could even raise issues on the security of the second highest official of the land.
Cabinet meeting
Robredo also expressed her willingness to attend a Cabinet meeting, but only if she receives an invitation.
She said Duterte has yet to communicate with her since her appointment.
"If we can remember, in 2016, they do not want me to attend… The designation is not that important, whether it is a Cabinet (post) or not," she said. "The most important for me is for the agencies to be cooperative."
Robredo said she is still waiting for the document that would identify the scope of her responsibilities as co-chair of ICAD, a position that she noted as non-existent in the original Executive Order that created the inter-agency body.
"But I don't want to waste time, so on the day that I accepted the designation, I already buckled down to work," she added.
Aquino said yesterday he has no problem sliding down to deputy chairman and let Robredo have full authority over the ICAD, befitting her status as the country's new drug czar.
"If she is truly the designated drug czar and I become deputy chairman of ICAD, I am willing to go down. That would be no problem for us," he said in Tagalog over radio dzMM.
Aquino thanked Robredo for accepting the post and believes she will play an important role, especially in the rehabilitation and reintegration of drug surrenderers.
Presidential spokesman Salvador Panelo yesterday called for a stop to sowing intrigues that would hinder the administration's efforts to seek cooperation to stop the drug menace.
"We call on everybody to give VP Leni space, allow her to perform her assigned task and not to create roadblocks and imagined conflicts, pitting her against her fellow workers of government by way of intrigues, as well as wild and off-tangent speculations engineered by the usual suspects," he said.
Surigao del Norte Rep. Ace Barbers, chairman of the committee on dangerous drugs, said yesterday they will invite Robredo "soon," saying that lawmakers want to hear her proposal in tweaking the administration's anti-drug program.
Another committee member, Dasmariñas, Cavite Rep. Elpidio Barzaga Jr., supported the plan.
"Before we could properly act on the necessary legislation, we have to know the plan of VP Leni and other government agencies in the ICAD, hence, the necessity of her appearance and other officials within the ICAD before the committee on dangerous drugs," the lawmaker pointed out.