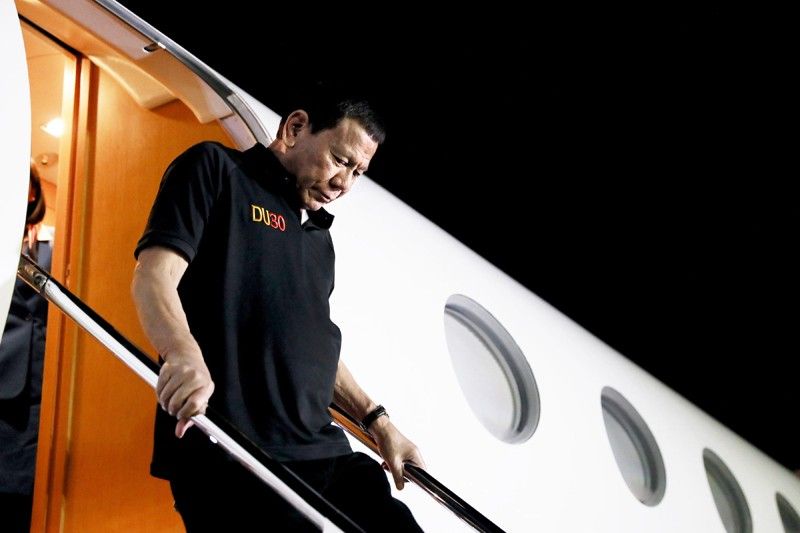 President Duterte disembarks from a plane upon his arrival at Villamor Air Base in Pasay City the other night following his participation in the 35th Association of Southeast Asian Nations Summit in Thailand.
Duterte back from Asean summit
MANILA,Philippines — President Duterte returned yesterday after attending the 35th Association of Southeast Asian Nations (ASEAN) Summit and Related Summits in Thailand, where he expressed the Philippines' position on key issues, including the South China Sea row and the trade war.
Duterte arrived at the Villamor Airbase in Pasay City early morning yesterday. He was welcomed by officials led by National Security Adviser Hermogenes Esperon Jr.
The President left Thailand earlier than scheduled as he opted to skip the third Regional Comprehensive Economic Partnership (RCEP) summit and the ASEAN closing ceremony.
Duterte was represented by Trade Secretary Ramon Lopez at the RCEP summit and by Foreign Affairs Secretary Teodoro Locsin Jr. at the ASEAN closing rites.
There was no word from Malacañang as to why the President skipped the two events. But in a tweet, Locsin said the last event was "purely ceremonial and short."
Locsin noted that Indonesian President Joko Widodo and Malaysian Prime Minister Mahathir Mohamad had also left before the ceremony took place.
Malacañang described Duterte's participation in the ASEAN summit as "fruitful" and "productive."
During the summit, the President participated in discussions on regional issues and supported calls to forge partnerships for sustainability.
Duterte also called for collective action on the South China Sea dispute, transnational crimes including drug trafficking and terrorism, trade-related tensions, export of hazardous and toxic wastes as well as climate change.
He also called on the United States and China to exercise "strategic restraint" and "to continue on the path of inclusiveness and cooperation."
"The President emphasized that the Philippines is for an open, inclusive and rules-based order where ASEAN centrality is an essential element of the regional security architecture," Malacañang said in a statement.
Duterte also cited the strategic importance of the South China Sea to all countries and maintained that the Philippines, as country coordinator of the ASEAN-China dialogue, would do its best to conclude negotiations on a code of conduct (COC) as soon as possible.
"An effective and substantive COC is essential to maintaining peace and stability in the region," the Palace said.
Duterte also expressed concern over ongoing trade tensions, saying it could slow down growth and undermine food security and poverty alleviation efforts.
He called for an "open, fair and rules-based international trading system."
A total of 44 outcome documents were produced during the summit, including the ASEAN joint statement on climate change and East Asia leaders' statements on combating the spread of illegal drugs, cooperation to combat transnational crime and partnership for sustainability.
Duterte held a bilateral meeting with Japanese Prime Minister Shinzo Abe where he discussed peace and development efforts in Mindanao and initiatives to boost the Philippines' infrastructure and defense capability.