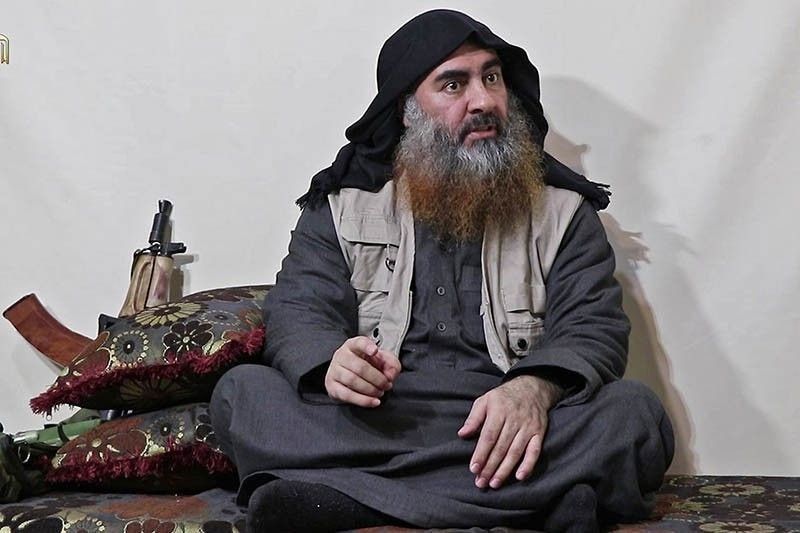 Presidential spokesman Salvador Panelo said while Baghdadi's death is a positive development, it does not put an end to the extremist group.
AL-FURQAN MEDIA/AFP
'IS leader's death does not obliterate terror group'
MANILA, Philippines — The Duterte administration yesterday vowed to sustain its campaign against terrorism despite the death of Islamic State of Iraq and Syria (ISIS) leader Abu Bakr al-Baghdadi, whose group is said to be recruiting members in Mindanao.
Presidential spokesman Salvador Panelo said while Baghdadi's death is a positive development, it does not put an end to the extremist group.
"That's good news for countries who have been terrorized by the ISIS. But then again, the leader of one group does not mean the extinction of that band of terrorists. We know that for a fact," Panelo said at a press briefing.
Asked about the implications of Baghdadi's demise in the peace and order situation in Mindanao, Panelo replied: "It may also cause discouragement to part of the terrorist group. But as far as we're concerned, whether the leader dies or not, we will secure that part of our country from them."
Last Sunday, US President Donald Trump announced that Baghdadi had killed himself during a US military operation in northwest Syria.
Trump said the fugitive terrorist leader detonated his suicide vest after fleeing into a tunnel. The American leader said Baghdadi, whose group gained notoriety for its brutal execution of captives, "died like a dog" and "like a coward."
ISIS-linked local terrorists occupied Marawi in May 2017, prompting President Duterte to place Mindanao under martial law.
The government declared the defeat of the militants five months later but Duterte has not lifted military rule, citing the need to put an end to an ongoing rebellion in the south.
Last April, Duterte expressed confidence that ISIS would never be able to penetrate the Philippines because of the security campaign of government forces.
"I am especially pleased with our military's recent accomplishments against the Abu Sayyaf group. Your efforts have brought us even closer to our ultimate objective of totally crushing violent extremism at its roots," the President said during the commemoration of Araw ng Kagitingan (Day of Valor) in the southern province of Sulu last April 9.
?"With this, I can confidently declare that ISIS will never gain foothold anywhere in the Philippines," he added.
Baghdadi's death will have a big impact on the terrorist group, Defense Secretary Delfin Lorenzana said yesterday, while also acknowledging his death as "just a momentary setback considering the depth and reach of the organization worldwide."
"Somebody will take his place to lead the ISIS. Maybe not as famous and well-known," Lorenzana said a day after US President Trump announced that the elusive ISIS leader had been killed in a daring, nighttime raid by US special forces in northwest Syria.
Armed Forces of the Philippines (AFP) spokesman Brig. Gen. Edgard Arevalo said the military seriously doubts that there will be sympathy attacks from IS elements or from members of IS-inspired groups.
"If they are to conduct any terrorist atrocity, it will not be for that reason. But we are ready to combat any eventuality," he said.
"But Al-Bhagdadi's death will translate to lesser terrorist activities since their inspiration was derived from him," Arevalo said.
Ground military, PNP on alert
Despite the AFP's confidence, ground military forces have been alerted to closely monitor plots of the local terror groups on the possibility they might stage attacks in a show of sympathy on the neutralization of Baghdadi, according to Lt. Gen. Cirilito Sobejana, Western Mindanao Command (Westmincom) chief.
Sobejana said he flashed radio message to all commanders on the ground under his area of operations to be vigilant and take pro-active measures to thwart any terror plot.
"Our intel units are monitoring closely whatever hostile plans in relation to the neutralization of the international ISIS leader," Sobejana told newsmen.
Baghdadi was killed Saturday in a top-secret US special forces raid in Syria's Idlib province.
Sobejana said the death of the international terror leader would impact some parts of the country where there are groups who pledged allegiance and want to be associated with the ISIS.
"It is also a possibility that they may launch a retaliatory action to avenge the death but that is not alarming," Sobejana said.
However, he said the impact will be lesser as far as martyrdom of al-Baghdadi is concerned among local terror groups as only few members know about the terror leader.
"During my custodial debriefing among those who surrendered, they only knew little about that man except for those hardcore who organized the local-inspired ISIS group," Sobejana said.
According to Sobejana, most of the leaders that pledged allegiance like Abu Sayyaf leader Isnilon Hapilon and his supposed successor Abu Dar and the Maute brothers have been neutralized.
He said in the Sulu-based Abu Sayyaf, only sub-leader Hatib Hajan Sawadjaan has pledged allegiance while senior leader Radullan Sahiron remained independent of the foreign terror group.
Sahiron is said to believe that the foreign groups are just the handiwork of the Central Intelligence Agency (CIA), thus his group is trying to disassociate from foreign-based militants in Sulu and refuses to give them refuge.
Sobejana said they are taking pro-active measures "based on the worst case scenario on the assumption they will conduct retaliatory attack."
He did not discount the possibility that foreign-based militants taking refuge with the Abu Sayyaf might also influence local counterparts to conduct sympathy attack.
Sobejana urged the civilian communities in the region to continue their vigilance and help the military and police authorities monitor any movement of the terror groups.
The Philippine National Police (PNP) yesterday also went on full alert status to ensure maximum police presence on the streets to prevent lawless groups from launching attacks that could disrupt the observance of All Saints' Day.
Aside from securing cemetery goers during the holiday break, PNP spokesman Brig. Gen. Bernard Banac said lawmen are also on the lookout for the activities of IS members in the country and their sympathizers.
"Part of the protocol is prevention of any possible attacks," he told reporters in an interview.
The situation in Mindanao, where most of the Islamic militants are based, is so far peaceful, according to Banac.
PNP officer-in-charge Lt. Gen. Archie Gamboa has deployed at least 35,000 police officers to ensure the safety of an estimated 15 million people expected to flock to 4,677 public cemeteries.
These officers are backed by more than 99,000 force multipliers from local government units, civic action groups, civilian volunteer organizations and transportation hubs.
While they have not monitored any specific threats, Gamboa said security forces are ready to thwart any attack.
"There is no terrorist threats as of yet but the PNP is prepared for that," he said at a press briefing in Camp Crame in Quezon City.
Security coverage will also be laid out at 83 airports, 333 seaports, 808 inland bus terminals and 59 train stations in different parts of the country. – With Roel Pareño, Michael Punongbayan, Emmanuel Tupas