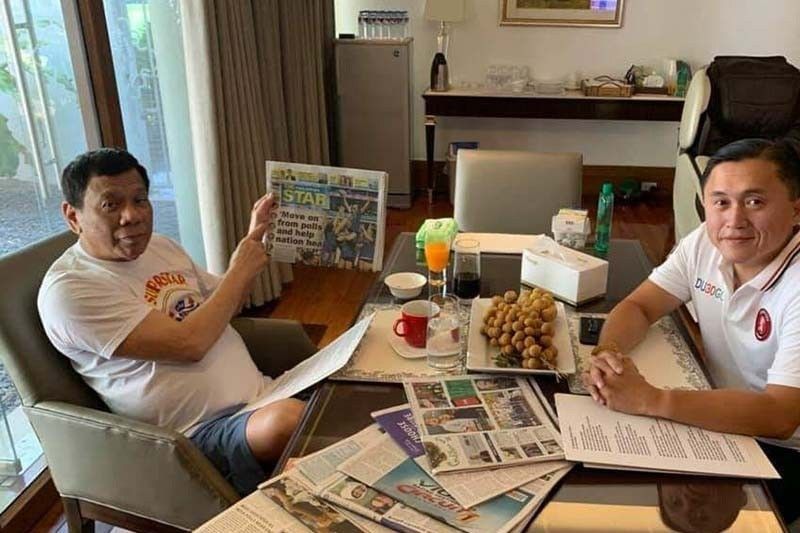 Go said the President underwent an MRI scan and was examined by neurosurgeons in a hospital in Metro Manila shortly after midnight yesterday "but nothing was seen that should be worrisome."
Handout photo from former presidential aide Christopher Go.
'Duterte's spinal pain due to muscle spasm'
MANILA, Philippines – Doctors have advised President Duterte to take a few days' rest after he was diagnosed to be suffering from muscle spasms, Sen. Christopher Go said yesterday.
Go said the President underwent an MRI scan and was examined by neurosurgeons in a hospital in Metro Manila shortly after midnight yesterday "but nothing was seen that should be worrisome."
He did not specify the hospital.
"There's nothing to worry about. It's purely muscle spasms, but he really needs to rest," Go told reporters, adding that the doctors prescribed pain relievers.
Duterte cut short his trip to Japan to witness the enthronement of Emperor Naruhito due to what Palace officials had described as an "unbearable back pain," believed caused by a motorcycle accident last week.
Go, who accompanied Duterte to Japan and back to Manila Tuesday night, said he bought a cane for the President to use.
Upon his arrival Tuesday night, Duterte went straight to the wake of former Senate president Aquilino Pimentel Jr. in Heritage Park in Taguig City, after which he underwent examination by his doctors, who advised him not to stand for long periods.
"At first, we were worried that his spine was hit somehow and some nerve was pinched but thank God, it was nothing serious," the former presidential aide said.
Go said Duterte is recovering but is still in pain. At the wake, Duterte "walked fast" and was playing with his cane, he said.
Go stressed Duterte intends to follow the doctors' orders but there will be no change in his official and public activities.
Duterte is scheduled to meet with visiting Chinese Vice Premier Hu Chunhua today, and will attend the grueling Association of Southeast Asian Nations (ASEAN) leaders' summit in Bangkok, Thailand from Nov. 2 to 4.
"Even if he feels some pain, the President wants to work, move – he has a high pain threshold," Go said.
Despite the pain, Duterte was insisting that he be allowed to ride motorbikes again, he said.
"He told me: 'Bong, I couldn't live without riding motorbikes'; his body is looking for it," the senator said.
In a video posted on Facebook by Go, Duterte admitted he was having a hard time doing regular activities like brushing his teeth. The pain, he said in the video, covers a three-inch area near the waist.
Presidential spokesman Salvador Panelo, for his part, said the Chief Executive can still perform his functions as leader of the country despite the "excruciating pain" in his pelvic area.
"The Palace reiterates that the public need not be apprehensive about the President's health," Panelo said in a statement issued upon Duterte's return to Manila Tuesday night.
Banquets skipped
Duterte was able to attend the enthronement ceremony but not the banquets hosted by the emperor and by Prime Minister Shinzo Abe.
"His consultation with a doctor is aimed at determining the medical condition of his body, as well as finding out whether his previous spinal injury from a past motorcycle accident has been aggravated by his recent fall," Panelo added.
In the interest of transparency, Panelo said the President will update the nation on the result of his medical consultation.
The Palace has not issued any medical bulletin on the President's health condition as of press time.
But netizen Ding Velasco said it was not "unbearable pain" that forced the President to cut short his Japan trip.
If it were so, he said the President would not have attended Pimentel's wake shortly after his arrival in Manila.
Velasco said the President may have felt the need to leave Tokyo after he was ignored by the Japanese. Duterte had earlier declined an invitation to the enthronement last August, but changed his mind at the last minute.
As a result, he said the seating protocol reserved for the Philippine head of state was downgraded to that of ambassador.
"And when, upon arriving in Japan, Duterte was notified of this (to sit at the back with ambassadors) – they tried to ask the Enthronement Committee to re-arrange the seating protocol – and their request was denied ... because it would create a 'domino effect' in the seating protocol of hundreds of heads of state who already had their seating numbers based on established diplomatic protocol," Velasco said.
"Upon their arrival in Tokyo, when nobody of high rank from the Japanese Foreign Ministry came to meet them – could have been enough notice for Duterte and his entourage to realize that Duterte's last minute decision to attend had dire consequences: nobody crashes the ceremony of a Japanese Emperor being enthroned to change seating protocol because such rituals and arrangements are planned much in advance by the meticulous Japanese."