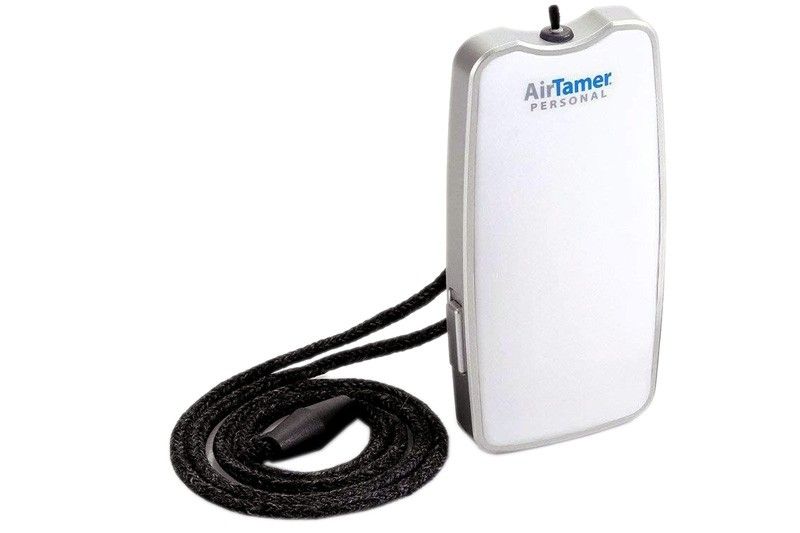 Photo shows a rechargeable and portable AirTamer air purifier, which President Duterte has been wearing in the past few days. Duterte wears the gadget (highlighted) during his meeting with Indian President Ram Nath Kovind.
Duterte gets protection from air purifier
MANILA, Philippines – Amid concerns on his health, President Duterte has started wearing a personal air purifier around his neck, purportedly to avoid catching infection from coughs and colds of people around him.
Duterte was spotted wearing the white air purifier necklace when he received yesterday Indian President Ram Nath Kovind in Malacañang.
Asked about it, presidential spokesman Salvador Panelo said the air purifier on the President's neck is to protect him "from persons within his proximity who have coughs and colds."
An internet search showed that the small machine helps eliminate common contaminants like dust, smoke, odors, volatile organic compounds (VOCs) and allergens within one's personal breathing space.
The wearable air purifier is described to be light enough to carry around, whether using a neck strap, clip or band.
A check on the President's official photographs revealed that the 74-year-old leader has been wearing the portable air purifier since he presided over the Cabinet meeting last week.
He also wore it when he attended the celebration of the switch-on of San Buenaventura Power Co. in Bonifacio Global City last Wednesday. He also had it on last Thursday when he was guest of honor at a business conference at the Manila Hotel.
Duterte had revealed early this month in Moscow that he has been diagnosed with an eye nerve disorder, which the spokesman described as not life-threatening. He previously admitted to be suffering from Buerger's disease and Barrett's esophagus that he acquired because of his heavy smoking when he was younger.
Last Wednesday evening, he suffered minor bruises on his left elbow and knee when he fell from a 650-cc big bike he drove around the Palace. He also complained of pain in his hips as a result of the fall.